A peter pan style corduroy christmas
Added Mar 9, 2011
by littlewren
Rutledge, Pennsy...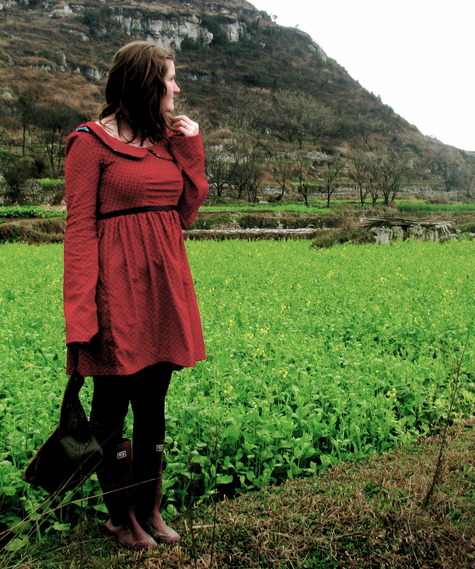 ShareThis
Description
I have been drooling over this fabric since I first saw it in our town. This particular red speckly corduroy is a staple used to make everything from shoes to baby carriers in my province. It brings back memories of sister matching dresses from my childhood. My baby book is peppered with matchy matchy red Christmas dresses.
Being away from home for the holidays can make you do funny things, things like lopping the head and feet off a fist size chicken and stuffing it with homemade stuffing, having an easter egg hunt for 400 students, or whipping up a peter pan collar baby dress replica. (we haven't done the easter egg hunt yet, and when we do we'll probably have to divide up those students into smaller groups… just think about hard boiling all those eggs) (This also gives me a perfectly good excuse to make a dreamy easter dress! -hat and gloves not included, though easter bonnets and farmers' work hats are identical here! seriously!)
Our Christmas was merry even without eggnog and with no family close enough to hug. Thinking of home and spinning up christmas memory dresses were our roasted chestnuts and our candle lit carols this year.
These pictures are from right behind our apartment. (we live on our school's campus.) You can see the you cai hua… or oil food flowers… a canola variety… are just starting to peek their little yellow petals out. Soon we'll be overlooking waves of yellow flowers. -I'm sewing accordingly!
Material Notes
I bought my red corduroy from my local fabric ladies, amidst their looks that I'd interpret as "You want to make a dress? out of this? well.. she's done crazier things" (I have a cheesecloth dress in the mix… that was harder to explain!)
The tealy green plaid is local hand woven minority fabric from my town.
The black ribbon is a substitute until I can get my hands on some black grosgrain. I suppose this papery ribbon substitute goes along with the theme of Christmas wrapping… but besides that, I can't wait to replace it on return to the states and a good ribbon selection!
Difficulty
Intermediate
Categories