A Day at the Museum
Added Jun 17, 2011
by lauramae
Novato, Californ...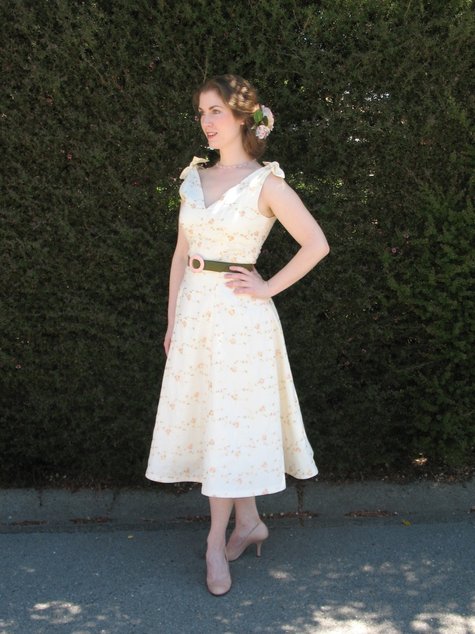 ShareThis
Description
Butterick 5603, Retro 1956: MISSES' DRESS: Fitted dresses A, B, C with flared skirt, below mid-knee, have lined bodice, princess seams and side zipper. A: bateau neckline with band and bow at upper and lower bodice edges. B: tie wrapped around each shoulder and knotted forms bow. C: bodice crosses at front and back. Purchased petticoat.
Butterick 5032, Retro 1952: MISSES CAPELET, DRESS, OVERSKIRT, CUMMERBUND SASH AND BELT: Lined to edge capelet, darted at shoulders, collar and button closure. Fitted dress, darted bodice, waistline seam, square faced neckline, pleated skirt front with back zipper closure and back slit. Gather waistline overskirt, contrast hem band with back zipper and button closures. Cummerbund sash with front tucks and gathered drape. Belt with purchased buckle.
Both of these garments are quite easy to make up and the instructions are very clear. I added quite a bit of steps for myself, like an underlining and bound seams, but if I had not done this, the dress could easily be whipped up in a day, and the capelet would only take a couple of hours to complete.
This dress and capelet were completed in time for my visit to the Balenciaga exhibit at the De Young Museum in SF – if you are in the area and love fashion you MUST visit this incredible exhibit! It was absolutely awe inspiring – I only wish that the insides of the garments were visible so the foundations could be studied up close. I tried sticking my face as close to the glass cases as possible to see the lovely hand stitches and prick-stitched zippers, but it just is not the same!
DRESS
Because this fabric is incredibly sheer, I used a cotton voile underlining that I found on fabric.com. This keeps the dress lightweight while adding a bit of coverage. I hand-basted my underlining with Gutterman silk thread. I also make sure to baste all of my darts together so the layers do not shift during construction.
Cotton is such a dream to work. It stays where you put it and does not shift during construction. I have a feeling that I will be using a lot of cotton for my summer sewing. Even applying my seam binding is easier with this stuff!
I found an olive green silk for a nice contrast color for my belt and used the same silk as an accent for my matching capelet.
I love the classic style of this dress. The shoulder bows are actually separate bias cut rectangles that are tied around the shoulder seams of the finished dress. This is not what I expected from the drawing, however, it makes it easier to put on the dress by yourself and will make ironing the straps quite simple, so I have decided that the construction is quite ingenious.
I added my usual 3/4" to the torso length (this alteration takes place on the skirt pieces).
My invisible zipper was sewn by hand with a prick-stitch – this is my favorite technique – it allows me so much more control than the silly little plastic zipper foot I have that fits my machine and never seems to work properly.
To help create a 1950s silhouette, I added 1/2" horsehair braid to the inside of the skirt hem. My only light colored crinoline is not as poofy as I would like and the braid helps to keep the lower half of the skirt away from the body. (As an aside, I am not a fan of using the braid without adding a crinoline or petticoat because it can make a full skirt loop out in strange shapes if the fabric does not have enough body – but with the addition of some fullness under the entire skirt, the braid really does add an extra bit of '50s glamour.
I also made myself a belt out of contrasting silk and a lucite buckle I have had in my stash for years. Thankfully, I had some belting that fit the buckle perfectly. The dress does not have a waist seam, however, because it is fitted through the torso, I think that a belt works nicely for more of a 1950s flair.
Although I may not be sewing up another version (Views A and C just do not call out to me at this time) of this dress any time soon, I would highly recommend it. It does not use up a ton of fabric, is quite simple to sew, and gives a lovely vintage silhouette.
CAPELET
I love this pattern, however, if I had one tiny dislike, it would be that the back of the capelet comes straight down the back instead of giving a more A-line silhouette from the side. And yet, drafted as is, it does not fly up in the wind, which was handy as I was walking around San Francisco.
I made a few alterations to the basic capelet pattern.
First, I changed the buttonhole to a bound buttonhole, which means you have to remember to start the process before darting and sewing seams or it becomes a lot more complicated.
Next, I wanted to add a strip of my silk dupioni that would match the belt that I made for my dress. I was not sure how to go about this because I did not want the seam allowances to show through the light colored cotton. In the end, the easiest thing was to lap my seams and topstitch. Because of the embroidery on the cotton, the visible topstiching does not look out of place.
To accommodate the ties on the matching dress, I left open a portion of each shoulder seam so instead of bumping through the capelet, the ties have an escape and also help the capelet stay in place.
I used a self-covered button with my olive green silk to tie in the contrasting color a bit more. And I always interface or line the fabric that I will use for a button kit so the shiny metal does not bleed through.
I am sure I will be pulling this pattern out again and again. This capelet works wonderfully to protect my shoulders and chest from the sun!
I am so pleased that I finished this outfit in time for my trip to the De Young. There is actually a dress in the exhibit that uses a fabric very similar to mine. Another visitor in the Museum told me that I should go stand with all of the mannequins, and someone else thought that I had "escaped from a painting." All in all, I think the outfit was a success!
Fabric Used:
*Bella Notte's Amy Embroidered Cotton, a delicate tonal embroidery on lightweight 100% cotton in maize.
*Cotton Voile in ivory from fabric.com (used for underlining)
*Dupioni silk in olive green from JoAnns for belt.
*1" belting from JoAnns
*Buckle from VogueFabrics.com
*Gutterman silk thread for hand-basting underlining to self-fabric
*Hug Snug Seam Binding in Baby Pink from fabric.com
Difficulty
Intermediate
Categories
Jun 28, 2011, 12.57 PMby tirrs

Jun 22, 2011, 12.00 AMby Fipp

Jun 18, 2011, 09.58 AMby janene