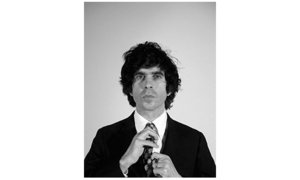 One of the compensations of going to a Florida high school filled with stick-thin, beach-blond, snub-nosed cheerleaders was knowing that a decade or so hence, they'd all be fat and boring, working HR at some midsize company in the suburbs, shuttling between play dates, voting Republican. And I, meanwhile, would be all awesome somewhere: Trendsetting in the big city alongside people who waited, as I did, with bated breath for My Bloody Valentine's follow-up to the shoegazing classic "Loveless;" dating someone like Ian Svenonius, Sassy magazine's first and only "Sassiest Boy in America."
That Sassy article came out in '91, and to be honest, I hadn't thought much about Ian Svenonius since. I remember listening to his first band, Nation of Ulysses, but I don't really remember what they sounded like. I was semi-into his later band, Weird War, back when they were briefly called Scene Creamers, and I even went to see them play; about a year ago, I picked up a copy of the short film he'd made, but I haven't gotten around to watching it yet. So, I'd thought about him, but I hadn't thought much about him. For me, "Ian Svenonius" is like one of those words you have rolling around in your head that you never have reason to use. 'Disembarkation,' say, or 'perambulate.' He's a totemic presence, a figurehead of natural cool.
But Svenonius is back on my brain, because the Sassiest Boy in America is up to his old tricks. The second season of his webisode series "Soft Focus" launched last month on VBS.tv, the mostly-excellent online network produced by VICE. "Soft Focus" sees Svenonius play Charlie Rose to a host of indie rock heroes, and season two takes the act to London town. There, he's accomplished mission impossible by getting My Bloody Valentine mainman Kevin Shields to commit, on camera, to an MBV reunion and the sixteen years-awaited "Loveless" follow-up. It's nice to see my figurehead restored to his rightful glory; it's nicer yet to anticipate the album that I, like most MBV fans, despaired would never appear. Half a lifetime later, I feel the moment of my awesomeness has finally arrived. Take that, cheerleaders.