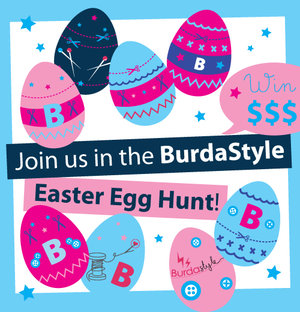 Hippity hop, hippity hop!! Eggs and baskets and pretty dresses and lace gloves and ham and cookies! All of these can only mean one thing, the Easter Bunny and all his fun is here again! We love Easter: decorating eggs, grass and budding trees, warmer weather and longer days… Super yay!
The Easter Bunny and the BurdaStyle team have joined forces to bring you a good old-fashioned Easter egg hunt. We've hidden 10 eggs around the website, and will be giving clues through the week. Eggs will be in picture files within content created by BurdaStyle. Three lucky winners will receive a $100, $50, or $25 fabric voucher.
Before midnight Saturday March 22, send us ONE email only to answers@burdastyle.com, listing where you found all of your eggs (ie: Osman Tie, Picture 3 or "Octoberfest!" Blogpost). Do not send an email as you find each egg, but rather gather all eggs into your basket, and then send us an email telling us everything you found.
Remember to include your name, user name, email address, telephone number and postal address.
Winners will be picked from the pool of people who find the most eggs.
You can view the official rules and regulations here.
Happy hunting!!!
Here's your first hint:
Easter showers bring May flowers! You can stop singing "Rain, Rain go away! Come again some other day…" because you just made what?