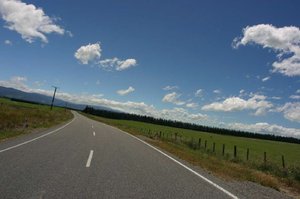 GET

A

MOVE

ON

The number one thing I love about New York: I don't have to drive anywhere.

The number one thing I miss, living in New York: Driving.

Not always; not every day. I certainly don't relish the idea of fighting the traffic around here, braking my way crosstown then circling the block 17 or 18 times before I find a parking space, halfway back the way I came. I've rented cars in New York; I know the score. But then a certain heat comes whispering through the air, not warmth yet, but its harbinger, and the familiar, pedal-to-the-metal urge comes over me. Spring fever. Wanderlust. The need for speed, after months of cooped-up winter. It's so American, that feeling, the burn to get up and go, head West, put some miles between you and your history.