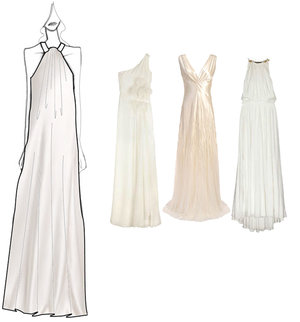 Has anyone ever done maternity wear? It's like menswear or speaking a foreign language, challenging yet enlightening. I've just finished up with the final fitting for my friend Katie's wedding dress -it took 3 to get it right! Last week we had the first & second fittings during which I learned a lot about maternity wear! Because I was out of town, Katie had taken her own measurements for me. I was sure they must have been incorrect but I went ahead with them. Though she didn't appear to have grown so much in my eyes, her normally size 4 frame had swelled to a size 14 from her pregnancy. We discovered that the front section of her gown needed to be a size 14/16 and the back a 6. The second fitting went far better and the poly-silk I used for the mock-up emulated the hammered silk we decided on for the final gown much better than my first muslin sample.
I originally sketched ideas for Katie based upon inspirational looks she'd collected for me. She wanted a halter-top or drapey top dress with an empire waist (for her swell) with an inverted box pleat like one I designed on another dress of mine she owns (pleat detail pictured above in black). I set about draping the top section of the dress and used the skirt pattern from a size 14 gown I found. I then shaped the pieces so the 14 would blend with the size 6 of the back panels.
Katie's wedding is next weekend in the Hill Country of Texas near Austin. I'll be taking some behind-the-scenes pics of the dressing of the bride. At the last minute, while I was hemming her dress, I realized it needed a sash to cinch in her waist and show off her swollen belly. I hope the final look is gorgeous!