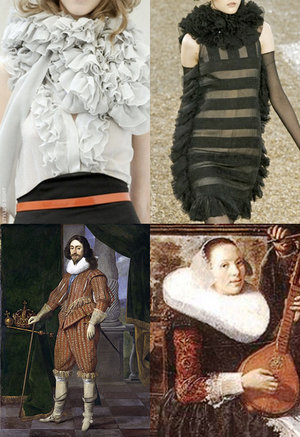 Hey everyone,
This week MerryK's post is taking a brief hiatus (don't worry she will be back next week) but we are still bringing you a history of fashion inspired blog piece, written by our awesome intern Rachel
It's no secret that fashion repeats itself; rarely are trends and styles born unique and completely free of historical reference. How apparent the particular influence the past has on renewed fashion varies from trend to trend and often can go unnoticed. But many times a style is revived that can be dated back to its very invention.
Although in today's industry, womenswear generally reigns high above menswear, there was a time when the two were equal, a time when menswear was just as risky and just as forward, a time when lace and ruffles served as symbols of a fashion savvy man. This attitude, however, dates back centuries ago.
During the late mid-sixteenth century, the ruff was developed in western Europe and soon became a wide-spread necessity. To this day it serves as one of the most recognizable details of the period. Although both men and women eventually wore the ruff, it was made popular by men, which can be said by much historical fashion. As all fashion is developed, the trendy form of the ruff was a result of a purely functional garment. It began as a way to protect a mans doublet, which can most be associated with a modern day mens jacket, from becoming dirty since washing these elaborate garments was extremely rare and often impossible. It started as a small removable ruffle controlled by a drawstring around the neck of a man's shirt that itself could be changed and washed. As time went on, it evolved into a style, later becoming a completely separate garment that ruled the fashion scene. At it's peak, the ruff could extend a completely impractical foot or more from the wearer's neck. As all trends do, they continue to the extreme and then cycle in the other direction or disappear altogether. It seemed to fall out of fashion by the end of the sixteenth century and was pretty much absent by the mid-seventeenth.
Since then, a ruffled neckline may have made a comeback or two but one only needs to scan the runway to arrive at the conclusion that these updated versions of a historically menswear style is an important must have for the coming seasons. Although this style has become decidedly feminine and romantic and only the bravest of men would sport such a look today, historical menswear continues to inspire modern fashion and will forever serve as a reference for the best kind of trend innovation.
Check out our mock ruff