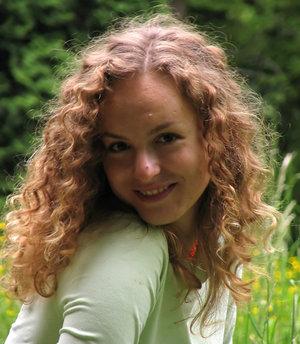 What was the 1st thing you made? How did you start sewing?
As a child, I started sewing using a little toy sewing machine, making pretty dresses for my dolls. I remember as if it was yesterday although it happened about 17 years ago: I was watching my mother sewing a pink outfit for my birthday party and I loved that outfit! It was the first time I showed interest in sewing. Not long after, I started sewing myself and made a circle skirt for my Barbie doll out of leftover pink fabric. The first real clothing item I made for myself was a classic plaid shirt. All along the way, I had benefited from assistance and help from my mother, to whom I cannot give enough thanks for instilling in me her passion for sewing.
What role does sewing play in your life?
I try to keep sewing from taking over my life. Although sewing is my hobby, it requires a lot of time and passion and I try to fit it into my schedule without ignoring my family, friends, or other domestic activities. Sometimes I feel like something is missing if my drawers do not overflow with fabrics. Sewing is a time when I can be myself, with my own imagination trying to shape it into reality and Burda has played a major role in making this possible.
What is your least favorite and what is your most favorite thing about sewing?
I enjoy sewing something from start to end but I dislike making alterations to existing clothes. I'm very patient when I sew, but when it comes to using the seam ripper too often, I can get a little bit frustrated.
After filling a shopping cart with fabrics, my favorite part is seeing them take shape. I like that first fitting session, where I can finally see how the outfit will look like. If it looks good and I get positive feedback from everyone, especially my husband that is the most rewarding experience. It is amazing how Burda patterns speed things up so that I can start sewing in the morning and have a beautiful and unique dress ready for the evening out.
If you could make something for anyone who would it be and what would you make?
Ever since I was a little girl, I dreamt about sewing my own wedding dress and that dream came true. Now, I would love the chance to sew wedding dresses again for my girlfriends when they get married. Even with classic designs, wedding gowns allow so much room for creativity plus they get to be worn at one of the most special events in one's life. As far as future projects, I'd like to make fun toys and blankets for my nephew Ryan, but also try something different like sewing kite surfing equipment. Right now, I'm working on high waistline dresses in collaboration with a friend who hand crochets the bustier part.
What are you looking for on our site? What do you think should be improved and what do you really like?
I love the fact that BurdaStyle is about open source patterns. I really appreciate the fashion collections and patterns available as a free download. I look for inspiration and ideas on BurdaStyle, and the members are very talented persons from which I have a lot to learn. I also enjoy the tips posted in the How Tos database would love to see more instructional videos added.
As an improvement to the site, I would like to see notifications to help stay in touch with what's going on in the BurdaStyle community. I'm also looking forward to seeing how BurdaStyle will integrate with Etsy stores.
Mirela is anxious to find out more about other users and said that our last featured user Squirrellypoo almost took the words out of her mouth. If you want to find out more about Mirela (who also shares many How Tos), check her member profile, her website Cutting Edge herphoto gallery of things she's made and her Etsy store Everywear!