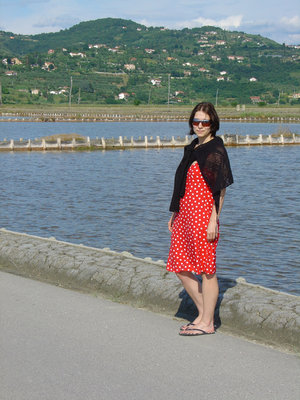 1. Where are you from and/or where do you live?

I'm from Slovenia, Europe.
2. What was the 1st thing you made? How did you start sewing?

I honestly can't remember when or how I started sewing. It was my mother that got me and my sister (another BurdaStyle member, merita) into sewing. I started very young by making clothes for my dolls and gradually that evolved into sewing clothes for myself.
3. What role does sewing play in your life?

It's a creative outlet and a way to relax after work. Sewing is something I love to do because it's very rewarding, you actually create something, either for yourself or others.
4. What is your favorite and what is your least favorite thing about sewing?

My favorite thing about sewing is the creativity, tweaking the patterns or simply making new ones, experimenting. Least favorite is the fact that you have to iron every seam you make, I find that tedious and boring. And sewing zippers, I hate that.
5. If you could make something for anyone who would it be and what would you make?

I only sew for myself, the thought of sewing for others makes me nervous and I start doubting my sewing abilities. So if anything, my first goal would be to overcome that fear and actually try sewing for others. And I'd probably start with something simple and straightforward to first gain some confidence.
6. What are you looking for on our site? What do you think should be improved and what do you really like?

I love the tightly-knit community, people from all over the world 'bonding' over sewing. It's amazing how helpful everyone here is, and how friendly. Sharing everyone's creations and patterns is great, it gives me new ideas for clothes to make, it's also challenging when I see a complicated design and I then try to make it myself. I can't think of anything that would need improvement.
7. What is your motto?

I think the important thing in life is to always give it our best, to be passionate about the things that we do. We may fail, but trying hard is what counts, knowing that you really did the best you could.
Miss_B writes a fabulous blog where she writes of her other passions: photography and writing. She also has an Etsy Shopwhere you can find some of her creations. Thanks Miss_B!