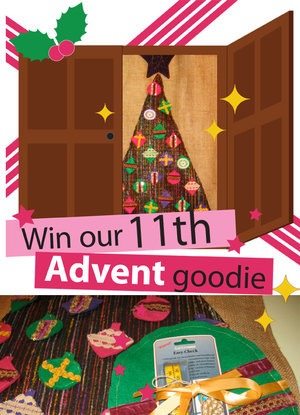 ADVENT QUIZ #11
After a brief pause in announcements, we're happy to tell you about the last three Advent Quiz Winners:
Wendy Christie got it right when she said that it was the year 1913 when Gabrielle "CoCo" Chanel opened her first boutique in Deauville, France?
Kim Lam got the tough Sunday question right, which was "To prevent wrinkles below the waist when making pants, what measurement is important to have? Her answer, "Your crotch depth. You measure it sitting down on a chair."
And of course, yesterday's winner, Thawinee Phisutthithada, for correctly answering the question: If making a garment in a plaid fabric, how much extra yardage does one need to allow for matching the plaids?. Her answer, 1/4-1/2 yard of additional fabric for small to medium sized plaids, and 1/2-1yard for medium to large size plaids.
Now, for the 11th Advent question is:
What does the "hand" of a fabric mean?
Please send your answer to answers@burdastyle.com with subject line: 'Advent Quiz #11" and PLEASE be sure to include your mailing address in your response so that we can quickly mail you your Christmas treats!
We look forward to seeing all your responses! Rules and regulations, you find here.
Good Luck!
Don't worry if you haven't won yet, we still have 13 days until Christmas! But if you have won already, please share the Holiday spirit with members who haven't! We'll only choose winners who haven't won yet.