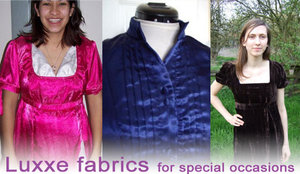 New Year's Eve has come and gone, but if you're anything like me, you had been concentrating so much on sewing Christmas gifts that New Years caught you by surprise! Good news, though, because you don't need to have a super-complicated pattern in order to make a special occasion garment. Sometimes even the most simple pattern can result in the biggest WOW factor if you use a bit of special fabric.
I've showed you how to sew with silk before, but there are lots of other luxxe fabrics that could light up your New Year's celebration, no matter what your dress code…
How about an Ute or JJ blouse in silk satin to dress up plain trousers? Or Gail with lace overlay for a very "now" Prada look? Francesa is just begging to be made in shiny taffeta to show off those curves, and Azalea in georgette or chiffon would be perfect for those in the Southern Hemisphere, or Danielle in crushed velvet for those in icy climes.
And for the guys, a David bow tie in black sequined fabric is guaranteed to get you ALL the attention at midnight!
Photos: Members gma, Polychromatin, and jd98