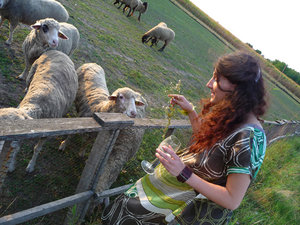 1. Where are you from and/or where do you live?

I was born in Belgrade, Serbia, which is where I live now. I spent a couple of years in NYC and I go there as often as I can.
2. What was the 1st thing you made? How did you start sewing?

I am not sure what was the first thing I made by myself, as I started sewing when I was very young, helping my mum and aunt. I devoted more time to sewing by myself only a few years ago, when I found the perfect piece of fabric. Its funny, but my sewing machine was broken at the time, so I made a T-shirt by hand.
3. What role does sewing play in your life?

Sewing is one of the few things in life that I can dedicate myself to completely, and that I enjoy in whole
4. What is your favorite and what is your least favorite thing about sewing?

I dislike the beginning of the process. I don't like doing the patterns… but, when it comes down to buying the fabrics and finishing of the piece I simply adore it and am capable of working for hours without taking a break until its finished.
5. If you could make something for anyone who would it be and what would you make?

Nothing special, but I like designing clothes for my friends. It makes them very happy to own something I designed especially for them. At the same time they are one of a kind and unique presents.
6. What are you looking for on our site? What do you think should be improved and what do you really like?

Thank you, thank you, thank you… I remember the period when I discovered your website, and since then I keep being inspired by all the artistic people on your website.
7. What is your motto?

Reuse, recycle, reduce. At least a third of the things I own (furniture, clothes…) I found at flea markets or found them on the street left all alone in the pouring rain… I love re-designing my mum's and grandmum's old clothes, for them to have a more modern look.
Lalunanueva's awesome creations are fun and lively, take a look at this pete shirt she created! She has recently made a women's version of the pete which totally rocks