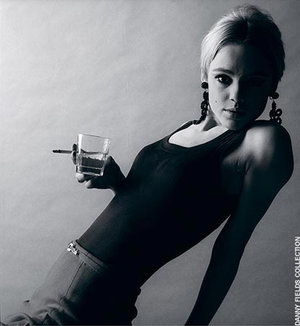 1965. Andy Warhol's Factory the walls covered in silver tin foil – is brimming with activity, buzzing with musicians, drag queens, free-thinkers, porn stars, drug addicts, all there to inspire him and help him to create his art, starring in films, in photographs and always up for a party. 1965, a woman enters the factory, Edi Sedgwick a wannabe artist, a socialite from an upperclass though dysfunctional family. She had arrived in New York a couple of years before with a heritage from her grandmother, anorexic, and already drug-addicted. But she radiated and took the factory in a storm and would become one of Andy Warhol's most famous "Superstars".
She died early at 28, after the relation with Warhol had ended, and her drug addiction left her without job- but left a fashion legacy that is timeless. She was one of New York's first it-girls, doing lots of partying, spending lots of money and earning little from a bit of modeling and a bit of acting. She may not have had "any real talent to speak of" but she left a legacy, not just in New York's party scene but in the fashion world.
Her grandmother's jewels with a long dress and bare feet; opaque tights, leotards, false eyelashes, thick layers of mascara around huge eyes her, bleached hair and chandelier earrings became her signature pieces. She combined luxury and vintage but most importantly, she set trends by not caring what was actually trendy or fashionable. Her style lives on: think of Kate Moss' pixie haircut, or John Galliano's / Dior Autumn 2005 creations
In a mysterious kind of way, she was extraordinary, – watch the film "Factory Girl" and you will know what I mean.