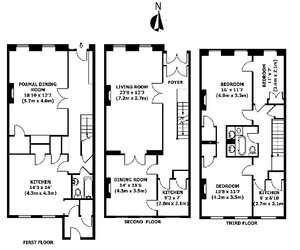 To be honest I don't feel quite like doing anything this week. Last week ended in epic proportions; Dane & I closed on the 1864 Victorian brownstone (which is full of gorgeous original detail) we'd been trying to buy, and at the same time, my brother-in-law was hit by a car in Manhattan. His improvements are slow, like river water carving a pattern in limestone, but we thank the heavens his injuries are reversible. His head & nervous system weren't exceptionally damaged. He'll walk and talk and be Brett again, it'll just take time. We're incredibly lucky he'll recover. I'm desperately trying to focus on that and be positive for my sister, who is 4 months pregnant…
I keep thinking, while I'm sanding the walls of my new studio, or watching Brett in his hospital bed, that the rehabilitation of my home and my sister's husband are similar. Both require patience, skill and helping hands, and in time, both will be restored to their original beauty. We just need to have faith.
Our new intern Amanda has written some great posts lately, I almost even feel a smidgen inspired (nudge, nudge, wink, wink). I especially liked the one on Illustration. Pictured above: our floor plan; our bedroom & the front stairway detail. I will definitely make some "before & afters" when I can.