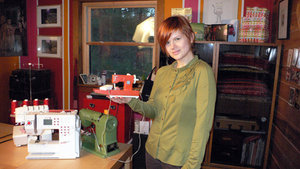 1. Where are you from and/or where do you live?

I was born and my whole family lives in Switzerland. When I was 17 I did an exchange year in Lincoln, Nebraska. Ever since I visited New York for the first time I knew I wanted to live there. I ended up going to college there thanks to my generous family. I actually went to FIT but majored in photography and never took a fashion design class there… My husband and I decided that after a wonderful few years in New York we had enough of the craziness of the City and we moved to the Catskills about 2 hours north. Now we have a wonderful little house that we share with our two black cats, Doggie and Mitzie.
2. What was the 1st thing you made? How did you start sewing?

I think it was in third grade. We hand-sewed and embroidered a little bag. I still use it!
3. What role does sewing play in your life?

I'm a photo researcher so I do a lot of research on the computer all day. Sewing is my opposite to that. I get to create instead of collecting things that are already there. It's my hobby and who knows, if I'd ever be able to make a little money with it that would be amazing. I'm dreaming of maybe having my own store one day.
4. What is your favorite and what is your least favorite thing about sewing?

I love imagining and preparing my next project the most. And wearing it in the end! The worst is if there is something that just doesn't look as great as I imagined it!
5. If you could make something for anyone who would it be and what would you make?

Well, I really like to make clothes for myself! And sadly I don't really have enough time to make things for other people. I'd love to make something really special for my mom, she's been such an inspiration and such a great help! Of course like a lot of people I'd love to make a super fancy red carpet dress that gets photographed a ton, but then again I really like to make clothes people can wear everyday because why spend so much time and love on it when it only gets worn once…
6. What are you looking for on our site? What do you think should be improved and what do you really like?

I always love looking at everybody's creations and the BurdaStyle patterns have been such a wonderful inspirations and a great help and I'm sure will be in the future. One thing I would love would be some easy search for members in my area. I'm a jacket junkie and I'd love to see more jacket patterns!
7. What is your motto?

Just try it!
It is always such a joy to see a new creation, comment or post from Smvphotography. Her many wonderful creations run the gamut from accessories to menswear to dresses and coats. Check out her choices for top ten creations!