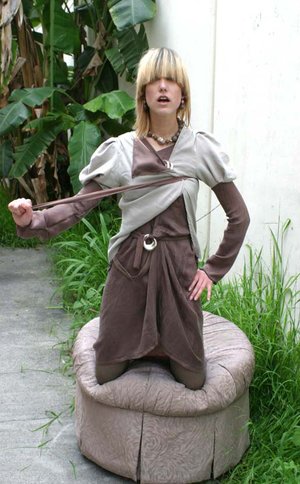 If we were able to sell good ideas, many of us would be rich. It's getting the idea into object or working project that's the trick. And when it comes to making a fashion business out of your unique aesthetic and clever sketches or even the one-of-a-kind dresses you sew at the kitchen table, you need more than a few tricks up your sleeve.
I just found this quote on Papierdoll Fashion Magazine in a story about Mary Gehlhar, author of the must-have book The Fashion Designer Survival Guide. Are you willing to do what it takes to take that brilliant little dress of yours through production? Are you prepared for the roadblocks you'll face from the very vendors who are supposed to be working for you? And are you ready for the reality that less than 5-10% of your working time will be spent actually designing?
These fore warnings got me thinking back to how I started out selling clothes "professionally" when I first moved to Los
Angeles in 2002 after graduating from college(s). All I wanted to do was sew. I quickly became acquainted with downtown LA's garment district, a special place indeed, and started the first of a series of mini-collections under the name Run R1ot.
I was eager to see what types of boutiques LA held so I went exploring. The first one I came across was Matrushka. At the time the shop was located on a small, hip stretch in Silverlake. Matrushka Construction was founded by Beth Ann Whittaker and Laura S. Howe in February 2003, two friends who shared the desire to provide inexpensive, witty and sweat-shop free items they sewed themselves in the small back room. I was in heaven. I believe the story went like this: I was wearing one of my dresses, introduced myself to the owners, and we instantly formed a friendship & I placed my first collection on consignment in their shop! Consignment is placing your goods in the hand of another, but retaining ownership until the goods are sold.
I proceeded to find many more shops who wanted to replenish their inventory without taking any risks and were happy to
place my mini-collections on consignment, a win-win situation for everyone;) I collected my checks at the end of every month and in the end I was doing quite well with 10 shops carrying my line!
Today you can start selling straight out of your living room with your own website and places like Etsy and Ebay.
I do believe that the Fashion Industry is extremely competitive, audaciously expensive and cut-throat. But if you're a passionate seamstress who wants to share your beauty with the world, there are ways for you to do it too.