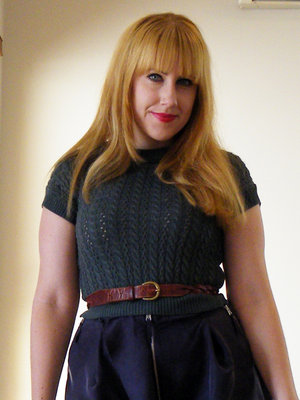 1. Where are you from and/or where do you live?
I'm originally from a gorgeous little town in Western Australia called Albany, but now I live in the city (Perth). Perth is (allegedly) the most isolated city in the world, but it has a really strong art and fashion scene so there's always heaps of inspiration around.
2. What was the 1st thing you made? How did you start sewing?
I've always been preoccupied with clothes, but until I was about 19 I thought that sewing was REALLY (really, really) uncool. Eventually I started getting really frustrated with not being able to find things I wanted in the shops, so I taught myself how to sew and started designing and making my own clothes. I actually can't remember the first thing that I finished making! I think I made about 10 disastrous things (I had numerous tantrums and gave up sewing countless times), but I think the first thing I made that I actually wore was a lavender ball gown with lace applique.