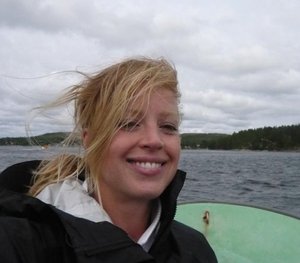 1. Where are you from and/or where do you live?
I'm originally from and grew up in the north of Sweden (Östersund/Härnösand), I was born in, and studied in Uppsala (a university-town) but I now live in the middle of Stockholm. I love living in the city but I miss nature and I dream of a bigger flat (a proper hobby-room, oh sweet thought). I've also spent a year near Melbourne (during High school), a year in Manchester (at university) and nine months in Tokyo (during a break from my studies), so I feel a bit at home there too.
2. What was the 1st thing you made? How did you start sewing?
The first "real" thing I remember sewing was a jeans-miniskirt when I was about 11 and wanted to perform as Madonna. I made it from my dad's discarded old jeans (real 70's flares, probably very cool!). The next thing I made was a copy of a twill jacket, that I made in denim from my mum's stash, when I was in High school. I got so many compliments, people came up to me and asked me where I'd bought it, I guess that was the perfect encouragement to take up sewing as a hobby! Come to think of it, it's about time to make something in denim again (it's been a while!). During the last few years I didn't sew much at all, but thanks to Burdastyle I took it up again, I'm very glad I did!
3. What role does sewing play in your life?
Sewing is a quick release for my desire to create. I work as a landscape architect, which is a creative job but a very slow process. It takes at least a year until my work is realised, and even then it's not finished since all the plants need to grow for at least a full season first. So for me it's marvellous to be able to design something from scratch and to see the finished result within a couple of weeks (or less even!). It's also the ultimate luxury to know that no one else will wear the same clothes as me when I go to parties, and to be able to make things that I want but can't find in the stores, or to be inspired by things I can't afford to buy. I love the feeling of using and wearing things I've made myself. And sewing can be very meditative.
4. What is your favorite and what is your least favorite thing about sewing?
My favourite thing is the freedom to imagine something I would like, and to be able to make it come true. I also like the process, to bit by bit make something that is really nothing turn into something real. My least favourite thing is all the preparation before sewing (I love the pattern-construction-bit though) and to finish things off. I'd love to be able to hire someone else to sew the buttons and lining…
5. If you could make something for anyone who would it be and what would you make?
I wish I had more time to make things for others. At the moment I'm really only interested in making things for myself (selfish!). But I wish I could find the time and peace to make something nice for my mum. I always like to see what other BurdaStyle members make for their mums! My dream-project for myself would be a formal dress to wear to the Nobel-prize dinner and party, if I was ever invited (I live near the city hall where it's held, so I bicycle past the arriving guests on my way home from work every year, I'd love to be one of them!).
6. What are you looking for on our site? What do you think should be improved and what do you really like?
I primarily look for inspiration, and I find it.
I really like the generosity of this site, that it's about sharing. The members are very kind and encouraging to each other. And Burdastyle really is such a great source of inspiration, I think it makes a lot of people sew more than they would without it (I know I do!). I also very much appreciate the way it connects people, it's great to find sewing-buddies all around the world, and that it's interactive.
I wish more of the information you add when adding projects would be posted on the site, like related projects and more pattern information. I'd also like it if there were links to people's creations from the How-to's, like there are from the posted patterns. And links to the projects featured in photo-albums, that would be a great way of finding inspiration and information. And I'd love to be able to change the order of added pictures after adding them, especially to change the first picture of the posted projects, and to have easier access to browse through favourites, it takes quite some time to look through them when you've added many.
7. What is your motto?
To be true to myself and respect others.
Read more about IchiGoGirl and check out her great creations creations. Also, don't miss her top ten favorite creations.