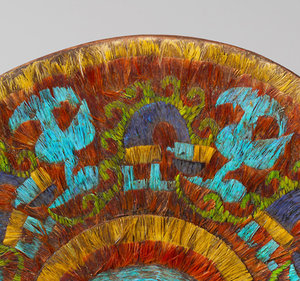 The other night, I dreamt, as so many times before, I could fly. The dream to fly has been and is being dreamt all around the world. For the pre-hispanic Aztecs flying was something incomprehensibly fantastic and mysterious. The eagle gliding high above through the air, seeing and hearing everything that happened on Earth, had to be carried by unknown powers that were thought to reside in the feathers of its wings.
The Aztecs and many other pre-hispanic people across Latin America valued brightly coloured feathers, for their mysterious powers. Warriors, kings and priests adorned themselves with them to show their rank and status within the elaborated hierarchical structures of the ancient societies. In the Amazon, the rank of men and women was symbolized by wearing feathers from birds living in the different levels or canopies of the rainforest. Hunters were associated with birds from the middle and upper canopies (macaws, egrets and toucans), while women who are responsible for gardening and gathering were associated with the birds of the lower levels. Of course the most valuable feathers are those of the eagle that lives on top of the rain forest canopy.
When Hernan CortÈs arrived in the great Tenochtitlan (today's Mexico City), he was awestruck by the wealth, the beauty and the hustle and bustle of the city, built in the middle of a lake. He was no less fascinated by the dresses of the inhabitants, colorfully adorned with feathers of exotic birds such as those of the Quetzal.
CortÈs shared his fascination, sending gifts to King Charles I. of Spain, among which two shields made from bright bird feathers captured the attention of the people. And curiously, bird feathers started to become somehow fashionable with the royalty and the religious magnates of 16th century Europe. It is said that on his wedding celebrations in 1582, Ferdinand II of Tyrol and his horse were adorned with Quetzal feathers imported from Mexico.
From various readings it seems that there were different techniques to incorporate these feathers, some were woven into the cloth, others sewn or pasted on with special glue, check out the intricacy and diversity of motives and applications in the pictures from an exhibition of the Metropolitan Museum – my definite favorites are the Ear Ornaments and the Four Cornered Hat.
Photo Copyright © 2000ñ2009 The Metropolitan Museum of Art. All rights reserved