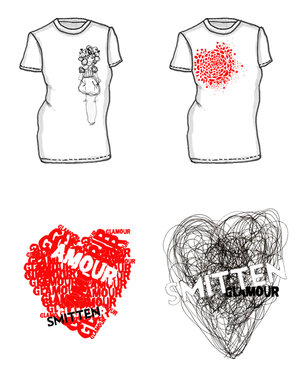 A few weeks ago a wonderful writer named Joanna Goddard contacted me about my Dahl + Dane = True Love Always series, mentioning she had written about our declaration of love project on her daily column for Glamour magazine, Smitten. Feeling quite flattered from her efforts, I made her a custom tote bag with the initials of her beau and shortly after, with tote draped over her shoulder, he proposed! She also mentioned our project on her lovely personal blog, A Cup of Joe from which many orders came in.
This chain of events does not stop yet. Because, as Joanna stated, I had been so kind, she invited Dane & myself to her West Village apartment for a very special dinner party, curated by the infamous party planner Davin Monn, hosted for under $250 (including food, wine & incredible decorations). Her now fiance, a New York Times writer, covered the evening in the Sunday Style Section with a beautiful story (and great slide show online).
It doesn't end yet. It is common practice for magazines to do "give-aways" to acquire more subscribers by tempting them with a great free gift. Joanna spoke to her editors at Glamour about me designing a t-shirt to be given away when one subscribes and I jumped at the idea. I had been, a-hem, asking the "universe" for projects much like this one, where I can go back to my micro-tips, markers & colored pencils and draw again! Having a Fine Arts background, I often miss drawing and surface design and have been very inspired lately to start designing prints for my textiles and a t-shirt design project is a perfect way to start. Here are some of my concepts, and now I eagerly await word from the editors.