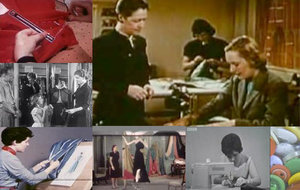 Does anyone else absolutely love vintage sewing information? I've got a small collection of vintage patterns and sewing books of my own, but I just love seeing how our mothers and grandmothers sewed in their time with the fashions of the day. I'm proud to carry on this tradition in my family, but I was never lucky enough to be gifted with much more than a pattern or two…
But vintage fashion isn't just restricted to printed materials – thanks to the internet, we can now watch some great vintage sewing videos, too! Archive.org have a lot of pre-1975 fashion videos (including this home sewing gem from 1948!), and over on my side of the Atlantic,
the BBC have a "What We Wore" archive collection (UK viewers only, I'm afraid!) including a series of "Clothes That Count" shows from the late sixties that demonstrate how to sew your own shirt waister, suits, and coats using only "paper patterns"!
If you're still wanting more, have a look at these vintage sewing ads on YouTube. I'll have to start thinking of BurdaStyle as "our own private club" now, like the Sewing Center shown in the ad!