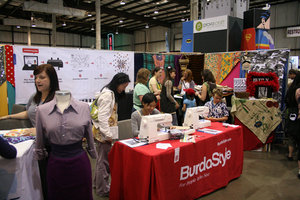 This past weekend BurdaStyle (along with 96,000 others) were at Maker Faire in San Mateo, California.
If you guys are not familiar with Maker Faire, it is the country's best science fair created by Make Magazine to "celebrate arts, crafts, engineering, science projects and the DIY mindset."
While there we taught hundreds of people how to sew using our quick-and-easy free make + takes with Singer sewing machines and Britex fabric. Check out our slide show from the event.
To all those interested in joining BurdaStyle, click here.
We wanted to give a huge shout out to those who made this event possible.