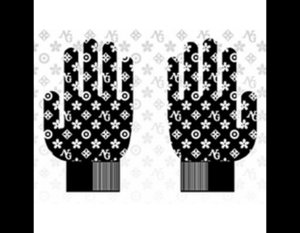 Looking at the muff of this month, I had to think of mittens and got curious about their past. From mittens it is just a small step to gloves (or "handshoe" as they are called in German) and here I got stuck, fascinated about the glove's history. The earliest document of the use of gloves is this ancient Greek fresco of two boxing youths. In medieval times metal gloves were part of armory. At the same time, gloves were a symbol for power and law and only aristocrats or the clergy were allowed to wear them. It was also in the middle-ages that gloves, made from leather or "needle-binding" turned into fashion accessories for fine ladies. But it was Queen Elizabeth I. who started wearing the most elaborate gloves embroidered and adorned with jewelry. The first specialized glove makers appeared in France in the 12th century. Probably to cover the smell of the leather, they perfumed their gloves with scented oils. Knitting gloves from silk or wool was a craft on its own, that supposedly required five years of training, if you still made mistakes your work would be confiscated and burnt!
Long lady's gloves reaching up to the upper arm became an important, in fact obligatory item of the ball robe in the early 19th century when short sleeved robes became fashionable. Interestingly, men traditionally wore gloves at balls to avoid damaging the fine silk dresses of their dancing partners with their sweaty hands. Today gloves are worn mainly to protect our hands against all sorts of things or by fashion eccentrics like Karl Lagerfeld.
Most fascinating, just as gestures with our hands express sentiments towards people, gestures with gloves can be quite expressive as well: in the 18th century slapping someone with a glove in the face meant to challenge him to a duel. And in German you "handle somebody with kid gloves" when you treat him very diplomatically.
And to give you a bit of a literary treat, check out the English translation of The Glove, a poem by Friedrich Schiller (1759 – 1805) who besides Wolfgang Goethe was and still is one of the most important German poets.