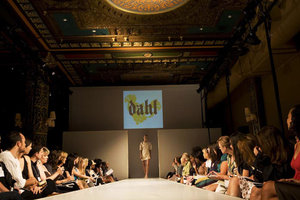 In the past few years, young fashion designers have come into view as promising & inspired visionaries. The study of Fashion Design has never been more popular
and the current infatuation with celebrity designers and the "face behind the name" has taken fashion to an exciting level.
I must admit, when I see celebrities coming out with fashion lines I get a bit sick to my stomach (most have had absolutely no training nor have ever sewn a stitch) but on the flip side, the current excitement surrounding fashion has led to the creation of numerous organizations and fashion design competitions giving young designers the chance to showcase their collections, many of which award winners with cash prizes.
One prominent New York based organization I applaud is GenArt. GenArt hosts various fashion design competitions each year and accept applications from all over the world. Anyone can apply (for a nominal fee of $25, as they are a non-profit organization) to a variety of categories, such as womens/mens ready-to-wear, avant-garde & accessory design. I was nominated last spring for a collection I designed from the word "Radiance".
There is also the
Ecco Domani Fashion Foundation
. Each year, seven designers win an extraordinary opportunity to showcase their collection during New York's fall fashion week. The
EDFF
award comes with a generous grant of $25,000 to help produce an unforgettable fashion show. The award categories for the 2008 – 2009 season include four womenswear awards, a menswear award, an accessories award, and a new
sustainable design
award.
ITS

#

FASHION

DESIGN

COMPETITION
is an Italian based organization sponsored by Diesel.
ITS
is a contest for young fashion designers and recent graduates from fashion schools worldwide providing winners with a Diesel grant and internship plus various other cash prizes.
I hope some of you may be interested in applying for one of these grants, I'd love to see a BurdaStyle member win! Feel free to post any grants or competitions you know of in your respective countries.