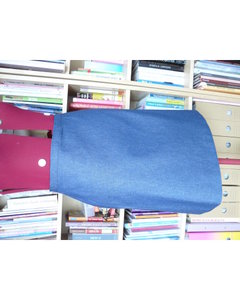 Do you remember last week when I showed you a tiny sample piece of the fabric I had ordered for my JJ blouse? Well that along with another piece of fabric I had intended to use for the new Sidonie skirt seems to have been lost in the abyss that is known as Australia Post, sob! But fear not for I do have my fabric stash although it does seem to be wilting away and looking very drab recently, I think I may need to do some new fabric and thrift fabric shopping sometime soon.
The new Sidonie skirt pattern is perfect for me and I have many ideas for many skirts buzzing around in my head. Oh and one of the best parts about it is how quickly it can be made up. I used some denim fabric that I have had sitting on the shelf for far too long waiting to be transformed into something wonderful, a few hours of my time (with a much needed nap in between!) and I have a new skirt for my autumn/winter wardrobe. I left out the lining and ended up cutting 2 waistbands, the first was not long enough even though I cut from the pattern, strange! I also noticed my skirt turned out longer than that on the model here on BurdaStyle (she's obviously MUCH taller than I am) which suits me fine, I would have made it longer since I'm not one for flashing my legs too much and this saved me time. I do intend to wear it with tights or knee length stockings/socks though, any idea where to find cute colourful ones?
It doesn't look much in the photo, I think it looks far better in real life but still it seems to be lacking something, it needs a little embellishment. I spent another hour at least playing around with trims from my box pinning them on randomly with the help of Mia and Esme which I think may be the reason it took so long! I have a number of knitted swatches that I was given a few years back and I thought one sewn onto the skirt as a pocket would work, i'll show you the finished skirt next week. I have plans to make at least two more skirts using this pattern, one from the fabric I ordered from Tessuti Fabrics and another from recycled fabrics, thrift stores here I come!
As well as making up Sidonie my sewing machine has been running hot this past week whipping up some much needed things for baby, sheets, hats, blankets and a sling (in the same denim fabric!). I have also been frantically working on an order of yoga products for my physiotherapist/yoga teacher neighbour. My sewing room floor is covered in flax seeds (eye pillows), wheat (wheat bags), scraps of bias binding (blankets) and lavender, oh it smells divine but it's extremely messy! Then there was the fabric Valentine's card I made for my husband, new dish towels to replace my old ugly ones that are falling apart and some clown trousers for Mia. Phew! I'm worn out just typing that and I still have so much more to do. Stay in there for the next month little one, I should be about ready for you then….maybe.