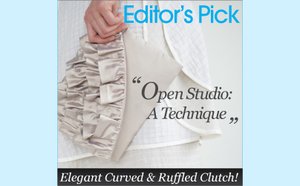 …and ruffles are so hot right now too. Yes, I am seriously mad about ruffles. You can add them to an existing piece of clothing or to an accessory which you don't use anymore, or design a new piece inspired by ruffles, like our Kristen dress.
This week we are not only bringing you this darling Curved Ruffle Clutch tutorial, we have also created a Ruffle Overview Extravaganza for those who want to be in the know on how to pucker and purse your way into any fabric.
I would LOVE to see how Burdastylers ruffle their way into these projects. Enjoy.