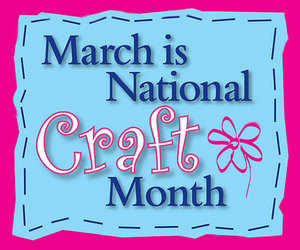 Did you know that March is National Craft Month? That's right, an entire month devoted to nothing but sewing, knitting, scrapbooking, needlework, stamping, embellishing…… To celebrate the month you'll find many stores hosting free events and demonstrations, classes, and holding special sales. How can you celebrate National Craft Month?
Share your hobby with someone. Know someone who's always wanted to sew? This month is a great opportunity to share your love for your hobby.
Learn something new. March is a great excuse to try a new craft whether it be knitting, weaving, embroidery, or even origami!
Join a group There's nothing better than sharing your passion with like-minded people. Find local guild, quilt shop or knitting group or grab a friend – it's a great way to spend a few hours each month.
Know of some special online events that celebrate National Craft Month? Share them here!