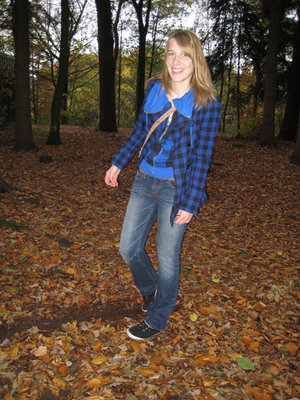 1. Where are you from and/or where do you live?

I am from Germany and live in Cologne where I am studying, but I'd like to get to know some other places and countries and hope I'll get the chance to study abroad for one year.
2. What was the 1st thing you made? How did you start sewing?

My mum used to make a lot of clothes herself when I was a child and she has continued making costumes for carnival for me. I told her what I wanted and she told me what was possible. After that we went shopping for a pattern and some fabric and I always got a costume I liked better than the other people's. So my mum must be one reason why I got interested in sewing. She also helps me when there is a problem I can't solve myself.
I guess the first thing I ever made was a small and very simple teddy we made in class at school; I must have been about 6 or 7 years old. The next things I made I am conscious about were some bags. I couldn't find the ones I wanted in a shop, so I got some fabric and tried to make some myself. After that I wanted to try something more challenging and ended up making my hippo skirt. For some reason I didn't make anything for a while after having finished that project. I really got started when someone told me about this website. Since then I haven't been able to stop sewing and my mum has not seen her sewing machine again…