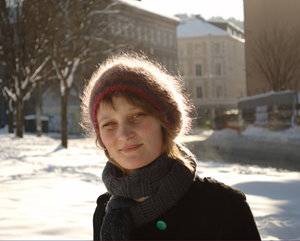 1. Where are you from and/or where do you live?

My mother is norwegian and my father french, so I'm from both places ! I was born in a little village near Lyon in France. 3 month ago, I moved to Oslo in Norway.
2. What was the 1st thing you made? How did you start sewing?

I think the first thing I made (with a little help from my mom), was a doll for my best friend. After that I started sewing with my mother, and learned a lot from her. In high school I began making pants and bags (made a lot of bags for my friends !).
3. What role does sewing play in your life?

It has become a really important thing in my life. When I have a project in my mind, I think about it all the time ! Although it sometimes drives me crazy, I find it very relaxing!
4. What is your favorite and what is your least favorite thing about sewing?

My favourite thing is when I start to put the pieces of a pattern together. I'm a film editor, so I guess I just like to put stuff together to make something new ! I also like to go fabric shopping. I just moved here, so it's fantastic to discover new shops ! My least favourite thing would be assembling the pattern after print, and cutting the fabric.
5. If you could make something for anyone who would it be and what would you make?

I often make clothes for the people I love. I think it's a great birthday/christmas gift because it's unique in a way. But I don't always have the time !
Maybe next time, I'll do a jacket for my brother. I also want to make something for my mom one day !
6. What are you looking for on our site? What do you think should be improved and what do you really like?

The first thing I look for on Burdastyle is inspiration. Other members creation is an endless source of inspiration, and I really love to be a part of this community ! I 'm also looking for new techniques to learn, and I really find it in the how to's. I think I've improved my sewing skills a lot since I've discover this site !
I also really like to share creations, give and get feedback and of course find great patterns !
I would love to see more how to's about pattern drafting, and maybe more videos ?
7. What is your motto?

"Man skal ikke plage andre,
Man skal være grei og snill,
Og for øvrig kan man gjøre hva man vil."
This comes from a norwegian childens book, and means :
"You should not bother others,
you should be nice and kind,
Otherwise you can do as you please."
Djoule's creation's always catch my eye when they pop up. It has been so nice to see her take more risks and grow as a sewer. Keep it up! Check out her top ten favorite creations.