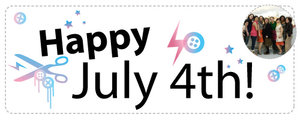 Happy Independence Day, BurdaStylers! We hope you all have fun plans for tomorrow… Here in the office, we all do:

Benedikta is heading to a German birthday party in Virginia, where she will be decked out in full dirndl regalia. Nora A. will be enjoying a picnic in the mountains of Colorado. Nora K., who is with us for the summer from Germany, will be enjoying TWO traditional American barbecues. (We hope she doesn't get a bellyache!) Alden is in upstate New York spending quality time with her family. Our awesome new intern Katie is going to a beach house in the Hamptons—fancy! Layla's watching the fireworks at the Statue of Liberty from a rooftop in Red Hook, and Hikaru is watching fireworks against the Manhattan skyline from a rooftop in Greenpoint.

Ok, everybody. We hope you all stay safe and fun and cool this holiday weekend, and maybe you will even get a little sewing done!