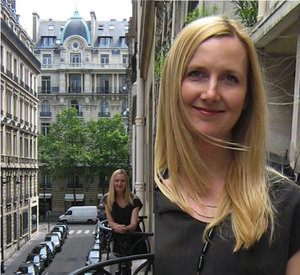 1. Where are you from and what's life like where you live?

I was born in Birmingham, England, when I was 18 I landed a summer job in Paris, fell in love with the Parisien way of life and ended up staying! I lived in Japan too, I was really impressed by the honesty and generosity of the Japanese but stayed for just two years before coming back to France. I still think Paris is the most beautiful city to live in.
Life in Paris is hectic, people are always running. No wonder the French are officially the skinniest in Europe! People care a lot about what they wear here, they also care about what everyone else is wearing. For people who create it's a nice place to be.
2. What was the 1st thing you made? How did you start sewing?

A pair of trousers. I enthusiastically cut around a pair I had twice and then hand sewed straight up the legs. Strangely enough I thought that would do the trick (there was no room for my bottom of course). When I'd finished laughing I signed straight up for sewing classes. Sewing is more complicated than I thought.
3. What do you get out of sewing?

The freedom to wear exactly what I want, the satisfaction of making something from nothing. When I'm wearing my creations I feel like an artist exhibiting my work!
4. What is your favourite and what is your least favourite thing about sewing?

I love the cutting. I love the sound of the scissors cutting through the fabric. I tend to be a bit happy-go-lucky with the scissors and often cut without measuring which is why I have extra length tacked back on some of my creations, whoops!
I hate zippers, having to find a matching colour, length, sewing them, hiding them, it's all time consuming , I much prefer buttons. Of all of my creations only 2 have zippers and that's only out of respect for Elainemay as I really wanted to make that coffee date dress!
5. What do you love about Burdastyle? What could be better?

I love the how-tos, I really appreciate people taking time to share their knowledge. Creations are always a great source of inspiration. I would also like to see 'worst-of creation'pages too, where you can post messed up creations and say "look what a horror I made, whatever you do don't do the same" or "look at my hideous creation, what went wrong?" Lets face it, we all make mistakes, some of my favourite creations were born that way!
6. What makes you laugh/cry?

Practical jokes, people walking into walls or falling flat on their faces (as long as they don't get hurt of course) / Onions
7. What is your motto?

Get over it
Live long and prosper
Check out sunflowerinski's amazing creations. Also take a look at her Top ten favorite creations.