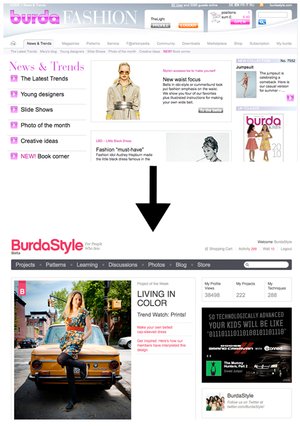 [UPDATE: 04/17/2013] – In June 2010 the former Burda website in English, BurdaFashion.com was redirected to BurdaStyle.com.
We regret to report that the merger between BurdaStyle and Burda Fashion did not take place and BurdaStyle is unable to offer the same content as the former site. Please find the appropriate contacts below regarding information once available.
Burda envelope pattern customer support and sales:
- Germany: www.burdastyle.de
- France: http://www.burdafashion.com/fr/index.html
- Italy: http://www.burdafashion.com/it/index.html
- Russia: http://www.burdafashion.com/ru/index.html
- United States: http://www.simplicity.com
If you purchased a Burda envelope pattern in the United States and need support regarding your purchase, please contact Simplicity Patterns directly.
Simplicity Patterns customer support: Sharon Dorris, SDorris@simplicity.com
Simplicity Patterns Co., Inc., 6050 Dana Way, Antioch, TN 37013
If you purchased your envelope pattern outside of the United States and/or need support for an issue beyond the purchase (including English instructions), please contact the Burda Fashion Factory for assistance.
Burda Fashion Factory customer support: Liliane Tricard, liliane.tricard@burda.com
BurdaStyle.com sells downloadable PDF sewing patterns only. Between 2007-2010 BurdaStyle.com created a collection of exclusive PDF patterns from their NY office and in 2010 the team ceased pattern production and began selling PDF patterns by burda style magazine, which are under separate copyright laws. BurdaStyle.com does not offer customer support for patterns not available on the site.
If you have any feedback related to burda style magazine's editorial content and/or pattern collection design please contact the magazine directly.
burda style magazine customer support: burdastyle@burda.com.
If you have any questions about BurdaStyle.com, please visit our FAQ page.
---