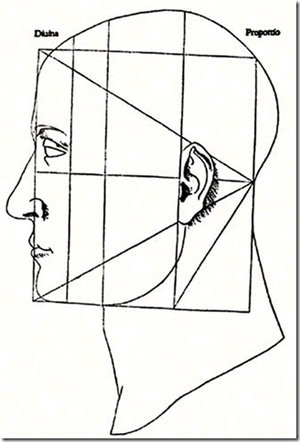 The great plus size patterns that BurdaStyle has been adding to its collection made me curious to find out what lies behind our ideas of shape and proportions and whether these are different around the world. I started my investigation and was transported into the world of geometry where I found the "golden ratio". This ratio equals 1.618Ö (plus an infinite number of decimals), carries the mysterious name "phi" and is so attractive to the human mind that it has been seeking (and finding!) it throughout the universe: in the spirals of galaxies, the curves of Nautilus seashells, and in the wings of moths. And it has spurred human imagination: artists and architects around the world have been employing this ratio to create what we know as classic masterpieces: the pyramids of Egypt, Greek sculptures, paintings of da Vinci and Dali, the music of Mozart and Beethoven.
So, what is this "golden ratio" or phi? Simply speaking it defines the perfect proportion between two parts. Take for example the shape of Mona Lisa: when you draw a rectangle around her head, dividing the larger side by the smaller side of the rectangle will give you the approximate number of 1.618 = phi. Or take da Vinci's famous Vitruvian Man and divide the length from his feet to his navel by the length from his navel to his head, again you will arrive at the approximate number 1.618Ö
We can find this ratio not just in idealized human body shapes but in real ones too: curiously in the most obscure places such as the relation between the front and its neighbour tooth.
And of course we can apply this golden ratio rule to fashion as well, for example to find the right proportions for a dress, or to combine a skirt with a jacket, as Gabrielle Loodts shows. The key here is to find the right proportion between the covered and uncovered parts of your body to create a perfect visual relation between the two (note that it is completely unimportant what size you are as long as you get the proportions of your clothes right!) There is no need to repeat what Gabrielle describes with lots of visual examples, check it out!!!