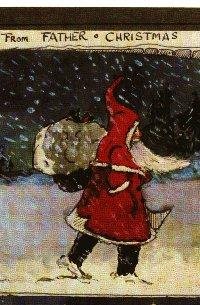 I am reporting directly from the North Pole where hundreds of elves and little helpers have just done an incredible job of finishing and delivering thousands and thousands of presents for children all around the world. Santa Claus returned from his trip a few minutes ago. I had the chance to catch him for an interview just before he goes home to have a hot bath, eat and rest a little while before celebrating Christmas with his family and his friends:
Mr Santa Claus, BurdaStyle members around the world, are curious to know where you find your inspiration year after year, after year.
Well, that is one of a question, which of course I cannot fully answer as not to jeopardize my company's secrets. But let me tell you that, yes, I have finally discovered the internet as valuable source of inspiration.The greatest difficulty is to maintain individuality when all children around the world are just asking for standardized designer toys and clothes. I say, fashion trends are the straightjackets of free societies.
How do you create individuality?
I have one principle: do it yourself. If at all possible, I don't fulfill dreams but give kids the tools so that they can make their own wishes come true. I wish, more parents would do that.
We at BurdaStyle are of course most interested in the story of your own dress, is it true…
… that Coca Cola has designed my dress? – HOHOHO, in their dreams!!!
I was already seen in red-and-white outfit in the 19th century as you can see on historic postcards dating from 1897 –written by a father who couldn't come home for Christmas. You can also see Father Christmas in a red coat in the letters from Father Christmas annually written and illustrated by J.R.R. Tolkien between 1920 and 1942.
Before the media (and Coca Cola) started to standardize me as old, big-bellied man with white beard in red-and white, everyone saw me as s/he wanted to see me. Long time ago, I would come not just in red, but more often in blue, green and brown. In hot regions, like Africa, they saw me completely different since a big fur does not make sense in the blazing sun.
Well, thank you so much Santa Claus – it was delightful talking to you! We wish you a good rest and Merry Christmas!