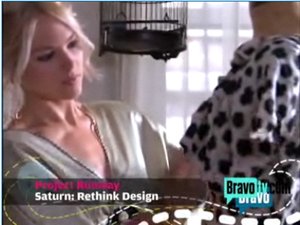 A few months ago I was asked to participate in an interesting opportunity. Having been a contestant on the t.v. series Project Runway, certain perks are thrown one's way from time to time (sometimes ridiculous, though at times, worth the hassle).
Saturn car company, being one of Runway's few sponsors, creates vignettes of their favorite designers pairing them with a car to be "inspired" by and airs these commercials during the series.
When asked, I wondered whether this act would antagonize my morale, but I decided I had already lain my ethics aside while participating on the series and have since reaped the benefits of the exposure. So I was queen for a day.
The task was to create an outfit inspired by the Saturn Aura, a bulky, boxy sort of sedan with inky-black interior and a sunroof. A messenger delivered an envelope of cash to my door and I went fabric shopping. I knew I wanted this "quirky" (a word I was later forbidden to say in the same sentence as Saturn) washed silk print to make a dress from, so the "inspiration from the details of the car" came off the cuff the morning of the shoot…"the open back emulates the sunroof…"the playfulness of the print elicits the modern, fun design of the Aura…" You get the gist.
Thank goodness we didn't shoot in my loft, as suggested by the producers, as it is such a big production! My call time was 5:30am on the balmy, spring day of the shoot and when I arrived I was escorted to my very own RV. I felt important. I proceeded to have a bit too much eye make-up applied for so early in the day, and with my hair too processed I was escorted to "my studio". The production team rented out the most beautiful studio with Victorian details, giant windows, black marble fireplace and old smokey mirrors. They had collected some of my belongings the day before so it really did look like my studio, as though I were peering at it through rose colored lenses.
We proceeded to do some takes, describing the design process, etc. and then relocated outside where I got to drive the car 10 feet forward over and over again. The law states that both of your hands must be placed at 9 and 3 o'clock on the wheel if it will be shown on t.v.
All and all it was quite fun, I made some money to put towards my business and I was lucky to sell many of the Saturn dress I wore throughout the commercial.
Watch the video <a href ="http://www.saturnfans.com/cars/aura/project-runway-vignette-alison-kelly-rethinks-design-saturn-aura&#8221;&gt; here.