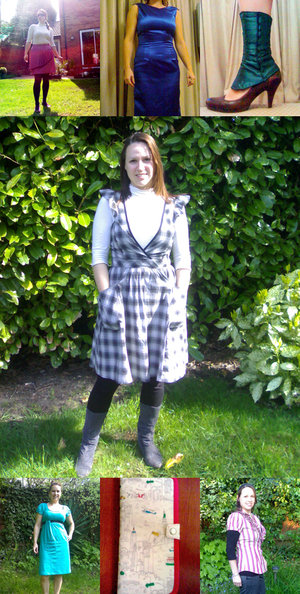 1. Where are you from and/or where do you live?

I have lived in Poole in Dorset on the south coast of England all my life, apart from 3 years when I lived in Bristol where I studied for my degree in forensic science. I don't think I could live anywhere else – I try not to take the beautiful beaches and countryside for granted!
2. What was the 1st thing you made? How did you start sewing?

I think it was a pillow when I was at school! My mum sewed and knitted quite a lot of clothes for me and my brother when we were kids, so I guess I just followed her lead. Just recently I've started taking it more seriously, when I first started I would usually just be making something for an occasion that I would wear just that once, but now the things I make are everyday and work clothes that I wear all the time.
3. What role does sewing play in your life?

It saves me a lot of money! I am a total shopaholic, so making clothes is definitely a much cheaper option than buying them! Plus if I'm busy sewing I don't have time to shop! I just really enjoy it – I love the feeling that I have created something – it makes me feel a lot more special when I wear something that I have made, something that is one of a kind and made to measure.
4. What is your favorite and what is your least favorite thing about sewing?

My favorite thing is when I get to try the finished garment on, and then when I wear it out for the first time – I feel really proud of myself when I've created something I love and it makes me really happy when I wear it and get nice comments from friends.
My least favorite thing is unpicking! I really hate when something goes wrong – not only do I have to re-do something, but I have to un-do it first!!
5. If you could make something for anyone who would it be and what would you make?

I dream of making my own wedding dress one day, and the bridesmaids dresses too.
6. What are you looking for on our site? What do you think should be improved and what do you really like?
<p Initially I joined for the free/cheap patterns – I love the range of styles and that they can be so easily downloaded – and then discovered this fantastic community of people with similar interests! I love looking through the creations and seeing how people interpret the patterns differently and make them their own.
I think it would be cool to be able to search members by location, so you could see if there were any other sewers in your area!>
7. What is your motto?

You can do anything if you put your mind to it. Cheesy – but I think true!! =)
As you can see, Stacey6970 has some amazing creations. Make sure you take a look at the awesome Envelope Clutch Bag pattern that she has posted, as well as her How To on making a Travel Wallet. Check out what inspires her! .