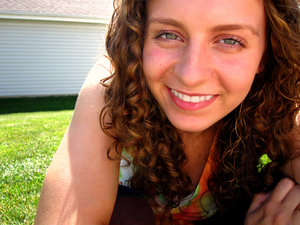 1. Where are you from and/or where do you live?
I'm from Carol Stream, Illinois. That's about an hour from Chicago. It's the place that everyone and their brother want to leave as soon as possible, because there's nothing all that exciting here. But I'll be living here until I leave for college. It's kind of what inspires me to sew—our school is overwrought with drab department store clothing, so it's pretty easy to stand out.
2. What was the 1st thing you made? How did you start sewing?
The first thing that I made…oh, I can remember that quite distinctly. It was this little lime green beanie hat with hideous gold fringe that didn't quite fit. I made it with my great aunt when I was about seven or eight. She's the one who inspired my sewing; to this day, she only wears housedresses she's sewn herself. I restarted sewing last year, and finally have stuck with it, thanks to the supportive BurdaStyle community!