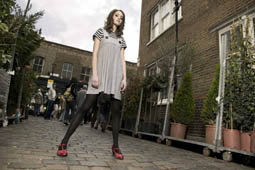 As the saying goes, one man's trash is another man's treasure. And nowhere does that cliché ring truer than at a swap party: For every item someone throws in the kitty, he or she gets to rescue another find from the pile. The pair of jeans a size too big. The pair of shoes that would not stretch. The gift-with-purchase lipstick, the sweater your ex left that you won't back and need never see again, the worn-once cocktail dress not to be seen in twice. You name it, you can swap it. Preferably over drinks.
Swap-shopping is nothing new, of course, but last month the practice got a vote of support from an unlikely source: Visa, a/k/a, the company that wants you to spend money you don't necessarily have. In collaboration with TRAID, a U.K. charity committed to protecting the environment and reducing world poverty by recycling clothes and shoes, the credit card company sponsored the three-weekend Visa Swap in London. People who donated goods earned points on a special Visa Swap card, to be used at one of the stylist-assisted swap meets; anyone who found (him or) herself overextending her Swap points could then supply added purchasing power by whipping out her (yes) Visa. Savvy marketing? Sure. Praise-worthy anyway? You bet.
Visa Europe, the arm of the conglomerate that co-sponsored the Swap, plans to launch more barter boutiques in the future, though no word yet on when the initiative will reach America's shores. In the meantime, extras from the Visa Swap in June have been donated to TRAID, and that's how you can get your hands on some of the leftovers…sort of. Among its numerous admirable activities, TRAID operates TRAIDremade, a fashion line of one-off pieces made from bits and bobs of donated clothes. The looks are surprisingly fresh, giving a trendy new lease on life to stuff that might otherwise be rightly consigned to the landfill. A trip to London to visit one of the TRAID shops? Cool thousand, give or take. A few TRAIDremade originals? Theoretically hundreds of bucks, what with the low dollar. Getting inspired to makeover your closet without hitting the mall? Alas, the Mastercard ad puts it bet: Priceless.