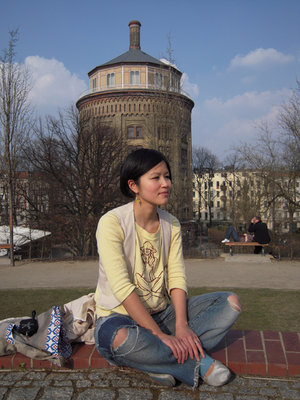 1. Where are you from and/or where do you live?

I was born in Japan and I lived there most of my life. After I went to London to study Graphic Design for a year in 2005/2006, I traveled around Europe. During the trip I got to know a German guy, so I decided to come to Germany. Since 2007 I have lived in Berlin. My boyfriend and I have spent good time together, so we got married last year.
2. What was the 1st thing you made? How did you start sewing?

My first sewing thing with sewing machine was a bag, I think. My mother learnt to sew, and there was a sewing machine at home, but I couldn't enjoy sewing that much at home because my mother tried to babysit me. In Berlin I found second hand sewing machine, so I just bought it. I felt much more free to try many things without my mother's very very strict tutorial. My first wearable thing was a shirring dress, which I made last year.
3. What role does sewing play in your life?

Sewing is my day, my night, my everything right now. My thinking is almost everything about sewing. I daydream quite often and that time my thought is full of sewing.
4. What is your favorite and what is your least favorite thing about sewing?

My favorite thing about sewing and my least favorite thing about sewing are actually same; thinking about sewing project. I think about very often about sewing, what I want to wear, what kind of fabric I can use, colour coordination and fashion coordination with existing clothes and so on. That is the lovely moment in my day, but at the same time, I need to think about reality bites, how much it costs, if my skill allows me to make such a thing, I make too many same style thing and that is quite boring or so. My ideas are really big in my head, but my skill is not following it. But when I start the project, I enjoy everything.
5. If you could make something for anyone who would it be and what would you make?

I would love to make something for my baby, whom I will see hopefully in the near future. My husband and I wait for pregnancy, but it doesn't work that easily. I often daydream about making baby clothes.
6. What are you looking for on our site? What do you think should be improved and what do you really like?

I enjoy on BurdaStyle website by seeing others' creations most. That is actually amazing that there are so many free patterns. More I see the others' creations from the same pattern, I surprised all the time how different they are. I can get many inspirations and next sewing ideas.

It would be really nice if everybody showed their sizes on the creations with Burda pattern. I am too small for most of Burda patterns, and I sew some people wondering about the size or fit of pattern. It helps people a lot to make "real fit" if they can see others' sizes (maybe just height and bust sizes) with creation size! Normally body size is not something to reveal, but here is sewing community, so I could imagine that many people would love to share.
7. What is your motto?

In Germany as a Japanese girl, I cannot do many things so easily just as in my home country. I used to be so irritated with many things. Then my husband gave me the words "Lockerer bleiben (Stay relax)". Since then that is my motto. I am not that good sewer yet, I did sometimes mistakes and choose wrong sizes or something like that. But I try to stay calm and say this words "Locker bleiben" to myself. When my creations are too big for me, I try to think "I need sometimes practice, this is a good practice!" and donate to Red Cross or some charity shops.
Sakko has over 70 ceations, 70! Her creations are beautiful and can often be found in the featured creations and best of the month slide show. Take a look at her favorite creations!