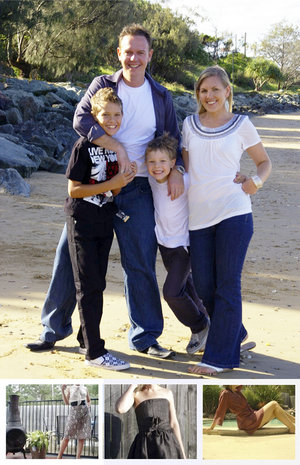 1. Where are you from and/or where do you live?

I was born in Australia, in a little town called Orange. My parents then moved us to sunny Queensland where we found our home on the Redcliffe Peninsula because it was just too cold in Orange.
My parents are from Norway and Estonia so I'd like to think I've got a bit of European flowing through me as well, I just like warm weather that's all.
2. What was the 1st thing you made? How did you start sewing?

The first thing I think I ever remember making was a care bear cut from a ready-made material pattern with my nana in her sewing room.
My nana, who is from Estonia & my Pop who is from Poland, came to Australia after the war and settled in Orange. My nana started her own little sewing and mending business from her sewing room and from as young as I can remember I always helped her with cutting out patterns with my Pop, threading needles (because she couldn't see well :)), threading bobbins and of course making clothes! She still sews and has her little sewing business – same prices as 50 years ago – nothing has changed!
After we moved to Queensland I didn't have the same content of sewing in my life but I still did bring out the old machine once in a while, for my formal (prom) dress and when I went feral in my first year at Uni. I liked the idea of creating my own style and couldn't really afford to buy clothes all the time. I was a poor student.
Once I got married and had my children I kind of got lost for a while, studying, working and doing house-wifey things until just recently. My husband, tired of me saying "I'm bored" told me to "get a hobby." Now he totally regrets those infamous 3 words. I have now taken over the dining room and formal lounge room with fabric, patterns, cotton and PINS! For so long I was looking for my passion (sitting right under my nose for most of my life) and I have found it much to his dismay (he is now a sewing widow :))!
I completed a pattern making course with one my girlfriend's at The Australian Institute of Fashion & Design just last year to help me with the whole design process. I was so happy with the course I'm planning to do more this year to help enhance my skills.
3. What role does sewing play in your life?

I own a restaurant which is a lot of of hard work and very stressful at the best of times so sewing has definitely given me a new lease on life.
I sew daily now and have just opened up my own Esty store www.zacobe.etsy.com (check out my store!) which I hope will lead me onto my new business venture once I sell my restaurant (Yes it's on the market – is anyone looking to buy a restaurant? It's really awesome!).
I love designing and making beautiful clothes, I think I miss wearing nice clothes working in my restaurant because I have to wear black all the time and my clothes just never smell the same once I wear them to to work – they smell like pizza. Hence, I love working with colours and making things that I would definitely not wear to work!
4. What is your favorite and what is your least favorite thing about sewing?

Most favourite thing I like about sewing would have to be the finished product or just when I'm getting to the end – it's the anticipation of what it's finally going to look like on! I get really excited :))!
My least favourite thing is bobbin winding – I think I overdid as a kid and now it has become a pet hate of mine. Also having to change the colour of the cotton on my overlocker, how painful.
5. If you could make something for anyone who would it be and what would you make?

I would love to make a beautiful gown for Miranda Kerr. She is stunning! I love her from head to toe. I could see her in one of my dresses! Oh, and i could then possibly meet Orlando Bloom – Yum!
6. What are you looking for on our site? What do you think should be improved and what do you really like?

Like everyone, I think this site is awesome for anyone who sews and likes to share their creations and ideas with like-minded people. I have learnt so much from Burdastyle since becoming a member and have taken my sewing further than just a hobby.
I love that users become a star for the day on the front page under user creations. And i also love browsing the daily creations that everyone puts up – so inspiring!
I love tutorials that people add and I love that people can comment on your creations and give you advice. Sharing is caring.
I don't like seeing things other than sewing on the site. Call me biased but i just like looking at sewing creations nothing else, sorry.
7. What is your motto?

Don't know if I actually have one… but this i like to live by….
My friend Bec once told me which I never forget and I think it would make the whole world a better place:
Whenever someone did something to erk me she would say "Oh Cherie, just send them the love…" in other words don't put out negative energy back it only creates more negativity. Send them love and positive energy and you will feel much better for it by letting go and in turn create more positive energy.
She's my fabulous spiritual advisor and also my best friend – she's read all the books – a little walking spiritual library. Perfect.
Check out Cheriered's creations and her Etsy store: Zacobe where you can purchase many of the creations you see here. Also, don't miss her favorite creations!