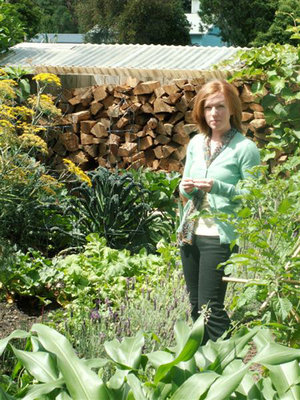 1. Where are you from and/or where do you live?

I was born in England but my parents emigrated to New Zealand when I was a baby, so that makes me a kiwi through and through. My family home is in Stratford, a small town with a beautiful mountain but now I live in the city of Hamilton with my husband and Oscar the dog.
2. What was the 1st thing you made? How did you start sewing?

My mom sews, so when I was younger I learnt (basically) how to use a sewing machine by being her assistant in sewing curtains, costumes and my prom dress. The first wearable item I assembled, all by myself, start to finish, were the Jane pajamas about 8 months ago.
3. What role does sewing play in your life?

I really enjoy practical, creative things so sewing fits that perfectly. My husband is usually occupied outside in the vegetable garden on the weekend so that leaves me time to have a good sewing session. In the evenings he comes inside and cooks me dinner so I don't have to stop sewing! I'm sure our friends think we are old before our time.
4. What is your favorite and what is your least favorite thing about sewing?

My favourite thing is reading instructions! I love instructions!! Haha. Just by following steps (even if you're not quite sure what you are doing) you can take a flat piece of material and turn it into a piece of clothing! My least favourite thing is actually fabric shopping! Hard to believe? I love the idea of shopping but once I get to the fabric store I feel a bit overwhelmed and under experienced. I start second guessing my choice of fabric and end up just staring blankly at the bolts.
I do look forward to having the experience to step away from the step by step pattern and be able to make my own adjustments or to adapt and recycle clothing like some of the other members have.
5. If you could make something for anyone who would it be and what would you make?

Hmmm, something special for my brand new niece (born 7.1.09) as she is just about all that is occupying my thoughts at the moment.

(Also, maybe a pair of tight, leather trousers for Rob Thomas because then perhaps I'd be lucky enough to do an in-person fitting?)
6. What are you looking for on our site? What do you think should be improved and what do you really like?

I think that if I hadn't come across Burdastyle then I would not have been so quickly hooked on sewing. It is great to have easy access to patterns and all the helpful tips. Without these, as a beginner, I would have just given up I think.

When trying to decide on a pattern to sew I find it really helpful to browse through all the other members creations of the same pattern, to get a really good idea on what the end article looks like. Much better than the envelope patterns that you buy at a store where there might only be a single illustration.
I love seeing other members' creations and also find it interesting to read their blogs etc.
Sorry, I really can't think of anything that can be improved!
7. What is your motto?

To be true to yourself, always follow your own heart, mind and soul.
Nelliethemermaid has some absolutely beautiful creations, my personal favorite is her JJ variation. To see Nelliethemermaid's top ten favorite creations and inspiration, check out her silde show!