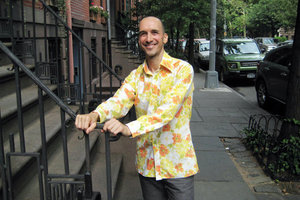 1. Where are you from and/or where do you live?
I'm a native New Yorker, originally from the Bronx (Ralph and Calvin's old neighborhood in fact). I currently live in Chelsea on Manhattan's West side. I'm truly fortunate to be just blocks from the Fashion Institute of Technology (FIT) — I can see it out my window, in fact — as well as many wonderful fabric and notions stores.
And the Chelsea Flea Market, an endless source of inspiration!
2. What was the 1st thing you made? How did you start sewing?
Get this: In May of 2009, I picked up a pair of Edwin Jeans at my local Goodwill but they were about 4" too long — not unusual, since I'm only 5'7." I wanted them shortened but I didn't want to pay for the privilege. I don't even remember how, but it occurred to me one night that I could probably buy a sewing machine and make my own alterations, and it would pay for itself in no time. Long story short: I bought a vintage Kenmore on eBay and my life hasn't been the same since.