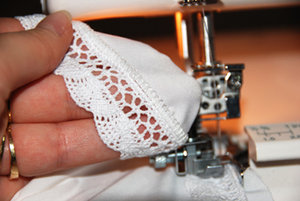 Valentine's Day may be over, but it's still not too late to make your own romance by sewing yourself up beautiful lingerie. While this particular project may seem daunting, creating your own undergarments, slips, and camisoles can be easy if you keep in mind a few tips:
Always use a new needle appropriate for the fabric type (e.g. ball point for knits) and weight (e.g. #9 fine point needle for silks).
If you're using a standard sewing machine with knits, always use a stretch or zigzag stitch. For a ready to wear look, finish seams and attach stretch lace inserts with a twin needle. Both of these techniques will keep your stitches from popping when your fabric stretches.
Many patterns recommend elastic lengths, but it's always best to fit your waist, leg, and lower bust area yourself so that it's comfortable.
When using flat lace, attach with a small zig-zag stitch then trim away excess material from behind stitching to give a beautiful lace edged finish.
Think about cutting your material on the bias – this give you fabric a bit of stretch (and may eliminate the need for bulky fasteners), makes it more comfortable to wear, and gives your finished design excellent drape.
Have tips that work well for you? Share them here!