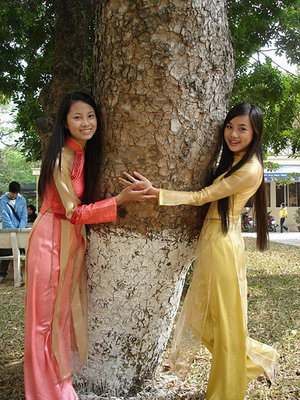 What is modern dress?
Are jeans more modern than a Bavarian Dirndl? What is modern dress? Does it depend on age? but blue jeans are about as old as the dirndl's rise to fame (see my previous blog). Are clothes worn in New York, Paris and London more modern than others? Does it depend on who wears them? That is what I have been asking myself since reading various comments on previous blogs.
I have not found a conclusive answer in fact, I have become rather more confused reading about the salwaar-kameez, a dress which originally includes pajama-like trousers, a tunic or long shirt whose sides are open below the waist-line, and a shawl made from richly coloured garments and that has been worn by South Asian women (and men) for the past 2.000 years. Sounds pretty historic and traditional to me yet, looking around London and New York, I see plenty of women not just Asian but also European, dressed in various combinations and alterations of this dress, such as wearing it with "Western" clothing such as jeans. In fact, compared to the sari, the salwaar-kammez seems to be an expression of modernity: "As women in South Asia began entering the universities and marrying late (symbols for a "modern" woman), the Punjabi suit filled the niche between the school uniform and the bride's sari".
On the other hand, take the ao dai, locally and internationally considered to be the authentic Vietnamese national dress. But the tight-fitting silk dress worn over pantaloons is in fact, a hybrid shaped by Chinese, French and American influences throughout the 20th century so, it neither has a very long history nor is it actually as such Vietnamese.
I still don't have an answer to my question, – but I do recommend checking out both the salwaar-kameez as well as the ao dai. Made from fine colorful garments such as silk they are said to "cover everything but hide nothing" and are perfect to give formal (office) clothes a special touch even for men!