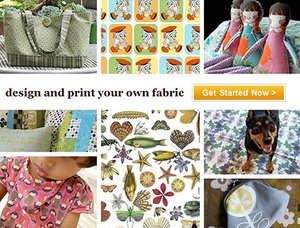 With gift-giving holidays less than two months away, it's time to start planning what presents you might want to sew. If you have the perfect project in mind, but just can't find the right fabric, you may just want to design your own. Creating your own material couldn't be easier with several sites devoted to custom printing:
Spoonflower is probably one of the best known sites on the web – not can you see your designs printed on a variety of cottons, sateen, rayon, and interlock knits, but you have the opportunity to win 5 yards of your design if you enter one of their weekly design contests!
If you're looking for more than just cottons to print on, check out Fabric on Demand. This website will place your design on 'classic cottons', duck, fleece, micro-denier suede, Lycra, and polyester satins.
Have a luxurious gift in mind and requires a one-of-a-kind silk print? Try KaramKraft. This site uses reactive dyes not pigments which means that they can print on any fabric including silks and wools.
If you live outside of the United States and are looking for a fabric design site, be sure to stop by Bonbonkakku. Just like Spoonflower, this Finnish company holds contests where you can win yardage of your material!