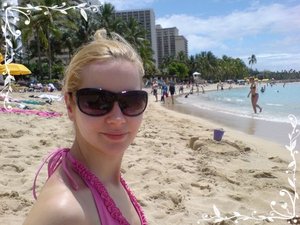 1. Where are you from and/or where do you live?
I am originally from Germany near cologne but now live more south in Mannheim. I also spend three to six months of the year in Ohio, because my boyfriend is from there.
2. What was the 1st thing you made? How did you start sewing?
The first thing I made was the apron from BurdaStyle ;-) a very nice and easy 1st-sewing project.
The first time I was in Ohio with my boyfriend I thought about starting to sew. So I bought a sewing-embroidery machine on Ebay. I always wanted to do this but I never had time for it. The years before I went to my work and in the morning I studied in the evenings, so no time for any hobbies.
3. What role does sewing play in your life?
Since I started sewing a few months ago, I figured out how creative the world is and what fun it can be. At first I only made clothes but now I like to sew some decorations too.
There's so much to learn and I want to learn it all. If it's pattern drafting, designing, the knowledge of fabrics & techniques everything is very exciting for me. Normally I didn't have patience for something – sewing has changed me at this point.
I feel such more in balance since I started to sew and the time in one day is never enough.
4. What is your favorite and what is your least favorite thing about sewing?
The result is my favorite thing of all it. The steps between are sometimes little and hard and in the moment it can be painful; you start to think that you will never finish this project like you planned. But at the end you forget all this anger (yes sometimes anger comes up) and you're proud to reach your own little goal.
I haven't gone to a sewing-school yet, only some great pattern instructions like yours, the www, TV and good Books helped me to 'fight' the patterns.
5. If you could make something for anyone who would it be and what would you make?
I would sew something for the home or a nice a bag. To make clothes for somebody is a bit difficult, above all it should be a surprise present.
6. What are you looking for on our site? What do you think should be improved and what do you really like?
BurdaStyle patterns were the first one's which I didn't have any problems with. And if I had a problem BurdaStyle has a very huge collection of helpers.
I like the community they are all very friendly. I like to see the members in process and that's pushing me in my work.
BurdaStyle is easy to use- I like it!
Sometimes there are these 'fake' pattern ( only a picture without a pattern or an instruction) from the USER – I don't like this
7. What is your motto?
Nothing is impossible to sew when you're not afraid of your faults. Be accurate when you're sewing. Don't give up- give yourself time and try again later.
Follow Bathina's creative thought process by checking out her blog! Also she and her girlfriend just opened a new website called Creativoo. The main idea of the site is it is a community for all kind of crafting hobbies that posts more videos instead of pictures. Check it out!