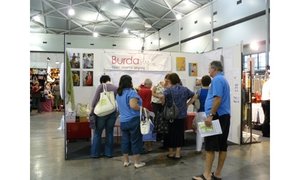 I've been back from the Brisbane Stitches and Craft Show for a week. I represented BurdaStyle with a booth and a daily fashion show. I spent a lot of time explaining the ins and outs of BurdaStyle to the older ladies who assumed i was selling the Burda Magazine and they left the booth armed with their postcards and a smile telling me they were off home to check out the site.
The fashion show's were great and drew big crowds each day. Heaps of school kids on school textiles class excursions watched and got excited and i spotted some BurdaStyle members there too, in particular Caity who was very excited!
Can i tell you how lovely it is to actually see the garments for real!? I've fondled some of them and even tried a few on…shhh (if only i could be as tall as the girls in the picture above, i'd want to wear them on the catwalk each day too!) and am patiently waiting the patterns of some of those that are yet to be published here on the site.
Now i'm preparing for the next show in Sydney from August 19th to 23rd. I'm still looking for more volunteers to help with BurdaStyle and Wardrobe Refashion, if you are interested in helping out please email me at nikkishell@burdastyle.com
More photos of the show to come soon.