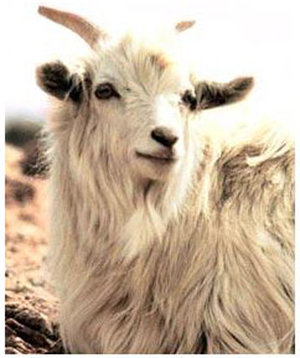 If I write about silk silk and cotton I cannot but have to tell you something about Cashmere too! When the icy winter wind whips the farthest corner of the Himalaya's at temperatures where even looking out the window makes you catch a cold, (-40 degrees Celsius!) this sensationally soft wool will keep you warm, after all, it insulates the Himalayan mountain goat that roam the mountain ranges of China, Mongolia and India at 4,000 meters above the sea. Today we also find them in other places, like Scotland where quite a thriving Cashmere industry has developed since the 19th century.
The hair is six times finer than a human hair, so fine that it has to be woven by hand in a painstakingly laborious process (just think how difficult it is to get a thread into a needle hole). But before we get to the weaving we first have to collect the hair. For that the fine undercoat of the hopefully patient goat is combed out to extract the fine white hair also called pashm from which Cashmere is made. Even if the goat is patient, there isn't much wool coming out or in other words, there may be plenty of wool but each goat only produces about 150 grams of pashm; no wonder that one single scarf for example requires the wool of three goats!
By the way, traditionally the word "Pashmina" (a Persian word for "finest wool fiber") referred to pashm (the wool) once spun into yarn, while the word Cashmere was used to describe the traditional shawl. Why Cashmere? Because originally in the 15th century only Kashmiri weavers had the skills to weave the pashm into scarves that the Mughal, the then rulers of India, were so fond of. Since Napoleon's time (he gave a Cashmere shawl to his wife Josephine and triggered a Cashmere craze in Europe) the definitions have changed, at least in Europe: Pashmina refers to the scarf and Cashmere to the fiber.
While fashion designers discovered the wonderful properties of cashmere in the 1920s, it was only in the 1990s, that the Pashmina, although having been worn by Indian aristocracy and even Napoleon's wife long time ago, suddenly became a must-have in a woman's wardrobe after fashion designers featured them on Western catwalks (although now of course not made from pure Cashmere but mixed with silk and other fibres).
Of course BurdaStyle members have already found their very own original uses for Pashminas and Cashmere: check out stepanka's cashmere bolero and ParaNoire's Cashmere and Silk Blazer.



Try making these out of cashmere:
photo from MÂnestrÂle.