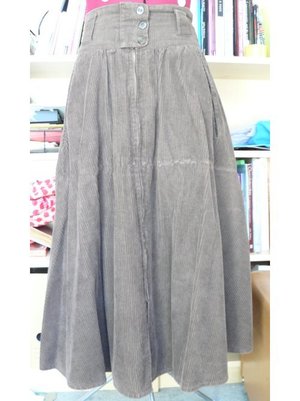 I didn't get around to sewing up the muslin for my Jorinde blazer this week. I messed up my JJ blouse early on in the week by stupidly cutting through the front of the blouse with the blade on my overlocker. I just knew I shouldn't have been sewing it that night; my brain seems to have turned to complete mush as I'm nearing the last week of my pregnancy. After that I left the sewing machine alone for a few nights, did some hand sewing and watched some mind numbing TV instead. Luckily Colette saved the day and sent me another piece of fabric so I will be able to finish the blouse off. I have noticed a few more JJ blouses popping up on the site and they look fabulous! This blouse seems to be very popular, and no wonder JJ did a fabulous job designing it.
The 'Nichola' sew along seems to be going well, there is a lot of discussion about the fit of the pants going on and how to make alterations that may be needed. If you're taking part and are stuck with anything make sure you head on over to the forum and ask questions, that's what it's there for and it's full of wonderful people that are more than happy to help.
I bought a brown cord skirt over a year ago from the thrift store and it only just fit me around the waist then. I decided there was no way I'd be getting into that after baby for quite some time so I transformed it into another Sidonie! This time I cut the pattern pieces out any way I could fit them onto the skirt and in a pregnant daze I sewed the pleats into the front of the skirt instead of the back. They don't seem to make much difference though so I didn't worry about changing them. You may remember in my apron post a few weeks back I mentioned I was thinking of aprons I could wear out over a skirt. I have seen the idea of having panels that could be buttoned to the front of a skirt somewhere before and thought I'd give it a try, I could have one skirt, many panels and multiple looks. I came up with the above but I'm not quite sure I like how it looks; I think I need to work on the idea a little more. Do you have any suggestions?
Talking of Sidonie, remember that the 'Mini Challenge' has already started. You still have time to take part and your submission needs to be uploaded to the site by next Friday. See here for more details. I'm looking forward to seeing what everyone comes up with.
The youngest BurdaStyle member should be with us by the end of next week if not before, wish me luck!!