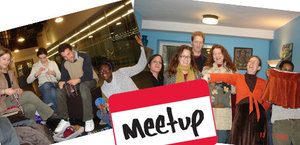 How to Find a Local Sewing Group
"How can I find other sewers near me?" It's a common request on the forums here and one I used to ask myself when I was learning to sew. As helpful as visual how tos and online sewalongs are, sometimes you just need someone to physically show you what to do to get that "Eureka!" moment in your head.
I found a great sewing and costuming group here in London on meetup.com, and there are a lot of other sewing, craft, quilting, and stitch & bitch groups all over the world listed here, too. Our particular group gets together once a month or so for a chat and coffee, and we all bring what we've been working on for help and advice (or just a bit of "ooh that's nice!") and discuss local stores and suppliers. There's a great mix of ages and abilities, from retired, expert Saville Row tailors to absolute beginners, but everyone there has a shared passion for sewing. If you're in the US, it's also worth finding out if there's an American Sewing Guild (ASG) chapter near you. Who knows, you might discover that one of your neighbors also has a secret passion for fabric and patterns!