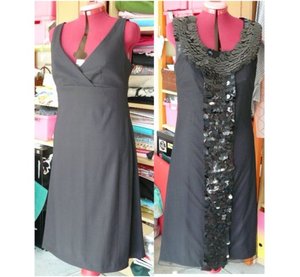 So I'm walking home with my kids and husband after a visit to the coffee shop and park when I get a phone call from a friend. She asks me if I can make a dress for someone she works with. She needed the dress by this weekend for a ball she is attending; the fabric was already bought and cut out by someone that ended up not being able to make it. My first reaction is to say no. Surely my sewing isn't good enough to be charging someone for making a garment, is it? I've always avoided making clothes for others, especially for money for this very reason. After a little encouragement from my husband I agreed to make it.
The dress was to go under an evening dress to act as a slip, very simple. I made it up in an evening, leaving the hem and straps to be adjusted when she tried it on then finished it off in an hour. So quick and easy and she was pleased with the result. I'm wondering why I was so scared and I'm glad I stepped out of my comfort zone. I may even do it again!
So I have some questions for you.
• Do you sew for others?
• What kind of things do you sew?
• How do you do it, from home, in your job?
• If you don't but would like to what is holding you back?
• Do you have any advice for those wanting to start?