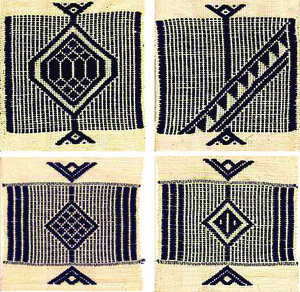 Having written about clothes as language in a previous blog, I cannot but have to tell you about the "language" of African textiles, probably most of you my dear readers visualize something brightly colored when thinking of African clothes, and probably the least of you (just like me) would expect that many of the intricate patterns that adorn African textiles actually carry a meaning.
Let's stop in Ghana first, a little cocoa producing country on the West coast of Africa, famous for its fearless Asante warriors and the bright stripes of kente fabrics. The geometric patterns and colors of their ceremonial dresses made up of hand-woven cloth have a variety of different meanings: they can symbolize democracy, wealth, family bonds, ingenuity, Ö
Let's travel on to Mali, a landlocked country a little North of Ghana, one of whose mysterious sounding town, Timbuktu – was the intellectual and spiritual centre for the distribution of Islam in Africa in the 15th and 16th century. Here we find women crafting Bogolanfini ("Bo-ho-lahn-FEE-nee"), which translates as "Mud Cloth" hand woven cotton textiles that are dyed in a laborious process of applying various plant juices / teas and mud. The symbols, colors and patterns of the cloths reveal not just a person's social status, but also character and even secrets. They can signify a proverb or even tell a story: a rusty color is said to represent strong and supernatural powers, zig-zag patterns are the "Iguana's Elbow" and represent good fortune, something that looks like the clubs in a card game represents the Calabash Flower and symbolizes prosperity. Check out the site of the Smithsonian Museum of Natural History to find out more about the process of Mudcloth making, and even make your own virtual mud cloth. You can learn more about weaving and African patterns here and if you have a little time to spare check out the rest of the beautiful pages on Africa history at African Voices.
And then, why don't you experiment making your own meaningful pattern using the Shibori Techniques.
Pictures © africa.com