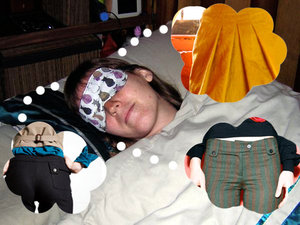 Finding Forgotten Gems in the Pattern Archive
Even though it's still summer in the Northern Hemisphere, August is the time when my sewing brain starts thinking about fall fashion and what I'd like to make over the next few months. So I'll take a fresh look at all my pattern envelopes and magazines at home, sift through my fabric stash, and start putting them together based on what I need in my wardrobe. I like to scan my patterns so I can look at them in an online album whenever I find inspiration, but BurdaStyle makes this even easier by having everything about the pattern online already!
With a new pattern every week, it's easy to become focused on the new and forget about all the great free patterns in the archives, so a few times a year I also like to browse through these patterns past to find ones I'd forgotten all about! Sometimes even just seeing the versions sewn up by other members is enough to make me see a pattern in a whole new way. This weekend I sewed the Marcel sleepmask, which was one of the very first BurdaStyle patterns, for instance. And knowing that my closet is severely lacking in trousers and skirts for Fall, I'm now also eyeing up Nichola, Ellen, and Marie.
So go on and have a look through the archives and see if you can find some forgotten gems!