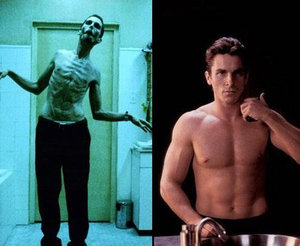 A few weeks ago, I watched the Machinist, a film directed by Brad Andersen (the title is a quote from the film). Trevor Reznik (played by Christian Bale) has killed a child in a hit-and-run accident and haunted by this accident, has not slept, nor eaten properly for a year. The film is striking. What is most haunting is a skeletal Christian Bale who lost 60 pounds (4st 4lb / 27 kg) through a crash diet of coffee and apples. By the end of the film, Bale weighed 121 pounds (8st 9lb / 55 kg) (in comparison, for his role as Batman he weighed about 190 pounds (13st5Ib/86kg).
I am not interested in Bale's figure, whether skinny or muscular- I am interested in the character Trevor Reznik: a traumatized young man who suffers under a severe eating disorder that he monitors accurately by noting down his weight losses and pinning them on his bathroom wall. The film is not about anorexia but it cries out: man can suffer under eating disorders as well. Trevor Reznik is a special case, being responsible for the death of a child and fleeing prosecution. But there are many other boys and men, who slip into anorexia, bulimia or other eating disorders not because they are guilty of something but they suffer under social and psychological pressures. Surveys suggest that at least 10 to 16% of people who suffer from eating disorders are men, but hardly any of them are adequately treated. An example is Thomas Holbrook who after he had to stop running became so concerned about getting fat, that he started a strict diet on cabbage and carrots and walked for six hours a day.
It is difficult for women to acknowledge their condition and seek help; for men, the fear of being diagnosed with a "girl's disease" and having to undergo therapy in places which mainly cater for girls create great barriers to get the treatment they need. And many doctors don't realize by themselves what is at stake. Social pressures, a job that requires a certain size or weight (athletes, jockeys, models, etc) lack of self-esteem, a traumatic experience (as in the Machinist)… Everyone has his own story to tell, and his very own history to deal with. What they all need is attention, that most of the male share doesn't get.