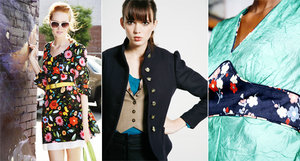 Does "maternity fashion" sound like an oxymoron to you? Nora recently mentioned to me that many expectant mothers on BurdaStyle have been asking for maternity-wear tips and tutorials. This week, we bring to you (courtesy of Nikkishell's pattern altering know-how) fashion tips & patterns to accommodate a swelling belly- whether it be your own or a loved one's.


Seeing that baby making begins in the bedroom, I find it quite fitting to start with the Jane pattern, a camisole & shorts combo you can comfortably wear to bed.


Getting yourself dressed in the morning can become quite uninspiring (according to my 6-months pregnant sister), we think that the Shari Dress is certain to up the ante in your prenatal closet.


Who says you can't look as cute as a button while pregnant? The Steffi bolero tutorial brings this military-style jacket to a new level of chic. Nikkishell loved this look so much she made 2 variations of this pattern!


A tailored top (show off those assets!) and more voluminous skirt can really compliment your new found curves. Celestina I is Nikkishell's first attempt at redesigning this chic dress. A cinch at the waist feels just right sometimes, Celestina II creates a beautiful finished look.


This one is for the brave- if you're not willing to give up your favorite jeans while with child you can operate on them. Here's a tutorial for making your existing jeans into maternity jeans.


I also found these Free Online Sewing Classes which offer maternity alteration tips and an array of projects.


As if you don't have enough books along the lines of "What to Expect When Your Expecting", how about giving yourself a little treat and get a sewing book for maternity clothing? These have gotten good ratings:

Patterns For Pregnancy

Pattern Making For Maternity Wear.