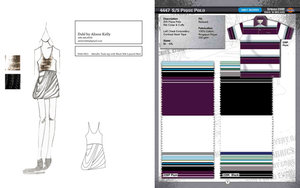 Tomorrow I am going to my factory in New York city's garment district (everything I produce is exclusively made here in the big apple) to bring my technical specs, fabric & patterns to be sewn into designs for the Caress partnership I am working on. There are many ways to go about designing pieces for a project like this. One would be to do everything yourself, if you're that ambitious. Another would be to sketch what you'd like to do and provide measurements and technicalities (a.k.a. specs, cutting tags, flats) to your pattern-maker so they can create a proper pattern and sample for you.
I always end up doing a combination of draping the original samples myself, making patterns from them, then passing those patterns to my sample room where they'll perfect my patterns (they are seldom flawless) and make a gorgeous sample I couldn't possibly sew myself, with lovely rolled hems, finely pressed pleats.
I found that, in fashion school, you aren't necessarily prepared for things like this. I learned the language of sample rooms and pattern-makers from my own experiences (good and bad indeed) and I owe my gratitude to these people whom have helped me. Describing New York's fashion industry as cut throat is truly watering it down. It's like the survival of the fittest. Mary Gelhar explains this quite well in her book The Fashion Designer's Survival Guide which provides the necessary tools to get a fashion line or label up and moving on the right track with tips as to how t0 write as viable business plan, the pros and cons of producing at home and abroad, and how to romance the press. "It is a comprehensive overview of the business side of fashion that offers detailed practices and specific tools that are required to become a working designer." —Steven Kolb, Executive Director, Council of Fashion Designers of America.
I can't wait to show you the final looks. I will be sure to cover a behind-the-scenes of a real magazine shoot when it happens next month! What is your design process? Do any of the users here out-source their collections? I'd love to hear your stories. xo