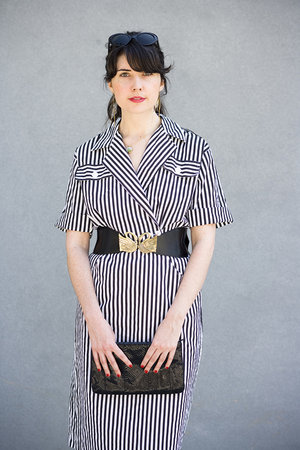 1. Where are you from and/or where do you live?

Originally from the deep south, outside of Savannah, Georgia, I moved to NYC eight years ago. After living in Manhattan for a few years, I made the move to Brooklyn where the living is easy. That's where I currently live and love all of the extra space for my fabric and yarn
2. What was the 1st thing you made? How did you start sewing?

I started sewing at an age when it was probably unsafe for my little fingers to be near a sewing machine. However, I had a baby doll with no sleeping arrangements and that sleeping bag wasn't going to make itself. So, my mom taught me how to turn on the sewing machine and stitch two straight lines and away I went. Suddenly a little square of my granddad's old golf pants was transformed into the cutest little plaid doll sleeping bag, and I was hooked.
3. What role does sewing play in your life?

I grew up mainly making things from scratch from patterns, heavily relying on the precision of the instructions. However, more recently I've begun experimenting with my own patterns and also reconstructing existing garments into something new or different. This has opened up a whole new world of possibilities, and now shopping is a new experience for me entirely. A piece of clothing that isn't the right size, doesn't fit right, or would look better with a different cut can be easily resized, tailored, or transformed entirely into something new. One of my favorite things to do is wander around thrift shops looking for something that catches my eye, whether it be a striking print or just a silly design, taking it home and transforming into something unique and fun.
4. What is your favorite and what is your least favorite thing about sewing?

My favorite thing about sewing is the excitement and anticipation at the very start of a project (you know, before the actual work begins). And of course, the actual wearing of the garment and receiving a compliment to which I can reply, I made this!
I'd have to say that my least favorite thing is finishing seams. I have big problems with completing projects in their entirety (I'll be 90% done and suddenly another project looks oh-so-enticing), and finishing seams is a major source of that problem. I'll stitch my garment together, and it looks wearable and good from the outside, but I'll growl knowing I've still got work to do. Sometimes, I'll just wear it anyway and skip the seams. (I hope my mom isn't reading this.)
5. If you could make something for anyone who would it be and what would you make?

Britney Spears a pair of pants. With underwear.
6. What are you looking for on our site? What do you think should be improved and what do you really like?

I love seeing what other fun things people are up to and getting inspired by their work. Sometimes on burdastyle, I'll see someone put together an everyday creation in a unique way that makes me think of things in a whole new way. For instance, I'm a pretty avid sewer and knitter, but until I saw Ms. CarotteSauvage's sailor style coat/cardigan I'd never even thought of combining these two skills. She expertly paired a sewn coat with handknit ribbing for the cuffs and waistband. Genius!
As far as improvements go, I'm a very organized person who is always searching for ways to catalog my ideas, tuck little pieces of knowledge away for future use, and creatively match up materials that I have with projects that I have in mind. I would love if burdastyle had a tagging system to match up creations that I like, to be paired with my own materials & fabrics, all housed in my own personal little online notebook.
7. What is your motto?

Nobody puts baby in a corner.
Nimblefingers has incredible creations. Between her knitting and her sewing, you can tell that she has talent and a keen aesthetic. Check out her fabulous blog and her top ten favorite creations