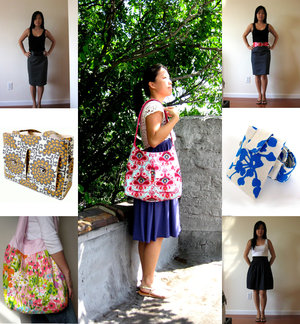 1. Where are you from and/or where do you live?

My parents are from South Korea. I was born in Lima, Peru. I have two siblings', each of whom was born on different continents. Currently, I reside in Brooklyn, New York. I heart Brooklyn. It's an awesome place to live.
2. What was the 1st thing you made? How did you start sewing?

My first creation was actually an "upcycle" (love that word!). I took my favorite sailor style bell bottoms (the one's with the patch pockets in the front and back) which were very badly frayed and worn at the leg opening and sewed it into a skirt. It turned out surprisingly well!
My mother worked for a factory and later worked as a seamstress so I grew up with a sewing machine around the house. I used to it hem and alter my own clothes, something that I had to do quite frequently (I'm 5'2"!)