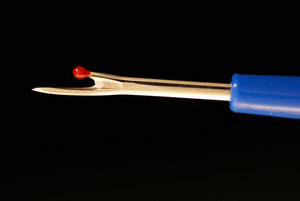 They say there are no mistakes, just life offering us lessons big and small. This is certainly true for the budding home sewer. And to deal with and enhance these 'lessons' we have tools such as the stitch or seam ripper. On a forgiving piece of fabric it allows us to take out stitches and start over or correct misalignments. There have also been periods in history where garment details such as collars and trims were routinely changed by the wearer or her maid, depending upon her station. The seam or stitch ripper was probably crucial to this kind of formal refashioning of an existing garment. The ripper has changed shape over time but it is still a simple yet indispensable sewing tool.
Aside from the invention of the sewing machine and the needle which far predates it, the ripper is my favorite sewing tool. When I packed the notions case that was going away with me to college, I searched deep in the bowels of my mother's sewing chest to find and appropriated the familial ripper. It was really a nice one. I still have it to this day. It had a distinctive square — instead of cylindrical — handle and a nice neat cap to prevent the accidental cuts I am so prone to.
For me the ripper has been a creative tool promoting the design and testing processes. Before the advent of BurdaStyle and the guidance it offers, I once came up with a one seam skirt pattern based on the circumference of the hip and a few darts near the waist. There was much trial and error but it was all a breeze thanks to my trusty ripper. And the ankle length skirt that hung like a tube on the body was finally born. Ah, creativity…Then there was the time. When I craved a new style of sweat pant but was not prepared to invest my allowance in the mod, wide leg affairs that were double the price. I simply took my handy ripper and opened up the seam creating the rubber casing at the bottom of my old sweats. Et voila! The sweat pants of my dreams hanging freely at the ankle.
There were many such moments in my early home sewing career as I graduated to more challenging projects like suits. I have guarded the old family ripper with my life and still enjoy using it when altering or when a full-on sewing effort needs adjustment. Today there are so many different kinds available that a ripper can be a very personal expression of your sewing attitude.