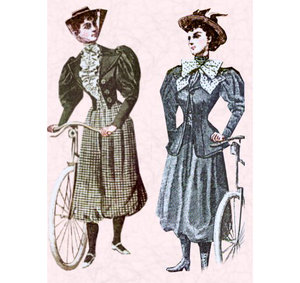 Ladies, have you ever considered how lucky we are that compared to guys we can wear whatever pleases us, we could take the male jacket pattern of our BurdaStyle website and sew a fantastic jacket for us. In contrast, a guy running around in skirts and dresses is likely to be frowned upon, although some of them really do look fantastic (like my ex- ex- boyfriend who picked me up from high-school one day dressed in a long skirt that a friend of his had designed).
One thing that feminism really has achieved is not only paving the way for women wearing trousers but ridding them from the most uncomfortable clothing etiquette. Until the end of the 19th century, it was next to impossible for women to wear trousers, unless you called yourself George Sands, and were a French aristocrat whose real name was Amandine-Aurore-Lucille Dupin, who attracted much attention wearing male suits and hats and smoking cigars in public. Mind you, the situation was quite different in theaters, where women playing male characters were an erotic attraction for wearing trousers revealing the shapes of their legs. But outside the theater you would have been dressed in rigid corsets, skirts and dresses with undergarments weighing up to 14 pounds! No wonder that the first argument for female trousers, promoted by an American feminist called Amelia Bloomer , was based on concerns of comfort. Alas, her alternative design, ankle-length baggy trousers worn under a knee-long skirt or overcoat, called "bloomers", were rather unsuccessful, ridiculed in the press and failed to be commonly accepted.
Then came the bike, and with the bike a technical justification to wear trousers, since skirts on bikes caused quite a few accidents (many people would have preferred if women stopped cycling rather than change clothes). In company of a bike, a woman could wear her cycling trousers, but cycling trousers without a bike, forget it!
Etiquette was so stubborn that neither Parisian fashion designers who designed an Arabian style combination of dress and trousers in 1911, nor two World Wars which necessitated women to put on men's working clothes to replace them in factories, could create the legitimacy for women to wear trousers in public. In fact, it was considered inappropriate for women to wear trousers until the 1960s! Today, women have a choice between trousers and skirts, while men are mostly confined to their trousers, but that is an issue I will write about in a future blog.