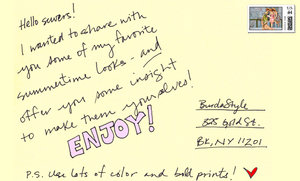 Greetings readers! I am writing to you from the depths of my imagination where I am on a deserted island swathed in silky prints sipping on a piña colada. Aren't you just the happiest during summer days?
This month I hand-picked some warm weather looks I am dying to recreate for myself. Using this user-generated simple dress pattern you too can make a lovely printed summer frock. Aren't the pin-tucks on the hip charming?
I'm seeing bold, bright solids floating down the Resort 2010 collection runways and am inspired to make this other user generated bandeau top dress with bow in cherry red or aquamarine.
Missoni knows how to make a dramatic statement in a flowing floor length dress and so can you with this free, simple pattern.
Does the Marc Jacobs bag (pictured far left) not look just like our Anna Boho bag? They could totally be related. I have yet to decide on which canvas print to make this out of…or should it be suede?
Oh! And I saw the most adorable Fabric Postcard on the site today & need to share it with you all. Have you ever seen one so thoughtful? Whoever gets this in the mail is a lucky duck.
Ciao for now my pretties!