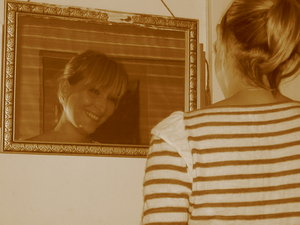 1. Where are you from and/or where do you live?
I grew up, studied and lived in Paris for most of my life. My husband is a south of France man and he didn't want to live in Paris because "it's too cold, too raining, too many people and too far of sea" (he has a great sense of exaggeration!). So, I moved to a little town in south of France famous for its fondness of food: Montelimar. The NOUGAT's town (you know it's candy made with honey, almond and sugar….).
2. What was the 1st thing you made? How did you start sewing?
Because I'm crazy for clothes and fashion, I would to be able to make my own wardrobe. Many reasons of that:
- I love designer's clothes but too often it's very expensive;
- I want to have original outfits;
- I think it's an ecological and social action.
So, last year, I asked for a sewing machine for my birthday and the first thing I made was a simple gray linen bag that I use when I travel. I was quite pleased with the result so I decided to make something hardier: a real outfit. I bought sewing books, discovered BurdaStyle, saw amazing creations of the other members, downloaded beautiful patterns, made a lot of horrible things, learned from my mistakes and now I have begun to sew some clothes that I'm not ashamed of!
3. What role does sewing play in your life?
When I was younger, I never had manual hobby. I was very frustrated because the creative part of me was completely ignored (I'm lawyer, it's not a very creative and funky job…). So sewing allow me to develop the creative part of me (and have nice, original clothes too !! ) That's why it's become my favorite hobby. I'm always thinking of my future creations and dreaming of when I get to sew beautiful fabrics, pattern or creations of other members!
In conclusion, I can say that's sewing makes me happy and fills me with pride.
4. What is your favorite and what is your least favorite thing about sewing?
Lots of favorite things: choosing the perfect fabric, imagining the results, seeing pieces of fabrics becoming a real clothes, etc
Least favorite: marking the pattern on the fabric and cutting pieces of pattern (because I don't have a big table so I have to make it on the floor and it's not very comfy!)
5. If you could make something for anyone who would it be and what would you make?
One of my best friends makes fun of me when I told him that I had begun to sew (he saw my first creations… hmmm). He bet that I'd never be able to make a men suit for him. So I hope, one day, I'll be able to make him a great suit for him!!!!
6. What are you looking for on our site? What do you think should be improved and what do you really like?
First all, I really, really, really love this site and the community!
I 'm always looking for patterns, inspiration, support and advice and I've gotten them on BurdaStyle.
I love members who are very nice. Their support gives me the hunger to continue.
I love the creations of members, I'm very impressed by the talent of them. Some creations look very professional and stylish. It's astonishing.
I m' always amazed by the way of the same pattern can be interpreted by different members. One pattern becomes many different, original and singular creation.
It's very inspiring.
I love the BurdaStyle team who select patterns and give them a modern and funky touch.
I love solidarity in this community because people share tips, how to, advice, pattern.
For me, this site is perfection… just one fault: it's hard for me to understand pattern because it's in English and I' have bad English … but I'm okay because it's my fault … I slept during English lessons and it's the occasion to improve my English!!!!
7. What is your motto?
Not very original… CARPE DIEM
Even though she slept through English class, she appears to be doing a great job with the English instructions. She has been making incredible creations and mastering the art of sewing.