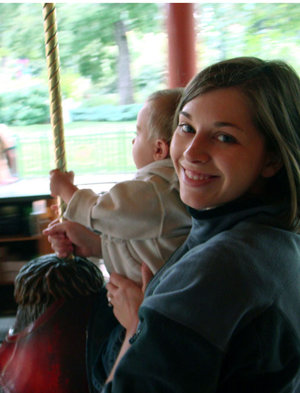 1. Where are you from and/or where do you live?

I live right on the foothills of the Rockies in Loveland, Colorado 45 min outside of Denver and 30 min from Rocky Mountain National Park. Its a beautiful place to live.
2. What was the 1st thing you made? How did you start sewing?

My first post on BurdaStyle was first creation, a little bag for my daughter. My grandmother is a very talented seamstress and quilter but I have never tried my hand at sewing until just recently. In school I studied graphic design. I made my own portfolio book and wanted to use fabric on the cover. I then discovered Amy Butler which led to other fabric designers and I was in love! I had a feeling that I would really enjoy sewing and already knew that I thoroughly enjoyed fabric. My mom surprised me with a machine this past Mother's Day and I've been sewing ever since.
3. What role does sewing play in your life?

Sewing is a huge creative outlet for me. It was a difficult transition from being a full-time art student, a social one at that, to being a full-time stay-at-home mom. I love being able to make beautiful, or darn cute, things and then watch them get used, worn, and loved on. I especially enjoy making things for my kids. They inspire much of my creativity.
4. What is your favorite and what is your least favorite thing about sewing?

My favorite part is watching a piece come together and take form, especially when it's coming along nicely :). My least favorite part, in agreement with many others, is ripping seams. Refilling bobbins can be a nuisance as well and always seem to run out right in the middle of a project.
5. If you could make something for anyone who would it be and what would you make?

I'd like to make myself a piece of clothing eventually. I'd also like to make something nice for my husband. I haven't gone there yet because it takes more fabric and time. I have a two-hour naptime window to work with :). My daughter is almost three and she gets so excited when I'm making her something and then lights up when she sees it finished and gets to use it, so she's my favorite person to sew for right now.
6. What are you looking for on our site? What do you think should be improved and what do you really like?

Initially I was looking online for free patterns. For the record you provide the most beautiful patterns out there. I found so much more than that on this site. I love seeing everyone's creations and ideas. I also really like being able to see the patterns constructed and worn by everyday people, it gives me a better idea of how the clothes fit and look. It's great to see all the variations and creative license people take as well. My favorite part about BurdaStyle is giving and receiving comments. It's fun to "meet" so many different people and everyone is so encouraging, it's great. No complaints here :).
7. What is your motto?

I don't really have a motto. I'd say currently mine seems to be, "Why clean house when you can sew?"
Check out Emrichkh's Top Ten favorite creations on BurdaStyle. She also has a great blog in which she talks about her life, kids and of course creating.