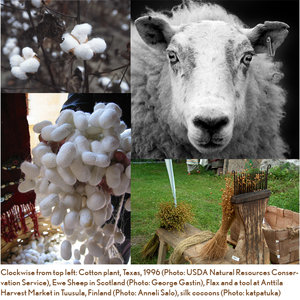 As I was writing this post, and as I was thinking about last month's post, I realized just how fabric-geeky this series is turning out to be.
Stick with me, though. This basic terminology will offer a pay-off later. I promise.
Now, to the topic at hand. Natural fibers, as the name implies, are derived from plants and animals. Plant fibers come from the stems, leaves, or seeds of plants. Animal fibers come from animals' fur—or their cocoons, in the case of silk.