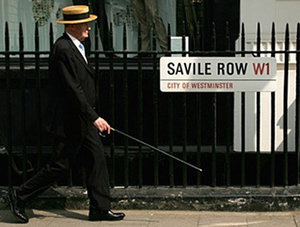 Today we find ourselves in Savile Row, located in the heart of London, the "golden mile of tailoring". We enter a little shop through a glass door, a bell rings and Mr S. turns his head to greet us "Good afternoon, Miss. How can I help?"
We are not here to get a suit we are here to learn all about bespoke tailoring and the great tradition of Savile Row. Mr S. is far too passionate about his trade to be disappointed that we want to talk rather than to buy. "…. well, my love, to understand the history of Savile Row and our trade, let me first clarify once and for all, the meaning of bespoke.
Bespoke tailoring is the equivalent to the ladies' haute couture. We do not use standardized patterns. Oh no, that would be made-to-measure tailoring- we take the individual measures of each and every customer and fit our handmade suits to their very own shape."
"And the word bespoke?"
"Jolly good question, my dear. The word bespoke comes from bespeak, which in turn means "to speak for something"; and that means nothing else than "to give order for something to be made". So, the word although a bit old-fashioned is still spot-on: we tailor what our customers ask for."
"But is this type of tailoring industry not in danger with all the cheap mass production"
"Oh my dear, yes, indeed times have changed and for the bespoke trade it is definitely not getting easier. Our little Savile Row is like a haven of craftsmanship in this fast-paced city where everything that is produced lasts just for a fleeting moment. Our skills may be considered archaic by some, but there are still enough men who appreciate a perfectly fitted suit: the royal family, statesmen, business leaders, actors and singers…. Of course I cannot give you any names to respect the privacy of my customers.
You should note, it is not the suit alone, it is also the quality of our services we offer that makes us unique: we provide expert cloth consultants; offer a choice of at least 2,000 fabrics; keep a customer's details on record and provide after-care for the suits customers buy. And all that we attempt to protect through the Savile Row Bespoke Association that we founded in 2004."
And while I'm off to chat with the guys from the Savile Row Bespoke Association I recommend you to check out all the great men's patterns on BurdaStyle, my favorites are Ehren and the Stinchcomb although you might want to try something lighter for the hot summer months.
photo © Kempt