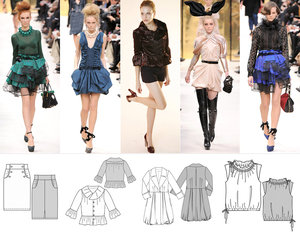 Ruching, lace & gathers bring to mind, for me at least, dated period costumes. But quite recently many designer's have brought these old & loved techniques back to life with a new and increased vigor! Do you use lace in your designs? Do you make pieces with excessive gathers or pleats? Do you know how to incorporate ruching into your work?

Well, whether you love to utilize these techniques in your designs, or if you need some tips, this week's posting should send you in the right direction.

Kasia Skirt
A ruched waist with an adorable buttoned-up placket is a great skirt for the Holidays.

Nadine and Nadine Plus
A sophisticated & sassy gathered coat which looks great in velvet or crepe wool.

Tikva Trench Coat
Recently featured but too good to not talk about again, this trench coat offers full swing & gathers.

Amanda and the Amanda Plus
A cute and flowing blouse for any time of the year, make it in a chiffon & wear a camisole underneath.