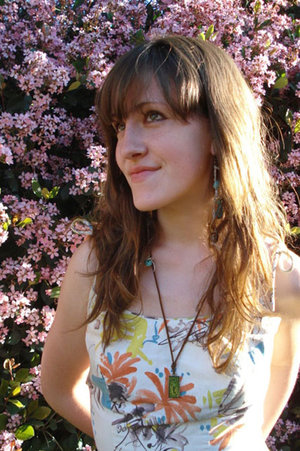 Follow California Senior, Grace Samson, through her prom journey. Track her progress as she goes from her dream board, to drafting her pattern, to creating her dream dress and sharing the pattern with you.
Hi, I'm Grace Samson – high school senior, future filmmaker, major movie buff.
My prom is on the 22nd of this month. I can't believe it's almost here. I have heard so many stories about the big night and it's hard to believe that this is actually happening to me. In less than a month I will be walking out onto that dance floor, with my date, in a fabulous dress I designed and made myself. .
One of my favorite scenes from a classic movie is from "It's a Wonderful Life" – Jimmy Stewart walks Donna Reed home from prom after they've fallen into the swimming pool. He's in a soggy, striped football uniform and she's wearing nothing but a bathrobe. It's the first time he promises to lasso the moon for her. So romantic.
I hope to avoid a prom situation like the one in "Carrie." Ha, ha! Good thing I'm not telekinetic! I found a list of the best prom movies of all time on the ELLEGirl magazine website: Top 10 Prom Movies.
Good list, I think. Some of my faves. It still chokes me up in "Pretty in Pink" when Molly Ringwald's dad buys her that pink prom dress from the thrift store. Ah, the prom dress! So much pressure to have the perfect one, right? This is one of those moments in your life that is a notch on you lifeline. You know it's up there with the first kiss, your engagement party, your wedding (!).
So, I said to myself "this is a big moment in your life and I know you want it to be a memory". I decided to start what I call a "dream board". I have been buying a lot of prom magazines lately and I went though them all and tore out pictures that are ideas for what I want for my dress, my friends and my date.
My dream board (an old bulletin board that I decorated) lets me focus on all the elements that will make my prom night perfect. It seems silly at first, but it works. I want my prom night to be like something out of the movies, and I want my dress to be the height of Hollywood glamour. Check back in with me as I create my own pattern to share with all you BurdaStylers!