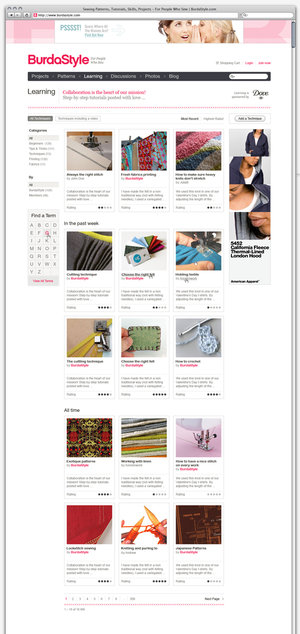 The fourth sneak peak is about Learning. Under this navigation point we folded the content of the original how to and sewpedia sections.
This new learning section is an optimized place to enhance your knowledge of sewing by picking up a new technique or discovering a new definition. It provides a platform for the step by step instructions of the techniques which refer directly to the terms. The filtering system is optimized for you to find easier the techniques you have been looking for.
Because How Tos associated with projects have been separated from those that are teaching a technique, this section is truly devoted to learning. When clicking through the steps on a technique, you will be able to comment on each step, which allows you to ask questions about a particular step, not just about the how to in general.
There will also be a listing of related terms on each Technique. Having the related terms will help if you aren't sure of a definition in a technique. At the same time you can browse alphabetically for a term. The Terms, just like the sewpedia, will have a photo and definition associated with it, to help correctly illustrate the definition.
We are excited to have the Learning section, making the teaching aspect of BurdaStyle much more streamlined and user friendly.