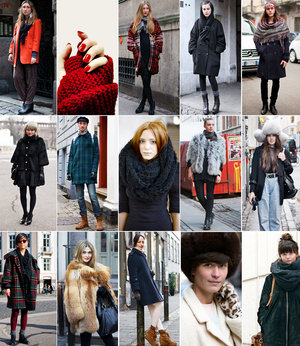 I just bought some red lip tint and rosebud salve and I am already feeling better about these gloomy winter days. Why? Because there is hope. I took an imaginary trip to the Nordic countries and found, thanks to The Sartorialist & CopenhagenStreetStyle some hidden diamonds in the rough.

Trends Spotted
Vintage. Back in the olden days they knew how to make a warm coat. Before fleece and technologically enhanced textiles a good old fashion down-stuffed parka or a wool peacoat was worn in the winter months. But sometimes these lovely finds just don't seem to fit. Here's a How To Reszie A Vintage Jacket Tutorial for you.

Going Up. No matter the coat you're wear- stay warm! stay dry! if you find yourself on a fair day with no rain in the forecast, don a pair of wedge heels with some warm tights. Not only does they raise you up, they lift your spirits too. (I am actually wearing some today and feeling lighter)

Paint it Red. It was all over the Spring/Summer runways on people's lips, nails & cheeks- and is spotted now all over the streets. (Personally I dislike lipstick, hence the tint & rosebud salve I'll don instead and the smell is aromatheraputic). Whatever the day, whether dull or drab, red is exciting & fresh and a welcomed relief from the monotony of winter.

Chunky Scarves. The bigger, the better. My mother got me Yokoo's Pembroke Cowl for Christmas and I actually get excited to go out just to wear it. I wrap it around my neck twice then pull over my head as a hood. So cozy.

Mr. Fox. Love it or hate it, I've seen many a gal wrapped up in huge vintage fur coats, hats, boots & stoles. It is a guaranteed method to channel your inner spirit animal towards staying warm if you don't mind the possible repercussions.

Plaid. For many years, brands like Woolrich and international Army regiments have been making toasty lined woolen plaid coats for guys & dolls. Check out this plaid coat made from the Elizabeth pattern b one of our users to inspiration.