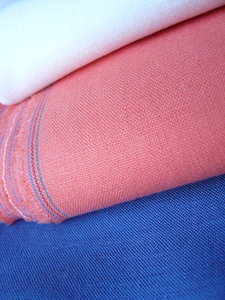 Thanks for your comments on my last post. To tell you the truth I'm not sure if I'll bother removing the sleeve cuffs, more out of laziness really but you never know I may find a burst of energy and do it before the 9 weeks are up! I have had a few compliments while wearing it which is good.
It wasn't as hot as it has been yesterday so I managed a trip to the fabric store with my girls which always turns out to be an adventure. I went searching for fabric to make the Jane top which I'll be altering into a night dress. I was followed around the store by my little munchkins or should I say I ran around the store after them. They like to hide in amongst the fabrics; I'll lose them then hear little giggles coming from a stack of brightly coloured glittering chiffons. I'm also constantly asked "What are you buying? Is it for me? Will you make me a dress? Can you buy me some of this pink fabric please? Why? Why? Why?", so what could possibly be a 20 minute visit if I was alone turns into an almost 2 hour cat and mouse chase and a pretty frazzled Mamma at the end.
Anyway, back to the fabric! I ended up choosing lightweight linen to make the nightdresses and bought enough to make 3 in different colours, orange, blue and white. I'm thinking some trim would look nice on these too, maybe something simple like cotton lace or ricrac which I already have in my stash around the hem, what do you think? I made a quick and easy alteration by lengthening the top to 80cm long which should mean the hem will sit halfway down my calf. I think I'm going to leave out the elastic cord under the bust too, I found it a little uncomfortable in the last Jane top I made. I'm going to whip up a muslin with my last $2 cotton sheet to make sure the alteration is ok then it will be full steam ahead.
Don't forget about the new sewalong, join in and create a pair of sexy skinny jeans for yourself and give me some tips and the incentive to get back into shape once baby arrives. I want skinny jeans but I have a feeling they're going to have to be made from some very stretchy denim!
If you have little girls to sew for like I do and a ton of scraps of fabric watch out for a post from me later in the week where I'll be showing you how to make a simple skirt. You could even scale it up for yourself!