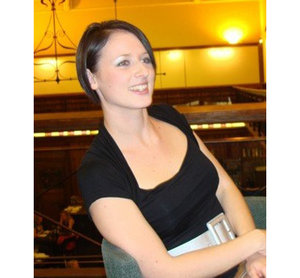 1. Where are you from and/or where do you live?

I come from Sheffield, UK and after much moving and traveling I now live and work in Norwich, UK
2. What was the 1st thing you made? How did you start sewing?

Well I only just started sewing properly about 6 months ago! I tried to make a skirt a couple of years back but it was a disaster and I just gave up. I thought i'd give things another go now after I came across BurdaStyle and I'm glad I did! I think I started by making the Marie skirt
3. What role does sewing play in your life?

Oh really a big role now..it's a bit addictive right!? I have quite an intense professional job so it's wonderful to have a creative outlet in the evening to keep happy and sane :-) I'm forever cluttering up our living room with sewing bits and scraps of fabric everywhere!
4. What is your favorite and what is your least favorite thing about sewing?

Well, I just love it when a plan comes together…when you can make something that is like you had imagined it to be. I like choosing the fabrics and seeing them for the pieces and putting them together. I think my least favourite is having too many ideas in my head and not enough time or skill to transfer them to real life….and of course when things do not turn out right..and my machine…which constantly breaks and drives me crazy!!
5. If you could make something for anyone who would it be and what would you make?

I think I would just love to make something for friends and family, something quite special such as a graduation dress for my little sister. I've never tried any men's clothes either so it would be nice to be able to make smart trousers or a shirt for the other half :-)
6. What are you looking for on our site? What do you think should be improved and what do you really like?

I came looking for free patterns originally and then discovered this whole community on BurdaStyle! I'm rather new to this whole Internet community thing so it is quite wonderful that this place exists and everyone is so willing to share knowledge and their ideas, it's very admirable. Not quite sure what could be improved really…more patterns?! is that greedy!?
7. What is your motto?

Some days you're the dog, some days you're the hydrant!
Emlj has awesome creations, look at these shorts, how cute are those? For a novice she certainly has a great hand for creating.