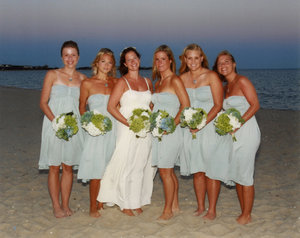 Well, actually, that is the title of the film I've rented tonight, but I've come to realize as of late, brides are stepping out of the conventional box and becoming more daring & open in terms of wedding attire.
My sister Megan was married in August of 2007 and she asked me to design her dress and the bridesmaid's dresses as well (I ended up doing all of those, my mother's and the flower girl's) and it was quite an endeavor.
I realized that there wasn't much out there in terms of chic, stylish or affordable "bridal party" dresses and that a gaping hole exists which is screaming to be filled! So often do I get emails from women who want something special for their wedding that at times I've pondered going into the bridal business (gag me with a spoon- just a little retro humor- but seriously, brides can be nightmarish) but now I see there is certainly a market for it. The dress sizes of my sister's entourage varied from 2-14, a seemingly daunting task for the little sister seamstress I am, not to mention maid of honor, so I had to come up with something that would be flattering on all of us, and most importantly, beautiful. My head was on the chopping block yet I felt as if I had a knack for conceiving silhouettes for the proper body type so I took the challenge and ran with it.
My first inclination was to design a different dress for each girl that will make her look fabulous, guaranteed. Then I screwed my head on a bit tighter and decided to design a dress that would work on everyone. This meant first off that I would use a stretch-knit. My sister & I went to Mood and she fell in love with a celadon knit that slightly glistened in the light and was just the right color to compliment her hydrangeas and the sea of Cape Cod, where she was to be married. Once we had the fabric choice down I draped some toiles and decided to create a bandeau top dress which had boning on the side seams to keep the shape, and that clear, plastic tape along the top edge to keep from slipping. We danced all night without playing tug-of-war with our frocks! The empire waist worked well on all body types involved and each girl said she loved the dress and would wear it again.
I am not going into detail about my sister's dress because the point I wanted to bring up is that lately I have been approached by women who have been given fabric chosen by the bride and it is up to them to create their bridesmaids dress themselves. I would never put that task into my maid's hands, but hey, I'm a control freak, but the bridesmaids feel incredibly liberated that they wont be stuck in some ugly, puffy, frumpy ensemble.
I found the task quite fun, assisting the bridesmaid in creating something she'll love and will be able to wear again. It works for everyone; the bride has her color-scheme and the maid has her chic new dress she designed.
If anyone is looking to tap into this realm of fashion, I say go for it, the doors are wide open! I would love to hear your stories too, have you designed any wedding attire?