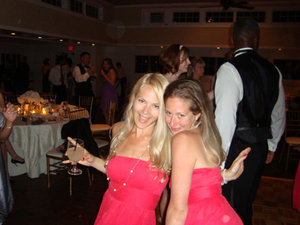 This past weekend my dear friend Stacey, whom I've known since we were 6 years old, was married. A few months ago I got the inevitable phone call, well after the save-the-dates and invitations went out, Stacey asked me to be one of her bridesmaids. Sigh of relief. I said, "I was wondering when you'd get around to asking, we've been planning this your whole life"! This was the third time I was to be a bridesmaid. The first question was "what are we wearing?". Stacey brought me through J-Crew online's wedding section and showed me the dress she'd chosen for us, I was thrilled! The tea-length fuchsia chiffon frocks worked on a variety of bodies and we all were convinced we'd wear them again (seeing I have 5 wedding to go to this year)! For a convenient and casually chic look, J-Crew offers their signature classical looks in a variety of colors and styles, many of them not exceeding $200. You get a sense that you are customizing your wedding party and the process becomes quite personal.
For my friend Julia's September wedding she found our black & white cotton embroidered Flamenco-feeling dresses at Filene's Basement for a steal.
For my sister's wedding I was asked and honored to design the dresses; her's, the bridesmaid's, my mother's, and the flower girl's! This was quite a lofty endeavor but the final composition looked so lovely and flattered the variety of body types. Materials: Celadon cotton jersey, boning, fusible interfacing. Have you made any bridesmaid's dresses?