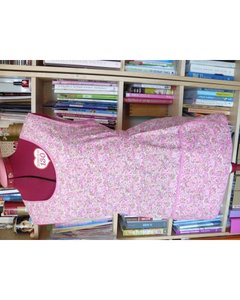 Being a mum of two small children means things can get very messy. To combat this I like to wear an apron for those messy occasions. Not just any apron though, I like to wear my vintage apron. I have collected a number of vintage aprons but my favourite style is the full bib which gives maximum protection! I have one apron in particular which is my favourite, the pink one above. Unfortunately since it is vintage and I wear it often it is starting to fall apart. The binding is coming off and there are a number of holes appearing in the 'Oh so soft' but very fragile fabric. What to do? Why take it apart and make a pattern from it of course! Then I can make as many as I like.
I pulled the apron apart and used a big roll of brown paper to make my pattern. The fabric I used is from my stash, something that's been sitting there for far too long begging to be used. This apron uses around 7 or 8 metres of bias binding so altogether I used around 1.5 metres of fabric since I made my own binding but of course you can buy it ready made if you wish.
So, an afternoon of cutting and sewing and I have a brand new apron! Pretty cute huh? I will be sharing the pattern with you in the next day or so, I'm having a scanner issue today which prevents me from uploading it. In the meantime why not check out the following links for more apron inspiration.
The Apron Book by EllynAnne Geisel
Vintage Apron Sewing Patterns Flickr Group
Do you wear an apron? Which is your favourite style? Is it vintage or new? Maybe you purchased it at a thrift store or you were given it by a member of the family. What do you do when wearing your apron? Let me know in the comments. I'm thinking of making a kind of apron that i can wear out, something that can be attached to or worn over a skirt or trousers. Hmm the cogs in my brain are in motion.