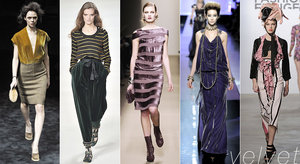 Do you think velvet is a Do or a Don't? Do you use velvet in your designs? I love the look of velvet- the soft sheen of gem colored velvet looks elegant and royal, and printed velvet can be gorgeous. But velvet can also look dated- circa 1980 when it's done with really huge shoulder pads in badly tailored blazers. It also doesn't photograph very well if you are using an indoor flash. I made a dress with a velvet top and silk jacquard skirt- there was just enough mustard, gray, black & sage printed velvet on top to create an interesting design with this daring print, as the muted brown silk made the look more mellow. I also made a skirt from the same velvet material and let me offer you a piece of advice: Don't make a tulip skirt out of velvet printed velvet- especially if you want a flattering look!
How do you do velvet?

Check out my velvet slideshow here!
Here are some links to BurdaStyler's Velvet Creations:
Red Velvet Jacket

Black Velvet Coat

Velvet Cloche with Feather

Bright Yellow Strapless Dress