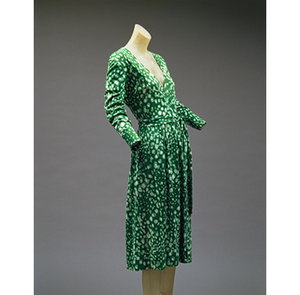 This week's featured dress, Paola, reminds me of a very important women, one of my idols, Diane Von Furstenberg. She is best known for introducing the knitted jersey ""http://www.metmuseum.org/toah/hd/amsp/ho_1997.487.htm">wrap dress" in 1973, an example of which, due to its important influence on women's fashion, is in the collection of the Costume Institute of the Metropolitan Museum of Art. In 1976, Newsweek coined her the most "marketable fashion designer since Coco Chanel".
To my excitement, DVF released her memoirs in 1998, "Diane: A Signature Life" , a good read if you'd like to garner up some inspiration. One important fact about DVF is that she has had career changes, ups and downs, divorces, children, successes and failures, and yet she has maintained her charisma, balance and talent in a beautiful, relentless fashion.
DVF appeared as a guest judge on last season's Project Runway (I was so sad to have missed her) and was named president of the CFDA in 2006. She is an incredible icon for liberated women, and a woman who has done more in her life thus far than many of us do in our entire lives.
Thinking of DVF's achievements has gotten my gears churning and I am feeling quite inspired. Dahl & Dane are featured in this February's issue of SELF magazine and the orders are rolling in! We popped into a magazine shop the other day and blazed through the issue, missing our feature entirely & thinking they'd bumped us out (that happens all the time)! The editor called me today and said to find us on page 28:) Our cut-off date for the "I (heart)" series falls on February 14th and we're excited to begin our next project: a line of girls & boys separates with prints we've designed ourselves. Next we'll start shopping around for cottons and materials to use in our new line and make some samples of our prints.
In the meantime, we plan to make some 1-off t-shirts to sell in some local stores to generate more interest in our next collaborative series.
Image from Costume Institute of the Metropolitan Museum of Art