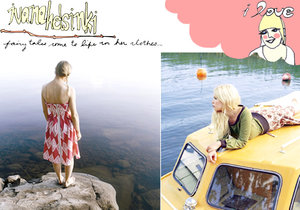 IVANAhelsinki is currently the single brand which speaks to my own roots fully. Behind the brand is a sweet faced Scandinavian girl with a sneaky dark side, I'm in love. IVANAhelsinki is an exclusive art fashion brand which delicately brings together Slavic rough melancholy and pure Scandinavian moods.
Behind the brand is the artist Paola Ivana Suhonen who pulls from her dark naive mind-landscapes, northern legends and western romantics, doing prints, graphics, short movies and well, everything that is involved with the visuals. Paola runs the family-owned company with older sister Pirjo. Paola has created an exclusive collection for Topshop and has gone so far as to curate Dress-go-Around where 10 girls are given IVANAhelsinki dresses, are documented in them, then the dresses are passed on to loved ones.

Here's a special slide show of her gorgeous designs as well.
Paola was kind enough to answer some of my questions below. I hope you enjoy this feature as much as I do:
What is your earliest memory?

We were playing lions in the cage of one Finnish film directors backyard- he actually had had there some wild animals, back in the 20´s.

What is your most treasured possession?

My rescued dog "affe" and my belief in eternal love

What would your super power be?


To sense the ghosts- actually I already have it:)

What is a secret treat that you love?


Old whiskey

What single thing would improve the quality of your life?


A good-mad man

Who in your life has inspired your sense of style the most?


My mom in her 60´s bold dresses and silk scarves and huge sunglasses being a young psychoalalytic-chick (sic) She rocks

What is the worst job you've done?


Selling matches from door to door—and wc paper—oh, that was a bit too much!

Who would play you in the film of your life?




Maja Ivarsson

What is your favorite smell?


Lily-of-the -valley

What keeps you awake at night?


My endless projects which I just can´t get enough of..

Describe IVANAhelsinki in three words.


"dresses for beautiful girls"

Tell us a joke.


I hate jokes. I´m a serious girl:)
Thank you Paola.
Photos courtesy of IVANAhelsinki. Artwork by alison dahl.