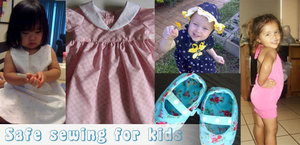 I don't have any children myself, but I recently did my first kids sewing whilst making gifts for my niece and nephew. Sewing for children isn't just about sewing smaller garments – there are some important safety concerns to consider as well as well!
Be aware of choking hazards – never use ribbon or neck ties – go for velcro (with the soft side facing the body!) or snaps instead that will break away if they get caught during play.
If sewing for babies or very small children, never use buttons (for closures or as eyes on stuffies) as they can come undone and will also be a choking hazard.
Use robust stitching when making clothing – use a small stitch length or a strong 4 thread overlock on your serger to make sure those seams don't blow out on the playground.
Non-flammable pyjamas – make sure the flannel you buy is marked safe for children's sleepwear. Pyjamas should fit snugly, as loose-fitting garments are more likely to catch light in the event of a fire.
If you need to fit a work in progress on a child, remember to use safety pins instead of straight pins so they don't get jabbed taking it off!