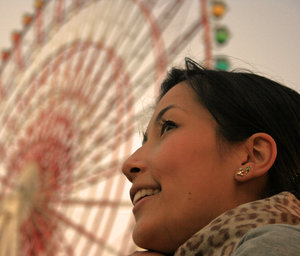 1. Where are you from and/or where do you live?
I was born in Germany, but one might say that I am also from Taiwan. My father is German and my mother is Taiwanese. Also I have always spent my summer vacation in Taiwan because I have a huge family over there. So I feel like coming from 2 different countries.
I live in Dinslaken, which I guess is unknown to the world. Nevertheless it is a nice and calm place and it is part of the European Capital of Culture 2010.
2. What was the 1st thing you made? How did you start sewing?
That must have been in my childhood. I think it was a simple heart-shaped pin cushion for my mother. Today, I would never sew a heart-shaped pin cushion again!…hearts and needles just do not go well together!
I started sewing thanks to my wonderful mother. She used to sew clothes for herself and our family since I am able to think and remember. The noise of a sewing machine always reminds me of my childhood. She is my sewing teacher and I owe her all of my sewing skills. I really appreciate her advise because of her great sewing experience. I can always ask her for help when having a sewing problem. So it seems that she simply infected me with this sewing fever.