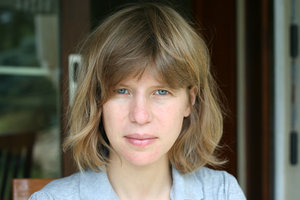 1. Where are you from and/or where do you live?
I am French and grew up in Peyrehorade, a little French town near Biarritz. I studied and lived in Paris for 10 years, and I've been living in London for 4 years, with my husband and my two (very cute!) kids. I truly appreciate London, a city where people are creative, funny and shameless when it comes to fashion and clothing. It is very inspirational and helped me become even more creative!
2. What was the 1st thing you made? How did you start sewing?
My mother had a very basic Singer sewing machine and she allowed me to use it. I can't exactly remember the first thing I sewed with it but I do remember I tried to sew clothes for my Barbie doll, a purse, a pencil case… I designed and sewed my first dress when I was 15 years old. I still have a green kimono I made for my doll and I drafted the pattern from… a Burda book (calculating the different lengths from a woman pattern). Little by little, I tried more and more difficult projects. By chance, I could ask my mother whenever I had an issue, as Internet wasn't widely available yet. She always knew what needed to be done and she saved several projets. I always tried to understand how a garment was built so that I could do the same.