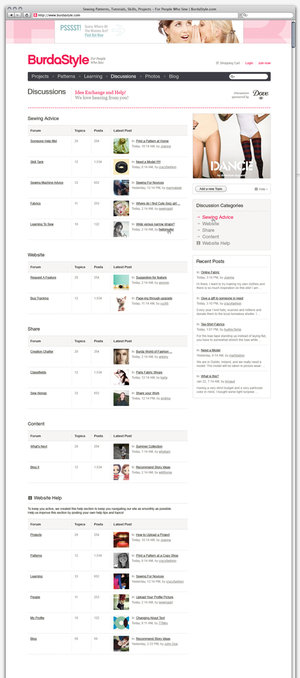 Coming closer to our launch some info about the discussion section:
The Discussions section replaces the forums our current site. In the forums you were able to find answers, post questions and share your knowledge of sewing. All that will be able to happen in the discussion section as well PLUS some exciting new features that we are thrilled to share with you.
The new Discussion section houses the former help section as well. Offering the help in this format will allow you to comment on our help and ask additional questions as well as help each other out. The help topics will be clearly indicated as BurdaStyle content and will always remain at the same place in the list.
The design and outline of the Discussions section is more organized and streamlined. You will find it much easier to find exactly what you are looking for.
Once you have asked a question, people's replies will start to come in, the freshest posts bringing the most active topics to the top of the list. You will be able to reply directly to a discussion topic or post, and replies will be visually indicated through indentation.
We are happy to announce that the long awaited "Report as Inappropriate" button will be under each new topic and individual comment. This helps us keep the quality of the forum up by eliminating spammers thereby making it a better place for all you BurdaStylers out there.
With this optimized design, conversations will flow, answers will be found quickly and questions will be answered. We are excited to see you take part in these discussions and watch you all grow as sewers because of it!