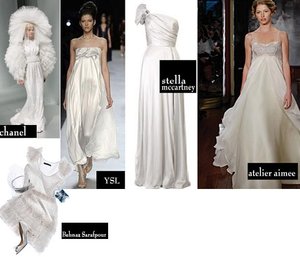 I had a meeting the other day with my friends Katie & Fio who are getting married in Texas this June. Katie asked if I would be interested in designing her dress and I was quite touched and eager to help her create something she'll love. After designing my sister's wedding dress in '07 we realized there is a gaping hole in the fashion-forward wedding dress market and many brides-to-be are at a loss.
Then they dropped the bomb.
Katie is pregnant. And currently starring in the moving Sam Shepard play, Fool for Love. That's why they wanted Dane to come with me to the consultation! That's why they didn't just buy the absurdly marked-down YSL dress (which was nearly see-through and body clinging). By June 13th Katie shall be 6 months along, and I believe, as they say, she will have "popped" by then. We talked about fabrics, seam lines and climate. It will be nearly 95 degrees under the Texan sun in June. Katie showed me some images of designs she likes, especially the Yves Saint Laurent dress pictured above. Last year Fio, a Brooklyn-based "farm to table" caterer, surprised Katie with a custom dress he asked me to design for her birthday. At the center front of the bust was an opening, with a silk ribbon on each side to tie the front closed. Katie loved the idea of it's adjustability and we're toying with some unique closure ideas for the front & back. It is decided that the gown will be in an ivory or eggshell white, perhaps with light rose accents. We decided on an empire waist with gathering at the seam as to allow room for her belly. We are going to combine 2 fabrics, a silk and a linen as Katie requested.
When I take on a custom project like this one I always follow the same process. I meet with my client (sometimes this is done over the phone or email if we cannot speak in person), talk about their needs & desires, details of design etc., then I come back with sketches. We proceed through a process of elimination and ultimately decide on the right design, fabric choices and price.
Anda from Etsy had our very own Burdastyle team member Benedikta assist her in creating a maternity gown for her own wedding as well:
It was a totally harrowing and last-minute experience and I actually used a stapler to hem it and hand-sewed the snaps in our hotel room the morning before the ceremony, but it cost me $80 and I still sort of resembled the ballerina princess fairy I knew I was inside.
Gone are the days of intricate beading, corsets, boning and torture and here are the days of natural, beautiful goddess dresses. I may not be ready to marry yet, but as a designer, I do know how I want to look.