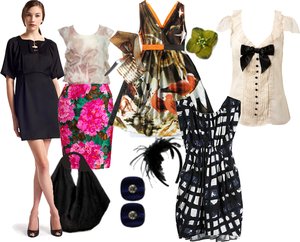 Spring is an incredibly beautiful and inspiring time here in New York city and what makes it even better? A new wardrobe!
This week I've taken some of my favorite current trends and poured through the Burdastyle archives to find patterns which can easily be utilized to recreate these looks. To make these silhouettes modern and fresh, wouldn't it be great to use bright prints or bold graphics, perhaps add droopy pockets to the mushroom dress or make the Charlie bag in an ethnic upholstery print?
Here are the links to the patterns pictured above:
1. Anda

The Anda Dress is a quick and easy project, and is great for beginners.
2. Andrea

Andrea is a simple blouse with lovely seam lines that can easily be altered and adjusted.
3. Charlie Bag

It's easy to make, and even easier to tote with you, since it folds into its own pouch!
4. Sibylle

Whatever event it may be that you are trying to find the perfect dress for, this one will do!
5. Bow by Jane

You just really cant say no to this piece of lovely.
6. JJ

The simple ruffles and delicate puffed sleeves make the top perfect for date night, but the fit and collar make it also perfect to wear to work!
7. Mushroom Dress

The mushroom dress is a simple, versatile design perfect for patterned chiffon or silk-type fabrics to allow slouching and gathering.
8. Kasia Skirt

Great for Springtime, this skirt features gathering of the pocket backing and bold bib-front buttons.