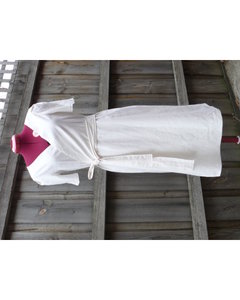 I finished off my Desira night gown this week. It was very easy; I made it shorter and added sleeves. For the sleeves I used the Lydia pattern that I have already cut out (but have not yet used) and shortened them to just above my elbows. So now I have a night dress and a nightgown ready for my hospital bag and nothing else! Yep, I still haven't put together my hospital bag and to be honest I've not done much else to prepare for this baby arriving. I mean, why would I want to do something as necessary as that when I can be sewing up a storm!? But really I could get onto it this week since I only have about 5 weeks left to go but feel I could POP any time.
Nayantara mentioned that it is Fashion week in New York. Personally I don't really follow the fashion trends. I never buy fashion magazines, preferring to come up with my own style (if you can call it that), and at the moment I have no style at all or if I do it's called 'pregnant frump'. In a bid to have some kind of style once baby has arrived I am planning and making my autumn/winter wardrobe although there's more planning than making going on. I thought I'd take a peek at what is on show at the fashion week online to see if I could find some inspiration. There are of course many, many beautiful outfits most of which would be great if I had no kids and went to lots of parties but of course I do have kids and never go to parties, sniff. What I need are comfortable, stylish clothes that are practical at the same time. I need to have boob access for feeding time so most dresses are out of the question. I need tops that can be pulled up or down. Collections that are inspiring me are those by Donna Karan, Alexander Wang and Diane Von Furstenburg in particular the bubble skirts and Greta Garbo style high waist trousers.
I'm starting off my new wardrobe by joining in the Sew along and will be making the JJ blouse with the silk/cotton voile you see pictured above. I purchased it from my new favourite dress fabric shop Tessuti Fabrics in Sydney. Colette has been wonderful by sending me heaps of fabric samples for me to paw and drool over. This could be very dangerous indeed! I want to make trousers, skirts, a jacket, a coat (maybe the new version of Talia), tops, cardigans…..the list goes on. I have no idea where I will find the time to make all these things; I may just have to settle with thinking about most of them. Another idea I had came to me when I was looking at my Desira night gown. I was thinking I could make a dress from this pattern with a jersey top half and a skirt attached, maybe using a different fabric? Do you think it could work?
Anyway, I'd love to hear what you have in mind for your wardrobe for next season. Leave me a comment to let me know.