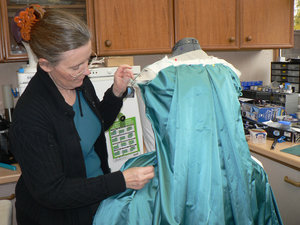 1. Where are you from and/or where do you live?
My parents were both Scots, and while as a child I followed my father round with the RAF, I consider myself still a Scot. I now live far from home as a ex-patriot, in the South of England, perched almost on top of the North Downs in Kent, opposite a cherry orchard half way between London and Dover.
2. What was the 1st thing you made? How did you start sewing?
I have no idea! Lost in the mists of time… The oldest surviving bit of my sewing is an embroidery made for may grandmother when I was about five. I first 'sewed' with my maternal grandmother, standing between her feet at her grandmother's treadle machine in the kitchen in Kirkcaldy, pumping the treadle with one foot and being steered by Granny's hands on top of my own.