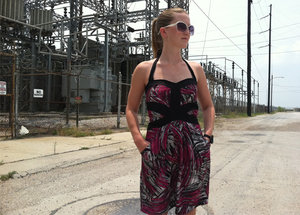 Where are you from and where do you live now?
I am from Oregon, but have lived in New Orleans for the last 9 years. I teach middle school social studies/history. I am moving to Chicago this summer!
How did you start sewing?
My mom always sewed for us, so she taught me as a child. I starting sewing more after college, around 2007. My favorite project is my Cape of Awesomeness. It was made from a 1940s pattern. It took me a long time to make it and it forced me to learn new techniques and improve my skills.