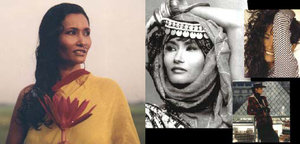 Last time I advocated home-made clothing for the environment's sake, today I will tell you that buying clothes overseas can contribute to the livelihoods of those who need it most. I am not talking about so called "sweatshops" – synonym for inhumane working conditions that have stained brand names like Nike, H&M, Gap. I want to tell you about fashion that can have a big impact for the better in a number of people's lives.
Take the story of <a href = "http://www.bibirussell.org/bibi_gallery.html&#8221;&gt; Bibi Russell, ex-top model from Bangladesh who featured in Vogue, Harper's Bazaar and Cosmopolitan and modeled for Yves Saint Lauren, Lagerfeld and Armani in the 70s and 80s. In the 90s she returned to her native country where she opened her own fashion company that is currently employing some 35,000 women across Bangladesh. Yet, that's not enough, just recently she launched Bibi for WE a brand that will design and produce bags employing women with HIV/Aids in Cambodia who are stigmatized in their communities and have to fight for work and health treatment. Check out some of Bibi's colourful designs which are based on Bangladeshi traditional techniques, and textiles on <a href = "http://www.youtube.com/watch?v=nmq2ADAoUqc&#8221;&gt;You tube.
But it is not only, fashion icons that can make a difference <a href = "http://handcraftingjustice.cedris.org/index.php&#8221;&gt; Handcrafting Justice , a New York based NGO is supporting women from around the world by creating a virtual market place in which they can sell their handcrafted products for a fair price.
BurdaStyle members can make a difference too! Check out the fantastic Bra that ashchaser donated to the American Cancer Foundation and pinkerton1996's <a href = "http://www.burdastyle.com/creations/show/15084&#8221;&gt;Christmas Decoration from Project African Wilderness.
And if you want to make a difference too, why don't you contribute a Bow Tie to the Pink and Black Tie Gala of the <a href = "http://www.burdastyle.com/blog/show/723&#8221;&gt;American Cancer Society or by a Christmas present at Handcrafting Justice.
p>P.S: Anybody said eco lacks style? Check out those fantastic wallets made from recycled ties and for more stylish consciousness visit the Sustainable Style Foundation.
Fotos courtesy of www.bibirussell.org.