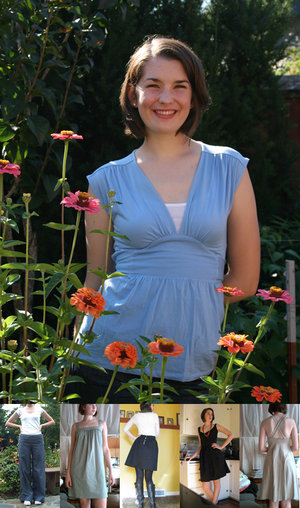 1. Where are you from and/or where do you live?

I have lived in Portland , OR my entire life and love this city! Next year, though, I am heading off to college in a smaller town south of here, go beavers!
2. What was the 1st thing you made? How did you start sewing?

The first thing that I can remember making is a pair of pajama pants, though if I remember correctly my mom did most of the sewing. My mom always used to sew me dresses and doll clothes, since I wished to be just like her I decided I too wanted to sew and thus my obsession began. Following this I attempted to make halter tops and other similar pieces (items which my mother would never buy me) during elementary school with little success but by the end of middle school I was much more competent and began sewing more wearable garments.
3. What role does sewing play in your life?

Sewing plays an important roll in my life as a creative outlet, I love math and science and am planning on studying engineering in college, so a little sewing on the weekends is a wonderful way for me to channel my creativity. Though, I would say the same part of my brain which works out physics problems enjoys figuring out how to make a garment, both activities take creativity in problem solving.
4. What is your favorite and what is your least favorite thing about sewing?

My least favorite part of sewing is the finishing aspects (hems etc.), it is just too tedious, and thus many projects sit around a few steps away from being done. My favorite part about sewing is wearing the item the first time; it is so gratifying knowing that I made it myself.
5. If you could make something for anyone who would it be and what would you make?

Currently, if I could make something for anyone it would be Michelle Obama, I think she is so beautiful and graceful!
6. What are you looking for on our site? What do you think should be improved and what do you really like?

On Burdastyle I am looking for a space to share my creations and get inspiration for more. I really like the new picture album function of the site. Honestly, I really love this site, but one thing I would suggest is making things more interconnected, like if someone adds another member as a favorite maybe they are notified when they add a new creation or how-to.
7. What is your motto?

Don't take anything too seriously; it can only end in stress.
Allie31991 has so many wonderful creations (as you can see from her picture.) I think her Ruby Pants are to die for! Check out her top ten favorite creations and keep up the great work!