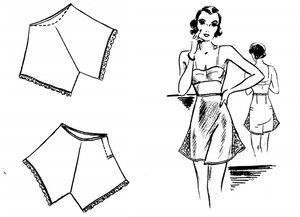 With the Vintage-Inspired Modern Style Design Challenge underway, author & designer Amy Barickman talks about how she and her designs at Indygo Junction are inspired by her treasure trove of collected vintage content:
Let's talk about a rather delicate subject.
On my blog, I've shared heaps of vintage inspiration from my hero, Mary Brooks Picken and her work at the Woman's Institute of Domestic Arts & Sciences (1916-1936). One thing I've yet to mention? Unmentionables.