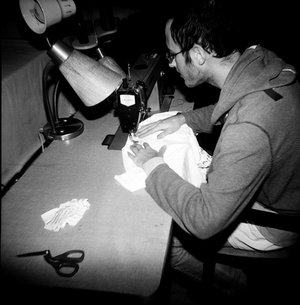 1. Where are you from and/or where do you live?
I grew up in Maryland and I live in Brooklyn, NY.
2. What was the 1st thing you made? How did you start sewing?
I started sewing when a friend received a sewing machine for the holidays. We are interested in styling and fashion and she encouraged me to jump right into using the machine. The first thing I made was a pleated shell vest from an old pair of trousers. I wanted to keep the functional design details of the pants and re-configure the garment to fit the upper body. I used the front fly in the collar and the hip-pockets as shoulder pads, and pleated the legs into front bodice panels. I used ribbed socks for a funnel collar, and a white bandana for back panel and shoulder epaulettes. I usually sew and design through two processes: inspiration and the constructive process. I was inspired by the 1960s LSD tests in the military, thinking about psychedelic soldiers. The vest developed from this concept and through deconstructing the pants and finding new possibilities for the zipper, pockets, and nearby materials.