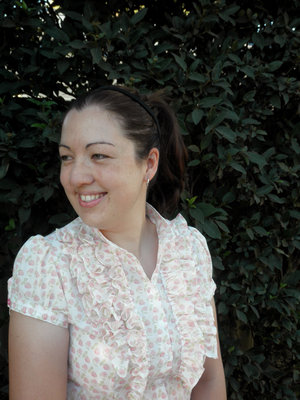 1. Where are you from and/or where do you live?
I was born and grew up in Wellington, New Zealand and moved to Perth, Western Australia about 6 years ago with my partner. Wellington is a super creative city and you can't help but become a creative person just by living there, the influences are everywhere.
2. What was the 1st thing you made? How did you start sewing?
I remember my Mum had this amazing scrap bag that she let my sister and I cut up and hand sew to make clothing for our Barbies and Cabbage Patch dolls. That bag represents so many wonderful early sewing memories for me that now I have my own scrap bag which is full of off-cuts from some of my favourite pieces and I even bought myself a collector Barbie doll so that I can get back to my sewing roots and make her a few items from those special scraps just for fun.
All my early sewing knowledge came from my Mum, when I was old enough she taught me how to use her Globe sewing machine (which still chugs along to this day). She taught me all the important basics like inserting the bobbin, holding the threads when you start sewing, reversing at the end and her most important rule: only turn the hand wheel the correct way! I really enjoyed sewing on that robust little machine, it was so forgiving and made me very picky when it came time for me to invest in my first machine. I really value everything my Mum taught me and her foresight to nurture my early interest in sewing.