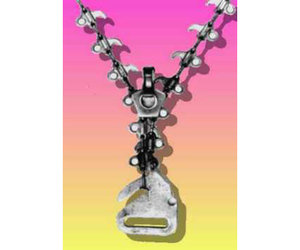 Thank you, theclosetseamstress, for uploading your centered zipper How To and supplying me with a wonderful blog idea: the zipper. The zipper had a similarly turbulent history as the sewing machine. In fact, remember Elias Howe, who patented the first sewing machine? He also patented the first zipper, which was then called (hold your breath) "an Automatic, Continuous Clothing Closure". That sounds more like a children's poem than something practical and indeed, it wasn't practical: it didn't have the essential thing, the slider, but a number of clasps on both sides to be joined by a string that you had to pull to fasten two sides of your clothes (see the picture!).
The next better thing was the "C-curity Fastener" which was based on the hook and eye model. That wasn't too useful either since it came apart easily when the clothes were loose. Finally in 1914, a Swedish born American immigrant Gideon Sundback came up with the idea to design a zipper with interlocking teeth, the same system that our zippers use today. "Hookless Nr 2" solved all the defects of earlier models: it held garments together without them needing to be stretched, it didn't wear out, and was easy to zip and unzip.
Elsa Schiaparelli (1890-1973), Italian surrealist fashion designer, supposedly loved new inventions. She was one of the first couturiers to use colored plastic zippers in her designs thus really boosting their popularity in the 1930s. Supposedly she was paid by zip-manufacturers to use and promote them.
In contrast, the clergy (as so often) didn't really appreciate the ease with which people could unzip their clothes, they thought it would facilitate illicit sexual activity. Of course the ones who have to bear the backlash were women for whom it was inappropriate to wear zipped clothes until the 1950s. I guess, the underlying assumptions are debatable and definitely diverge from reality, feel free to discuss!!
Photo ©MaryBellis