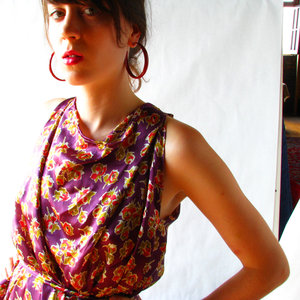 1. Where are you from and/or where do you live?
I am from Scranton, Pennsylvania, but I have been living in New York State for eight years and NYC for almost four years. Brooklyn to be exact.
2. What was the 1st thing you made? How did you start sewing?
Oh gee, I have no idea. I was (and am) really into drawing and architecture as a child, as well as furniture, so I think one of my first projects was reupholstering a vintage armchair with denim. This combined a little bit of architecture with sewing and served as a catalyst for other sewing endeavors including a purple halter top which I somehow got to fit me perfectly without using a pattern.
3. What role does sewing play in your life?
Sewing has taken over my life! I really really enjoy transferring ideas or two-dimensional drawings into something wearable. I love that with practice and education anything is possible. Understanding how pieces fit together and how seams create a look have also affected other areas of my design and art. I sew 4-10 hours a day and I am fine with that, although an intern or two would be swell.