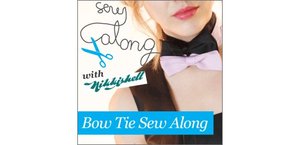 Don't forget that we have sewalong happening at the moment. The David bow tie is not only a great way to accessorise your outfit but you can also do a little good by making one (or a few) to donate to the American cancer Society.
To make a difference download the free David Bow Tie pattern and check out our many bow tie How To's. Using pink and/or black fabric you can choose to make the bow tie as it is in the pattern or alter it in some way. Change the shape of the bow tie, make it bigger or round the edges maybe. Why not add some kind of embellishment? How about buttons, beads, sparkles, sequins, ribbon or embroidery? There is only one rule, the bow tie's must be pink and/or black so get creative!
Send them in to us by May 4th to donate to the good cause. The sew along has been extended, and I will be answering any and all questions in the forums.
There are a few points to remember while sewing for the American Cancer Society:

1 The ties must be pink or black or a combination of both.

2 We need to receive them by May 4th.

3 Send your bow tie to:BurdaStyle 325 Gold st Suite 201 Brooklyn, NY. 11201.

4 Include your personal story on a note card if you wish.

Head on over here to download your pattern which is FREE then check out the Sewalong thread in the forums.