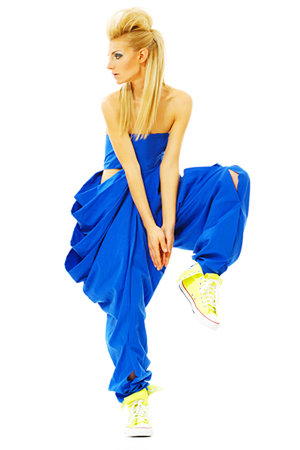 A couple of weeks ago, I went to a show called the Underground Runway- an event held by fashion design graduates of Parsons in New York. Usually, Parsons selects a handful of individuals to show their collections upon graduating, but these kids decided to take matters into their own hands. After a year of hard work and planning, this show was born.
It was my first time attending a show like this in New York, and I was pretty excited! All I could do was mentally take note of what the guests were wearing, and see if I could catch a glimpse of someone I recognized (maybe Tim Gunn, even though he's given up his position of chair of fashion at Parsons). The space itself was thoughtfully decorated- I loved the contrast between the elegance of crystal chandeliers and the edgy, almost subversive nature of the designs. From bloggers, to members of the media, to family and friends, to anxious onlookers like me, the place was packed!
The designs were, for the most part, fresh, varied, and stunning. Most notable was the emphasis on sustainability- lots of organic fabrics, and even recycled inner tube shoes (second pic from above)! Though there were definitely some covetable pieces for women (sleek screen printed dresses and coats, a breathtaking hand-knit gown, and Sarah Wright's amazing sportswear), the menswear almost stole the show. Check out David Destefano, So Hyun Park, and Jennifer Chun's stuff… awesome.
Keep an eye out for these kids- you'll soon be hearing a lot more about them.
Check out the site for more pics, as well as this site for more pics of the event itself.
-Amanda
Photo Credits:From top to bottom- Sarah Wright, Rachel Ford and David Destefano