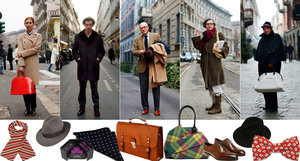 Today I am taking note of the alluring refinement of menswear. I have always admired a nicely dressed man. While living in Florence, Italy, I found myself at times completely awestruck of how magnificently the men were dressed- not to mention the women. In Italy, it was common for most people to own just a few high-quality designer pieces. These designer pieces would be worn and re-worn time and time again, such was protocol, and very well taken care of. How different this is from American fashion today, where many of the pieces the general public purchases are disposable? Transient. Fleeting. Cheaply made.

What I love about menswear is the simplicity. Styles and silhouettes remain very much the same over the decades, yet the newness lies in the precision of detail. A boldly printed bow tie with a fried egg pattern looks like classic paisleys from afar, but up close offers a freshness & sense of humor to fashion. Tailored coats made to be worn for years continue to be created, only changing slightly in fabric and texture. Paul Smith is a well known example of someone taking these classical elements and simply changing the details (colorful striped linings, iridescent button holes, polka dotted ties).

Do you pull inspiration from menswear? Do you ever wear mens clothing, steal cozy pieces from your boyfriend or husband?
Photos from The Sartorialist