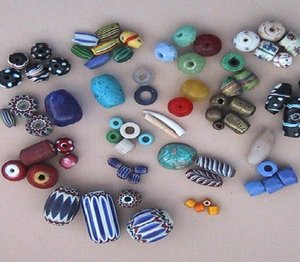 From zippers to buttons, from buttons to beads; while zippers and buttons have a practical function, beads are really only decoration – or are they? Old civilizations used beads (often made from natural materials like shell, stone or bone) as type of currency for trading purposes. In almost logic consequence, a little although very pretty glass bead, contributed to the conquest of continents. The Venetian chevron had high purchasing power in historic trade with Africa but also in the Americas. It is indeed incredibly beautiful, with its simple red-white-blue or green-yellow-black colorings made from several layers of glass.
Apart from being a decisive element in colonial history, the bead and especially beadworks from 19th century Southern Africa tell a fascinating story of the development of clothes in Africa. Check out this beaded cloth skirt of fabulous craftsmanship: just like the glass bead, cloth was introduced by the Europeans and was slowly but surely integrated into African clothes making, partly replacing indigenous fabrics made from grass, local fibers and leather. Most fascinating, these newly introduced materials would not just completely replace indigenous clothing traditions but were used to innovate and create a unique fusion between old and new (to divert from fashion and clothes: there are similarly fascinating example of cultural fusion in religious belief in Latin America: in Bolivia you find paintings of the Virgin Mary fused with the indigenous Goddess Pachamama).
Even more interesting is the example of the beaded breast-covers, also from 19th century South-Africa. What is so special about them? – the fact that women started to cover their bodies! Thanks to the climate, but also to the absence of Christian taboos around the female and male body, pre-colonial Africa didn't have the need of covering what has been declared "objects of desire". With colonization but especially Christianization, women just as man were increasingly made to cover their bodies. Therefore, much of what we might associate with "traditional" African dress, is actually quite recent!
There is an important thing we should learn: people in Africa, Latin America and Asia were not just passively colonized but in the little space of freedom they had left, they innovated and created new things and ideas building on the influx of foreign concepts, tools and technologies.
For many more beads from all around the world check out this site.
Photo © O.Ned Eddins