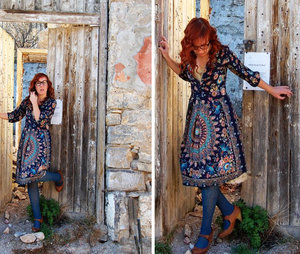 Where are you from and where do you live now?
I'm from Serbia, from a small mountain town, though I live in Belgrade (which is a capital of Serbia ) for 10 years now. I graduated in art history and would know a few things about medieval manuscripts but never was too serious about getting anywhere with that. Instead, I do few other jobs, half of the year I work as an archeologist spending days in a dirt and sweat digging prehistory loving every second of it!
The other half of the year I spend working as personal assistant in my dad's company (which is nice, since I work from home and have lots of free time that I can use to sew and try to start my own mini fashion line (wish me luck with that).