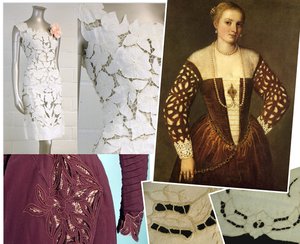 Cutwork is one of the sexiest vintage details out there. It's also the brainchild of nuns. Go figure.
A forerunner of needle madee lace, cutwork is an umbrella term that is used for a number of different techniques – Broidery Anglaise, Renaissancee Embroidery, Richelieu and Venetian Embroidery. They all pretty much result in a similar effect, that is, a cut-out shape in linen or some other tightly woven
fabric where the raw edges are bound by satin stitches, buttonhole stitches or, in the case of Richelieu, a modified buttonhole stitch.