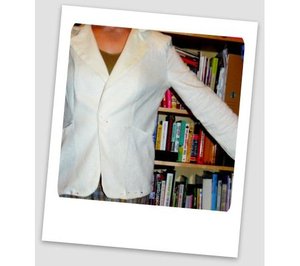 I am so glad I am making a muslin for the Jorinde jacket. It seems the pattern needs to be changed in many places for it to fit me properly. I'm pretty short (5'2") and have found that the jacket doesn't fit quite so well in length especially between the armhole and the neck, the armhole is a little too big which feels uncomfortable when I lift my arm. To remedy this I will shorten the front and back pattern pieces between the top and bottom of the armhole and also at the corresponding location on the sleeve cap. Doing this will also raise the hemline but I may raise it a little more to sit just on or below the hips.
A few other alterations I've decided I will make will be to shorten the sleeves; they're about oh 6 inches too long! I'll also change the shape of the collar; I'm not quite fond of the shape it is in the pattern. I'll sketch out a few ideas before deciding. The back of the jacket is also a little 'poofy' so I need to come up with an alteration to fix that and I'm undecided about whether to keep the pockets as they are, change them or not have them at all. Suggestions please!
I'll be making a second muslin this week to test out these alterations before starting on my final jacket. I'm using the book Fast Fit to help me with my alterations, it's a great resource for easy pattern alterations for all figures. I'm also going to be researching interfacing and lining a jacket.
There's still time to take part in the sewalong!