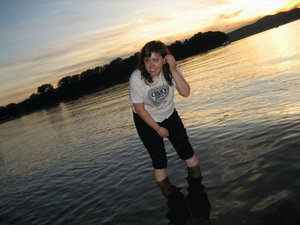 1. Where are you from and/or where do you live?
I spent the first 18 years of my life in Atlanta, Georgia. After graduating high school, I moved to NYC to attend college at Parsons School of Design, where I completed my BFA in fashion design. I currently live in beautiful Brooklyn and work at wonderful BurdaStyle!
2. What was the 1st thing you made? How did you start sewing?
I did all sorts of craft projects as a kid. I always had some "project" going. I was completely self-taught until my formal education. I remember making a pair of bell-bottoms when I was about 10 years old. I sliced open the legs of a regular pair of jeans and hand stitched triangles of assorted fabrics, I was making godets! When I look back now, I used a lot of traditional patterning techniques without knowing. I never saw a sewing pattern until I was in school. The first semester of school was very hard. I had to "learn" all the technique I've already been using, except now there were all these rules!