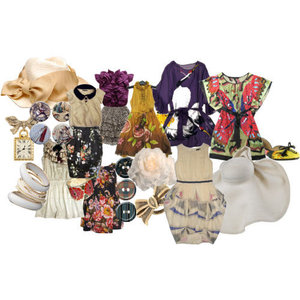 The purpose of this new category is to inspire. I am excited to bring to you each week a piece of inspiration; a project, an idea, a glimmer of excitement to tickle the vivacity of your imagination and, optimistically, arouse your creativity.
Bows, ruffles, wide-brimmed hats, beautiful prints, electric colors…I am pleasantly in awe of the fresh direction fashion seems to be floating in this Spring. Azalea pink, grass green, daffodil yellow, I love the idea of toying with
the boldness of these colors, I find them hopeful, cheerful and energizing. Nods towards an exaggerated Edwardian silhouette have led many designers down the path of leg of mutton sleeves, ruffled blouses, high-waist lines and tulip skirts. I am looking forward to combining the femininity of these themes with masculine accents, and covering myself in bright, bold prints.