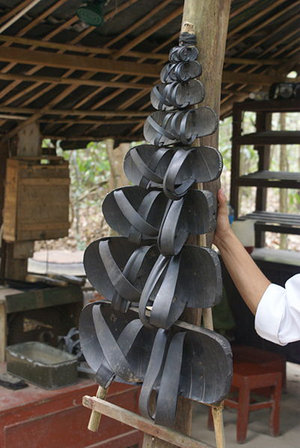 In Germany there is a saying that only in months without an R in it, (May-August) is it warm enough to walk around barefooted. But some people do not have a choice to wear shoes, irrespective of the name of the months or the temperature of the day. Yet, as commonly known, necessity is the mother of invention. In Germany many years ago, boys who were herding cattle in the rural areas warmed their bare feet standing in fresh cow droppings during cold mornings. In other parts of the world, people have been more practical, crafting sandals out of old car tires.
In principle, all you need is a piece of old tire (as big as your foot) which can be found even in remote rural areas in Africa and a few pieces of material to tie this tire-sole onto your foot. Leather will do, or some fabric, or simply string. The number of variations and uses are almost unimaginable: or could you imagine running a marathon in tire sandals?
While probably most of us can't imagine running a marathon even in normal running shoes, in 2008, six Maasai men came from Northern Tanzania to run the London Marathon to raise money to provide their village with clean water. They ran in their full traditional Maasai dress, including spears and tire sandals. They may not have won but they easily raised enough money to finance the much needed infrastructure.
Lots of tourists traveling to Africa are fascinated by those sandals. A couple from Britain was so intrigued that they even opened an online store, Jambo Jambo, that sells tire sandals in various designs, made by men and women who live in Kibera the biggest slum in Sub-Saharan Africa. If you watch the film the Constant Gardener you get a bit of a romanticized idea of Kibera (it was actually partly filmed there).
But you don't find tire sandals just in Africa. You will find them in Latin America, Asia and at least some decades ago, you would even find them in the US (check out the comments).
Curious? If you want to make your own tire sandals, maybe you can use schickchick's flip flop creation as pattern.
Photo © Binh Giang