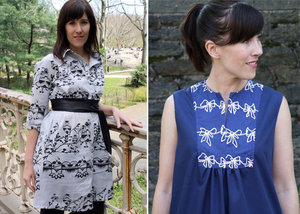 Where are you from and where do you live now?
I live in New York City now, but I am from Vancouver Island, British Columbia — a world away from New York and about as different as two places can be. When I'm not sewing (or drafting patterns) I can usually be found playing with my daughter, who is almost three.
How did you start sewing?
My mom taught me how to machine sew when I was about 10, I think. My first project was a Hawaiian-print cotton skirt with an elastic waistband. Following that, I sewed off and on through my teens and early 20s (mostly adapting items of clothing I bought at second-hand stores), but it wasn't until I was about 25 that I got seriously into making clothes.