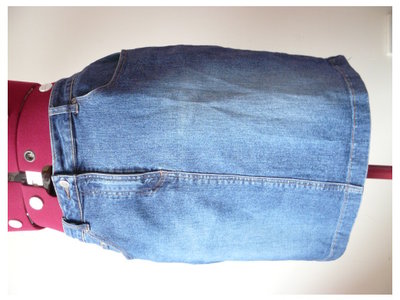 I have a challenge for you this weekend. What I want you to do is head on over to that wardrobe of yours and dig out something you haven't worn in long time. Then I want you to make it wearable again. "How do I do that?" I hear you ask, well you refashion it! Don't be scared, just dive right in there and get messy, it's heaps of fun and at the end of it you have something unique that no one else will have, how's that for style!?
This week I took a denim skirt and transformed it. To start I added four circular ruffles to the back and left the edges raw but stay stitched them to limit the fraying. I started from the bottom of the skirt and worked my way up sewing on each ruffle at every 2 ½ inches. I then cut the front of the skirt into a curve and added some lace trim and random stitching for decoration. And my last alteration was to add fabric paint; once it has dried I will scuff it up a little with some sandpaper to give it a more 'lived in' look. Everything I used to refashion this skirt came from my stash so all it cost me was a few hours of my time, not bad for a new skirt!
What are you waiting for? Dig into that wardrobe and see what you can come up with. I'm excited to see what you create and remember to post your finished refashion here on BurdaStyle.
To learn how to make circular ruffles take a look at my how-to.