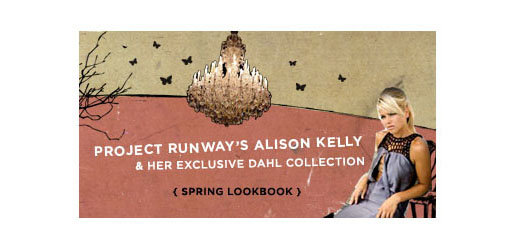 ShareThis
Competing on a reality television series is surreal to say the least, and I do not want my blog
to focus on Project Runway, or the participants, or the creators, but I will say that the show changed
me and looking back I am very thankful for the experience.


To demystify the situation a bit I
admit that it was not very fun to tape the show, but at the same time I am not saying that it
isn't an incredible opportunity to expose your work, ideas & design aesthetic to millions of
viewers across the globe.


It was challenging to be stripped down to the bare essentials and quite
a task to be creative in an environment full of producers manipulating what you want to be
talking about, sleeping only 4-5 hours a night and literally being under lock & key for 6 weeks.
And being an amazing designer, personality & think tank at the same time.


One thing that still has me in awe is the impact the show has had on my life. I had absolutely
no idea how, as soon as the show aired, I would be bombarded with situations, people, fans,
opportunities, hard-ships, glorified moments, horrified moments & stress. For a normal person,
like myself, the exposure is scary & wonderful. All of a sudden magazines you have read your
entire life want to hear from you; but the catch is, they want gossip, they don't necessarily
want to praise you for your design ideas & talent. And that part became tricky.


I decided I wanted to focus solely upon re-branding my line and create a wholesale label that
would be attainable to my fans but also to women who wanted something new with an edge.


Shortly after the show aired I made a deal with the popular online designer boutique Shopbop.com,
to create an exclusive collection of dresses & tops. I also collaborated with an old high school
friend on a complimentary line of jewelry. I had absolutely no idea how I was going to finance
this collection on my own so I decided to create a capsule collection for a boutique in SoHo. I
was having all of my production made in New York city's garment district and my factory had
too much work on hand to take up my production so I went to a new factory upon recommendation
from some industry friends.


I went to pick up my dresses one day from the new factory and I realized the door was locked.
I peered inside the window and to my disbelief, I saw the entire factory was empty. They had
moved out in the middle of the night (they were unfortunately an illegal operation and 6 months
behind on rent as I later discovered) and nearly fainted. They had left with all of my patterns, many
bolts of fabric & all of my production.
Lesson number 1. Check.
I want to recommend a book to anyone who is eager to look into becoming a fashion designer
on their own:
The Fashion Designer Survival Guide, Revised and Expanded Edition: Start and Run Your Own Fashion Business