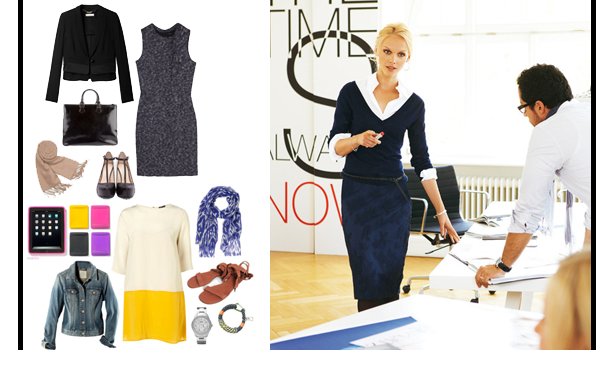 ShareThis
Maybe you're just heading off to your first "grown up" job, recently made a career change or perhaps you've been in the working world for longer than you care to recall – but sometimes a surprisingly stressful part of the job is just figuring out what to wear. I've had the privilege of working in creative environments where I was encouraged to show my personality through my clothing choices and even though some of my employers had "guidelines" in place, they usually left lots of room for interpretation.
Not everyone is so lucky and even more people work in places that promote that horribly grey area of "casual" (because one person's idea of casual can be vastly different from someone else's….) while others work in offices with very strict dress codes – even going so far as to specify which brand of hosiery women should buy.
How you dress for the workplace is often dependent on what field you're in, what kind of people you're dealing with on a daily basis and your position within the company. It's not very often that you see high-powered CEOs in the boardroom wearing tattered jeans and a pair of Chucks (unless we're talking Silicon Valley) and it's rare that the intern shows up in custom cut Armani suits. In the same vein you wouldn't see a District Attorney argue a case in a graphic Mary Katrantzou dress nor would you probably see a magazine editor or stylist in a drab suit and "sensible" shoes (not to say that lawyers dress bad).
Whether you work for a large corporations, a small creative start-up or for yourself, I pulled together a few outfit and pattern ideas to help you dress your best while on the job.
Corporate Power Player:
These work environments are usually uber-conservative and call for you to be chic, understated and classic in your clothing choices. Loud prints, chunky accessories and otherwise edgy pieces are typically frowned upon, but that doesn't mean you have to look completely boring. Opt for timeless pieces that are well-tailored – fit is key when you are working with very basic silhouettes. Unless otherwise specified, keep your shoes on the neutral side too – but definitely play with texture (embossed leathers, suede, etc) and style – however I would once again stay away from anything "fashion-y" like chunky wedges, super strapy heels or things that look too trendy.

Jacket – See by Chloe, dress – Joseph, heels – 3.1 Phillip Lim, wrap – Forzieri, bag – Fendi.

Sweater – DAY Birger et Mikkelsen, blouse – Joseph, bag – Miss Selfridge, skirt – ADAM, shoes – Kate Spade.

Patterns from left: Shift Dress, Spring Blazer, Wrap Blouse, Wide Leg Trousers, Tie Front Blouse, Pencil Skirt.
Artsy/Creative:
I'm not going to lie, creative types have it the best when it comes to office dress because they often work in environments where their fashion and style whims are encouraged. The downside is that you feel like you need to be "on" all the time – constantly creative, thoughtful and progressive with your outfits . Sometimes I think it would be easier if I opened my closet and all I had to choose from was a row of black suits and smart shoes – having a uniform would certainly make getting dressed in the morning easier. However, I dress to suit my mood and I know that if I walk out of the house in something that isn't me, it changes the entire tone of the day. If you work in a creative field, play around with your look but still keep it professional – unfortunately life isn't a runway show and intricate couture looks aren't always appropriate for lunch meetings or project pitches unless you're Daphne Guinness.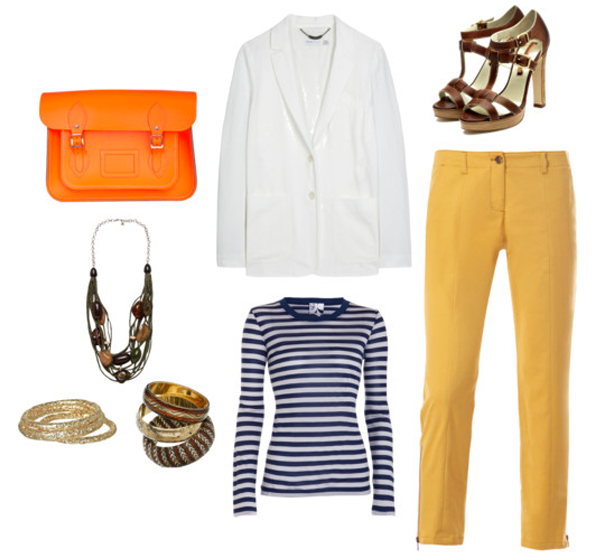 Bag – Cambridge Saddle Company, blazer – See by Chloe, shoes – Rupert Sanderson, pants – Theory, top – Barneys CO-OP, bangles – Dorothy Perkins and Kendra Scott, necklace – Jules B.

Leather jacket – Vince, blouse – T by Alexander Wang, shoes – Thakoon, bag – Miu Miu, necklace – Gemma Redux, skirt – Etro.

Patterns from left: Collared Dress, Peplum Jacket, Draped Vest, Military Pants, Wrap Trousers.
Freelance/Work From Home:
Working from home may seem like a dream, but ask anyone who has been doing it for longer than a few months and you hear complaints about how it progressively gets harder to separate work from play. One way of keeping the two from crossing over is to have a designated workspace that is separate from where you hang out (not so easy in New York where it often happens that you hang out, eat and sleep all in the same place). Another way to define "work" from "home" is to dress the part. It might seem ok to roll out of bed, crack open your laptop and get to work – but as it turns out that's actually detrimental to your work ethic. Even if you work from home you should get up and get dressed as if you're leaving the house for a job because you never know when you might have to run an errand, meet with a potential client or head up an impromptu video chat. But on the other hand don't feel as if you have to wear a suit and tie to stay in your living room, casual pieces are fine just remember to have a least one element (nice pants, a chic flat) of your outfit that is still dressy enough for the office.

Jeans – Nobody Denim, tee – Splendid, bag – Bosca, vest – Alexander Wang, flats – Stuart Weitzman.

iPad cases by Bag Bliss, dress – Topshop, scarf – J Crew, sandals – United Bamboo, bracelet – Proenza Schouler, watch – Fossil, jacket – H&M.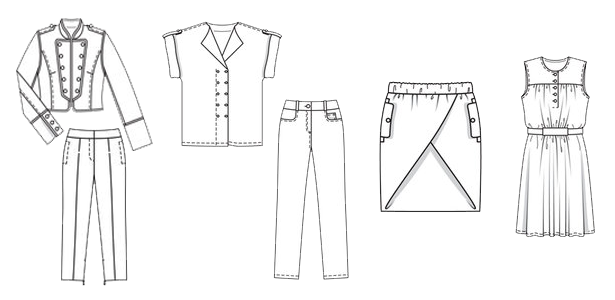 Patterns from left: Cropped Jacket, Cropped Trousers, Slouchy Blouse, Straight Leg Pants, Pleated Skirt, Jersey Dress.
Anyone have any tips for what to wear to work? Any embarrassing stories of fashion gone wrong in the workplace?