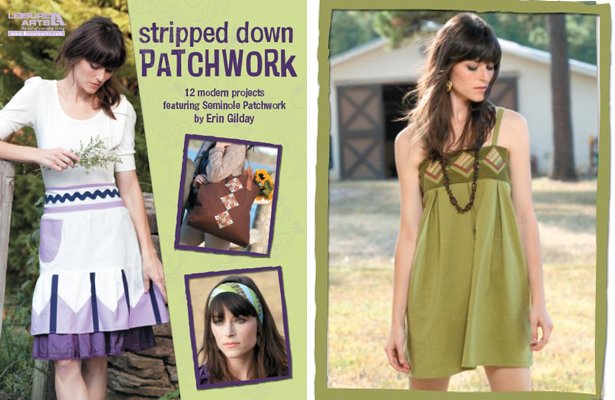 ShareThis
You may remember back in fall of 2010 when the amazing Erin Gilday was on board doing some fantastic guest columns for the BurdaStyle blog. For those of you who miss Erin's sharp wit and extensive knowledge of vintage sewing notions and techniques, she's back to share a sneak peek of her latest project, Stripped Down Patchwork, and give our readers a chance to win her new book filled with great project ideas based on Seminole Patchwork.
"Trends may come and go, but fun is always fashionable, especially when it comes to one of Erin Gilday's personality-plus projects. The free-spirited designs in this collection are based on a traditional sewing technique known as Seminole Patchwork, which uses quick and easy strip-piecing. The one dozen exciting ideas include an oversized tote and a geometric hatband. You can create a tank dress, knapsack, apron, wallet, and slippers (yes, slippers!) that will showcase your favorite fabrics to perfection. Create them all for yourself, or share them as thoughtful gifts!"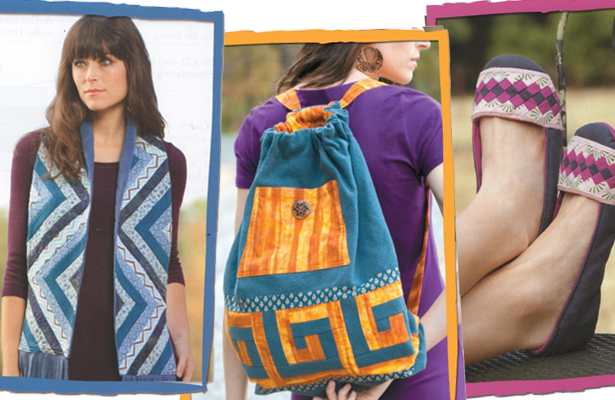 Projects from Stripped Down Patchwork: Icicle Scarf, Clarissa Knapsack and Toe Zone Ballet Slippers.
Want to try some of Erin's projects out for yourself? Simply let us know in the comments below how you would use Seminole Patchwork on one of your own sewing projects by 9:30am EST on Monday, May 30th for your chance to win!
And make sure to check out Erin's book tour on these great craft and sewing blogs:
• Leisure Arts Blog
• Sew Daily
• Craftzine
• Craftypod
• Whipup.net
• Pink Pinguin
• A Green Banana
• I Think Sew
• Happy Zombie
• A Mountain Hearth
• Sew News
•
And, just for you lucky readers, Leisure Arts is offering a 15% off coupon so you can snag Erin's book and start your own projects today!
Erin Gilday is a fiber artist, crafts instructor, freelance writer and pattern designer from Portland, OR. Her sewing patterns and craft culture pieces have appeared in Stitch, Sew News, Quilts and More, Threads, SewStylish, The Quilt Life, Piecework, Sew Hip and Curve magazines. When she's not sewing, she's busy blogging about craft, listening to Top 40 Country radio, whipping up vegan treats in the kitchen, caring for her bunny and kitty, playing banjo, thrift shopping or cruising the crafts section of her local library.