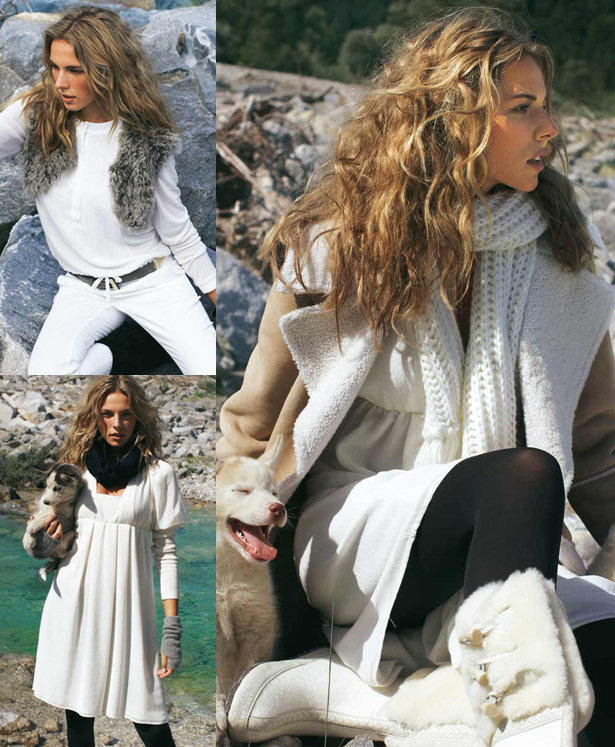 ShareThis
What could be more chic than winter white outerwear? This collection pairs crisp white blouses and coats with a studded dress and blouse. These patterns are from the January 2010 issue of Burda Style magazine. Brighten up your winter!
Get the casual look of layered tee shirts in one sweet dress. This fun style has an empire waist and a layered look to the neckline. You can wear a cute dress and still be cozy!
This paneled blouse gets a sporty look from the henley neckline and a drawstring at the hip.
Th abbreviated Coco Jacket looks sharp in winter white. Give a dress some structure in this chic topper, or pair it with clean white trousers for a gorgeous winter suit.
A wrap dress is effortlessly flattering, and this one is spiced up with a little sparkle at the neck and cuffs. This dress hugs your waist for a figure-conscious look you can wear to work or a party.
The Studded Blouse toughens up sheer chiffon with an eye-catching collar. Square studs at the neck give this top a fun something extra. Add a little edge to your work wardrobe, or pair this pretty blouse with a mini skirt for a night out!
Keep warm in this luxurious Shearling Coat. Wide lapels show off the fabric, and the long length keeps you warm. This is a classic style to top off your snowboots.
Try a new silhouette in these roomy ankle length trousers. They look so chic in pure white, and are just the thing to pair with a fitted V neck sweater and flats.
You can face any winter storm in style with this full length parka. Challenge yourself to sew up this lovely coat that will keep you warm through all your adventures.
Take a comfy henley shirt to the next level. This relaxed blouse is sophisticated without being fussy.
This black and white collection looks so chic in a grey winter. Brighten up those dreary days in gorgeous shapes and studs!
Happy sewing!