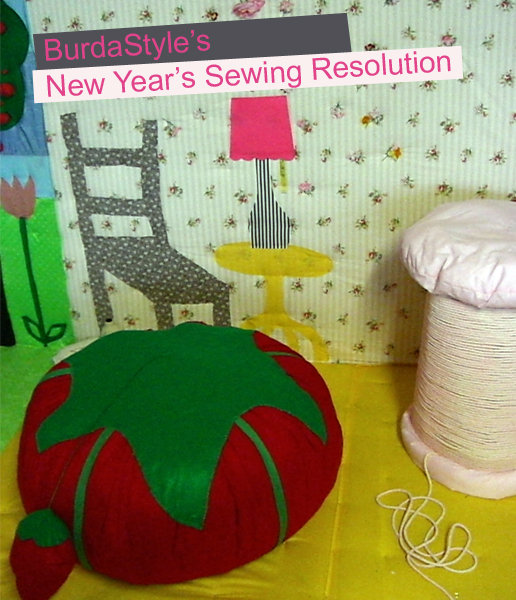 ShareThis
Being back at work after a wonderful holiday, a few things right away popped into our mind and face: Nora's unfinished bikini (Jessica pattern from August is still flying around in the office, same with the half-finished green Vanessa skirt that she urgently needs to finish to show off the striped pleats!
And, there is still this often communicated but never materialized plan: Benedikta's dream of yet another Talea coat.
Do you have similar skeletons in the closets, or should we say haunting ghosts in your sewing cabinet? Was all that you could think of on New Year's to quit smoking and to loose weight? Are you in need of a useful New Year's resolution? It seems that a lot of our members have voiced some in the forum, so we decided to make it all official:
Shout out your the BurdaStyle New Year's Sewing Resolution 2008! Tell us right here, just comment, what will you make this year. We'll check in a year to make sure you kept your promise:)
Let us start!
Benedikta: My New Years Sewing Resolution is to replace buying with sewing as much as I can!
Nora: My New Years Sewing Resolution is to finish the Jessica Bikini, the Vanessa skirt, and to sew a Minna dress!
And here all the resolutions from the forum:
Atmomma: My sewing resolution is to correctly make a pair of pants for myself and to make more of my kids clothes instead of buying them.
Clairelovestosew : Mine is to stop being such a fabric addict, and to use up all my existing fabric, and not always rush out to buy all new stuff when I'm on a new project. My other resolution is to not be so lazy – to edge properly, adopt a "black thread means black, not mean the darkest blue I can be bothered to find" policy, not to imagi-pin and then be annoyed when it comes out wonky. etc.
Jj: I'm with Claire for using up fabric stash. Next would be try to design and draft the pattern instead of just knocking off and using commercial pattern as is. The last would be organize the sewing stuffs and keep sewing room neatly.(not a fun project that why it came last).
Maha1965: I hope I can stop being so lazy and do more sewing and don't take it on my nerves and enjoy it
Oonaballoona: My resolution: to pin fit my patterns before i start, and continue to fit along the way no matter how much i don't want to take off my !@*%?! sweatshirt for the 80th time. I'm always mad at myself when i finish and then have to Frankenstein it because i was impatient.
Sunnyb64: My main one is also to use up things that I have instead of rushing out to buy more fabric all the time— especially since I have fabric that I bought for projects over a year ago and never sewed! I also want to learn how to make garments more "finished", especially inside, and finally take the time to work on a jeans pattern enough so I can have a pair that really fits!
Happy new sewing year 2008!