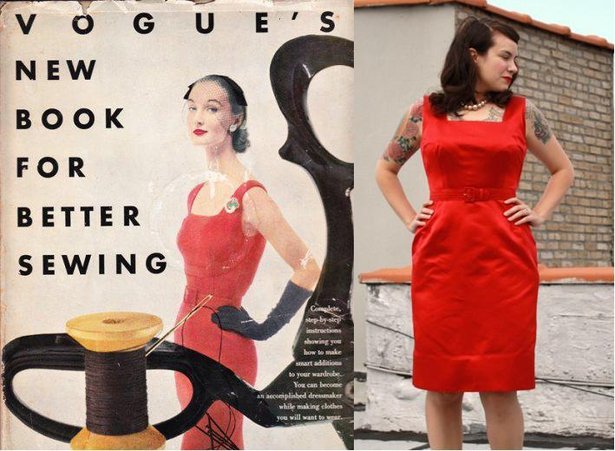 ShareThis
Hello, BurdaStyle friends!
You know me as Gertie, I've been hanging around here for a while; you might remember my Malissa variation from last year. I'm thrilled to be starting a series of posts for BurdaStyle on sewing vintage: vintage patterns, vintage styles, vintage sewing machines, you name it. And what credentials do I have to do this, you might ask? Good question.
Up until this year, I hadn't sewn from vintage patterns much. But then a mega-project was born: my blog, Gertie's New Blog for Better Sewing. It's a modern homage to a 1952 sewing book called Vogue's New Book for Better Sewing, which promised the average woman that she could become an expert dressmaker by sewing 14 sequential projects: six dresses, two blouses, two skirts, a bolero, an evening dress, a coat, and a suit. (Whew!) So I've been tracking down the patterns and sewing each one of them, exactly as the instructions specify – and on a 1952 sewing machine no less! (Yes, it's sort of a Julie & Julia for the sewing set.) I'm six projects in, and I feel like I've already had a full education on sewing vintage.
But the blog has become about much more than the project at its core: feminism, body image, pop culture, and the way these topics intertwine with fashion and sewing. I like to think of it as a sewing blog for the thinking girl, if I may be so bold.
So check back here for regular posts on the wonderful world of vintage sewing. And please leave any comments, questions, and suggestions for here! You're a bunch of smart, stylish ladies, and I would love to hear what intrigues you, confuses you, and even provokes you about retro and vintage styles.