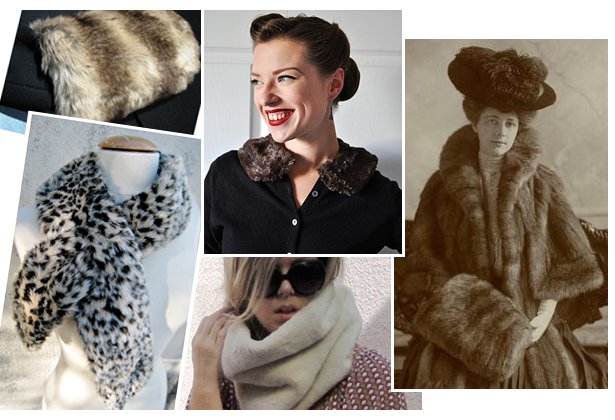 ShareThis
The snow was really coming down in New York this morning. Although it's pretty to watch from inside the office, it's quite another story to be outside in it.
To be honest, I don't like much about winter except winter accessories. Scarves, hats, gloves – I have too many to count. One accessory that I'm really loving for winter (and that's making it a little easier to bear…) is the faux fur scarf. Dries Van Noten made my favorite of the season and I've been on the hunt to find one. Then I thought to myself – that has to be so easy to make! So I dug around the internet and pulled together a few tutorials that show you how to make really simple faux fur winter accessories as well as some tips from our guest bloggers for the best ways to work with the fabric.
Maegan Tintari from …love Maegan has two tutorials for awesome faux fur neck warmers:
One inspired by Ralph Lauren and the other a super comfy looking circular snood.
Indiana Adams from Adored Austin made a really cute (and super versatile) infinity circle scarf out of a leopard print fabric.
And this may not keep you very toasty, but I thought was too cute to pass up. BurdaStyle member elegantmusings made an adorable detachable faux fur collar that she also created a step-by-step tutorial for on her blog.
Now that we've covered our necks, let's talk about our hands! Don't get me wrong gloves are great – but there is something so elegant about a muff. And the best part is that they're much roomier than gloves so you can wear jewelry without worrying about snagging or stretching the fabric.
Check out this tutorial from a user over at Craftster – made in a gorgeous crimson red color!
And for an added bonus, read up on our guest author StacySews' tips for working with faux fur here and here.
What projects are you working on this weekend? What's your favorite cold-weather accessory to DIY?