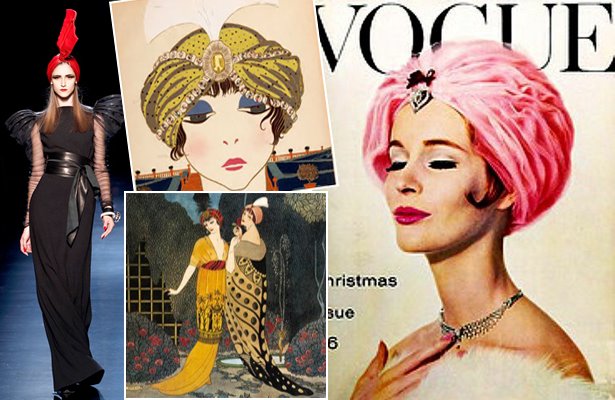 ShareThis
To turban or not to turban? The trend that was kick-started by Miuccia Prada in 2007 is back with a vengeance for Spring 2011 and designers from Jason Wu to Vena Cava to Jean Paul Gaultier sent their models down the runway with heads swathed in yards of colorful fabric.
Traditionally worn by men in Northern Africa, India, and the Middle East to protect their heads from the scorching sun, turbans were introduced into English fashion around the end of the 1700's, most likely due to the increased exposure to India through heavy trading. At the turn of the 20th century the look was brought to the forefront of Parisian fashion by designer Paul Poiret and his wife/muse Denise and continued to be popularized through to the middle of the century by other designers like Yves Saint Laurent, major Hollywood stars such as Clara Bow, Joan Crawford and Lana Turner and even existential French feminist Simone de Beauvoir.

The look was revived around the 1970's, but this time with more of a nod to it's bohemian and nomadic history and has again been reinterpreted for the 21st century by a handful of daring designers, editors and street style aficionados, taking from it's history as both a casual and dressy head piece and revitalizing the trend in a thoroughly modern way.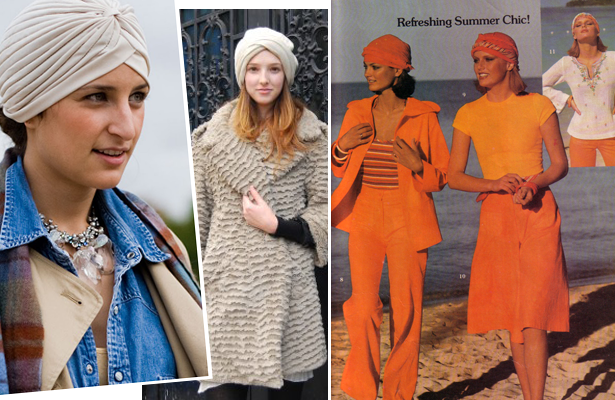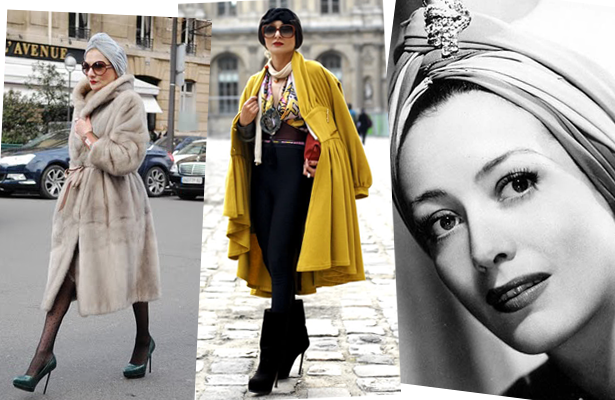 Channel your inner Catherine Baba and try your hand at this awesome silk version from diary of a RECESSIONISTA. Add a brooch to kick up the glamorous no-wire-hangers-ever Joan Crawford factor.
If you're just a little bit hesitant about the whole turban trend, you can take baby steps by rocking a mini-turban headband. Create your own with this simple tutorial from Twitch Vintage (I will definitely be making one of these!).
Don't have time to make your own? The girls over at Honestly…WTF show you how to take a large scarf and tie that baby into a quick and easy turban perfect for days when your hair is less than cooperative.
And last but certainly not least, put a rock and roll spin on your headpiece with this studded turban video tutorial from the folks at New York Design Shop:

So easy you can totally throw one of these together this weekend!